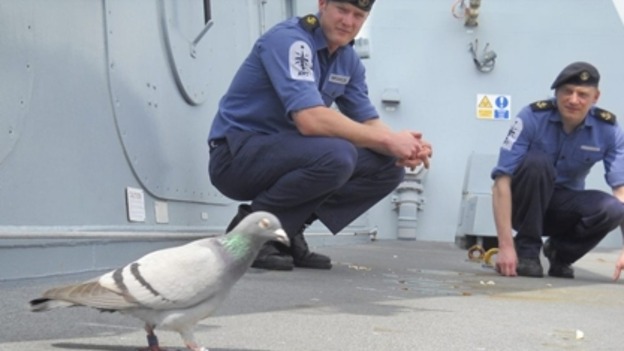 A Royal Navy warship has rescued two exhausted racing pigeons after they landed on the ship at sea.
The pigeons, nicknamed Gregory Peck and Sir Henry Cecil, flew onto the flight deck as HMS Diamond sailed off the coast of Plymouth.
The birds were given sanctuary by the sailors for ten days in a makeshift aviary and used the onboard CCTV as their own Springwatch-style birdcam.
When the ship arrived back in Portsmouth the pigeons were fitted with their own HMS Diamond tag and were then encouraged to fly back to their owner.
Navigating Officer Lieutenant Eleanor Tilley launched the pigeons' rescue after they wouldn't leave the ship.
She said: "Having seen them onboard for a few days, and knowing that the ship was to be at sea for some time, the Bridge team felt obliged to give them a little support to aide them on their way."