Man who killed student jailed
A man from Berkshire found guilty of murdering a teenage gap year student in Manchester, has been jailed for a minimum of 23 years.
Granada
Imran Hussain will serve minimum 23 years of life sentence for murdering Kieran Crump Raiswell a teenager he stabbed to death in Manchester
Judge warned Imran Hussain he might never be released from prison for committing a murder "without a rational motive".
Granada
A man's been found guilty of murdering a student in a random knife attack in Manchester.
18 year old Kieran Crump Raiswell, from Chorlton, was stabbed to death in broad daylight.
Imran Hussain denied murder but admitted manslaughter on the grounds of diminished responsibility.
The jury had heard how Hussain had driven from Coventry to Manchester intending to kill a 'complete stranger'.
His parents spoke to Granada Reports about the loss of their son.
Advertisement
Granada
This was a premeditated unprovoked attack on an innocent young man who had his whole life ahead of him. Hussain and Kieran had not met before; Hussain came to Manchester with the sole intention of causing harm. He picked Kieran out of a crowd and followed him. Hussain hid behind a bush and waited for Kieran to walk past before subjecting him to a savage attack. It is clear from his actions that Hussain has no regard for human life.
– Detective Chief Inspector Pete Marsh, GMP Major Incident Team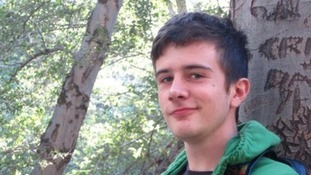 A man has been found guilty of murdering a Manchester teenager in a random street attack.
Read the full story
Granada
Imran Hussain has been found guilty of murdering stranger, 18 year old Keiran Crump Raiswell, on a street in Manchester earlier this year.
Hussain claimed he was hearing voices before stabbing the teenager. He'd driven 100 miles to randomly murder.
Back to top