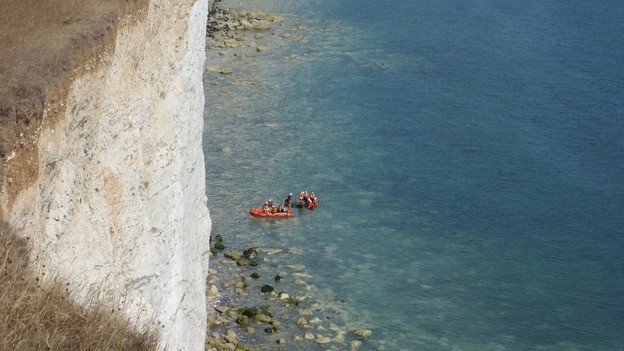 A coastguard rescue worker said one person is believed to have died after a car drove over the cliffs at Beachy Head today.
Emergency services were called to the cliffs at Cow Gap, near Eastbourne, East Sussex, at 2.02pm following a call to the Solent Coastguard.
Don Ellis, senior officer at Birling Gap lifeboat station, said the inshore lifeboat had not been able to find the car at first, which was eventually located by the Sussex Police helicopter.
He said he believed there was only one person inside the vehicle but rescue efforts had been hampered by the incoming tide.
He said: "We got to the top of the cliffs at 2.30pm but we had to wait for the fire brigade because the lifeboat crew could not extract the casualty.
"The fire brigade were on scene at 4pm and left Birling Gap on a boat with a lifeboat crew.
"Unfortunately, the tide has beaten us and we are coming back here at 8.30pm. The crew will go out from Eastbourne lifeboat station and use their cutting gear to extract the casualty."
Mr Ellis said the car had been stabilised by firefighters during high tide and they would be back later in the evening once the tide had gone out.
A coroner's officer for East Sussex will remain at the scene until the body is recovered, he said.