How do you cool off in the heat?
The region continues to swelter in high temperatures after a level three heatwave health warning is issued by the Met Office
What's the best way to keep cool in the heat? You've been sending in your pictures to Simon.
Click video. It's the longest spell of hot weather for seven years and there's no sign of it ending - just yet. Good news for many, with tourist attractions across the South having a bumper season.
But for others the tropical temperatures are taking their toll. Coping with the heat throughout the day and with little respite at night is bordering on unbearable. And for some there's simply no escape, as Martin Dowse explains.
Advertisement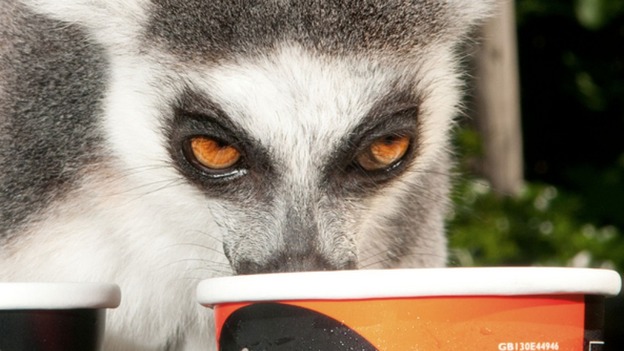 The lemurs at Marwell Zoo have been keeping cool with special iced treats. Look at those eyes!
HM Coastguard has seen a 23% increase in incidents in the past month, as many take the opportunity to enjoy the summer sunshine along the UK coastline.
From 15 June to 16 July this year, HM Coastguard dealt with 2,859 incidents. That's an increase of 668 compared to the same period in 2012.
Now with the school summer holidays fast approaching, HM Coastguard is keen to reiterate some key safety advice.
We always urge people to have fun but stay safe when out enjoying our beautiful coastline, particularly during this current spell of good weather.

If you are heading out for a swim, check the sea conditions and remember that even though the sea may look calm on the surface, there is the danger of strong currents underneath.

We recommend that you swim at a lifeguarded beach, take note of any warning signs and best to tell someone on the beach what you are doing so they can keep an eye on you.
– Peter Dymond, Chief Coastguard

It's not only swimmers in difficulty that HM Coastguard has recently dealt with. Other emergencies or calls for assistance include medical evacuations, mechanical problems with small boats, divers in difficulty, people stuck in mud, cliff falls and people cut off by the tide.
Always check tide times before you walk along the foreshore and away from beach access points so that you can avoid being cut off by the incoming tide.

When walking along cliff tops, make sure you are wearing suitable footwear and don't venture too close to the edge. Always keep dogs on a lead.

If you're heading out in a boat, canoe, kayak and such like, you should wear an appropriate lifejacket or buoyancy aid.

The key thing to remember is that if you see someone in difficulty, you should call 999 immediately and ask for the Coastguard.
– Peter Dymond, Chief Coastguard
National
Visitors enjoying UK's heatwave can return home and help "change perceptions overseas" over Britain's weather, a spokesman for tourism body VisitBritain said today.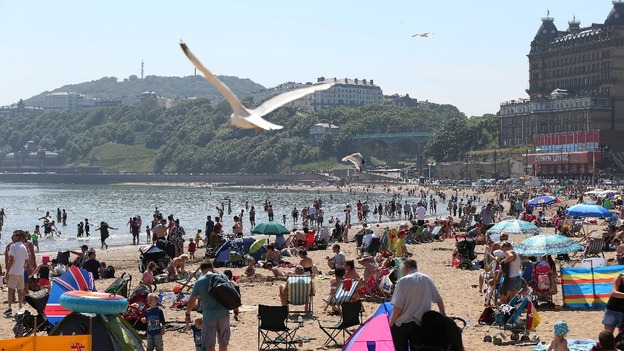 Mark Di-Toro added: "We're an all year round location so overseas visitors aren't usually influenced by the amazing weather we are currently having, but this heatwave certainly won't be doing our reputation any harm!
"At a time when our global profile was at its peak over the Olympics we had a glorious two weeks where it hardly rained. Our recent Wimbledon tennis finals were bathed in sunshine and those images would have been on TV screens across the world.
"Our countryside, coastal offering and parks are unique and attractive to visitors from everywhere, so if the weather continues I'm sure business will be booming."
Southeastern is running extra services and longer trains as thousands of day-trippers head to the Kent coast.
From Monday, an extra service from London to Ramsgate will be added to the timetable and will run every week day until August 30.
The service will also stop at Faversham, Whitstable, Herne Bay, Birchington-on-Sea, Margate and Broadstairs along the way, providing an extra 1082 seats.
With summer well and truly in fine form, we're running extra services to the Kent coast to help day-trippers make the most of this beautiful weather.

We run three services an hour to popular destinations like Margate and Ramsgate and two trains an hour to Hastings. And with more people travelling over the summer, we're running longer trains to provide more seats.
– Alison Nolan from Southeastern
Advertisement
A four-week-old baby was among 10 children admitted to one hospital in the region with sunburn since the period of hot weather began.
The oldest patient was 14, according to the Queen Victoria Hospital in East Grinstead, West Sussex.
Six of the 10 children admitted needed specialist treatment after being referred to the unit from other hospitals because of the severity of their burns.
A spokesman for the hospital said the extent of the burns ranged from 0.5% to 4% of the body surface area. All the children came from the South East, from Chichester in West Sussex to Swanley in Kent.
The sun at this time of year is very strong and children can get burnt very quickly.

The children we've treated over the last few weeks have been referred to our unit because their burns have been so severe they have required specialist treatment.
– Consultant plastic surgeon Nora Nugent
Back to top