95 year old attacked and robbed
A 95-year-old woman was left with a black eye, cut head and fractured pelvis after confronting burglars inside her home. The woman was attacked after three young men wearing hoodies forced their way in through a first-floor window of a house.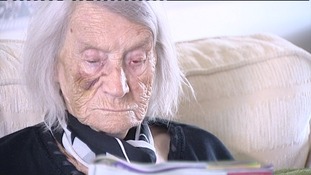 A 95 year old woman from Wickford in Essex has spoken about the terrifying moment she was attacked by burglars in her home.
Read the full story
Anglia
A 95-year-old woman from Wickford, Essex, says she is readjusting to her life after being attacked in her own home.
Three men broke into her house in August, taking cash and her house keys.
After the assault she was left covered in bruises and with a fractured pelvis.
Police are appealing for information.
Advertisement
Back to top