'Save Portsmouth Shipyard'
Up to a thousand posts are under threat at BAE systems based at Portsmouth Shipyard.
The Bishop of Portsmouth said the loss of 940 jobs at Portsmouth dockyard is shocking news.
BAE Systems announced earlier that shipbuilding would cease in the city from 2014.
The Rt Rev Christopher Foster, Anglican Bishop of Portsmouth, said: "This is serious and shocking news for Portsmouth and the surrounding area.
"Most of all for those whose jobs are directly now at risk and their families but for the whole community and local economy.
"The decision of BAE and the Government will not be understood by most of us and does no justice to the commitment of this city and area to our island and naval safety for generations."
Advertisement
John Denham, Labour MP for Southampton Itchen and Rowenna Davis, Parliamentary candidate for Southampton Itchen have spoken out about the news of shipbuilding job losses in Portsmouth.
Labour secured ship building on the south coast with shares of the destroyer and carrier programmes. Government statement today made clear that no efforts have been made to win new work for Portsmouth in the past three years and that they have agreed to transfer work from Portsmouth to other shipyards. Many on the south coast feel they have been sold down the river by a government whose interest and attention has been elsewhere.
– John Denham, Labour MP for Southampton Itchen
The end of shipbuilding in Portsmouth is a great loss for the 1200 workers there, and for our country as a whole. Our thoughts are with employees and their families as this great 500 year tradition and all their hard work comes to an end. Labour worked hard to secure shipbuilding in the South of England, whilst this government has done nothing, following the same path as Ford earlier this year. Now our Royal Navy may be forced to commission work abroad or from a potentially independent Scotland. We should be protecting and supporting our skilled jobs, not letting them slip away.
– Rowenna Davis, Labour Parliamentary candidate for Southampton Itchen
Secretary of State for Defence, Philip Hammond told MPs in the House of Commons that the loss of 1,775 jobs at BAE Systems was "regrettable but inevitable."
Video. Mike Hancock, the Independent Member of Parliament for Portsmouth South, questions David Cameron in the House of Commons about the affects of the job losses to those in Portsmouth and Scotland and what the government will do about it.
Advertisement
Video. David Cameron talks about the job loses at BAE Systems in Portsmouth.
BAE Systems said that Portsmouth-based engineers would be retained to support the design and development of the new Type 26 frigates.
It also confirmed that although the construction of new aircraft carriers would move to Scotland, it's still intended that the ships will be based in Portsmouth.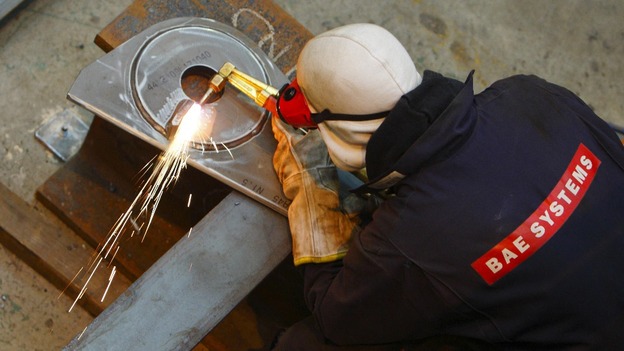 Shipbuilding in Portsmouth will end in the second half of 2014, BAE Systems said.
It will mean the final stages of the construction of the second of the Royal Navy's new Queen Elizabeth class aircraft carriers will be moved to Glasgow.
Construction of the navy's new Type 26 frigates, that it was hoped would be built in Portsmouth, will also go to Scotland.
A statement said: "A significant reduction in workload will follow the peak of activity on the Aircraft Carrier programme, the six Type 45 destroyers and two export contracts."
It will mean the loss of 940 jobs in Portsmouth next year. A further 835 jobs will go in Filton, Glasgow and Rosyth.
BAE Systems will retain around 3,200 people across its sites at Portsmouth Naval Base, Portsdown Hill, Broad Oak, Cowes and HMS Collingwood.
National
BAE Systems said it was being hit by a "significant" reduction in workload following a peak of activity on the current aircraft carrier programme.
Read: BAE Systems confirms it will cut 1,775 jobs
The company said shipbuilding operations will end in Portsmouth in the second half of next year, but an engineering team will be retained to support the new Type 26 warships, which will be built in Glasgow.
BAE Systems has agreed with the UK Ministry of Defence that Glasgow would be the most effective location for the manufacture of the future Type 26 ships.
Consequently, and subject to consultation with trade union representatives, the company proposes to consolidate its shipbuilding operations in Glasgow with investments in facilities to create a world-class capability, positioning it to deliver an affordable Type 26 programme for the Royal Navy.

The cost of the restructuring will be borne by the Ministry of Defence. The implementation of these restructuring activities will sustain BAE Systems' capability to deliver complex warships for the Royal Navy and secure the employment of thousands of highly skilled employees across the UK.
Load more updates
Back to top