'Save Portsmouth Shipyard'
Up to a thousand posts are under threat at BAE systems based at Portsmouth Shipyard.
Prospect, the union for defence specialists has said that the job losses in Portsmouth and Scotland are of 'deep concern'.
They have called for an urgent meeting with ministers and the company, BAE Systems.
Gary Graham, the Deputy General Secretary said:
For an island nation and in this time of increased global uncertainty, we should be seeking to maintain our shipbuilding capacity, not reduce it.Shipbuilding is not only a key element of our defence infrastructure, it is also an industry where the UK should be a world-leader, creating and sustaining highly skilled and well-paid jobs.Job losses of this scale will have a devastating impact upon local communities and economies. These are the very type of highly skilled jobs which should be leading us out of recession and helping create growth in the economy.
– Gary Graham, Deputy General Secretary for union Prospect
Unite, the country's largest union, will help fight as many of the 1775 jobs under threat at BAE Systems, including the 940 jobs that will be lost at the Portsmouth yard.
Unite said:
This is a very worrying time for the workforces and their families as the work on the two carriers comes to a conclusion. Unite will be working very hard to retain the maximum number of jobs at both Portsmouth and in Scotland. It is a huge blow to Britain's manufacturing and industrial base, with many highly skilled workers faced with losing their jobs.
We will have to examine the BAE business case in detail to see how we can secure a future for the workforces at both Portsmouth and in Scotland. We believe that, if this is approached in a constructive and innovative way, it can be achieved. The seeds for this situation were sown in the 1980's when the Thatcher government used European structural funds to close shipyards, rather than funding investment that would have allowed Britain to compete in the global marketplace for shipbuilding orders against the likes of South Korea.
– Ian Waddell, Unite national officer for shipbuilding
Advertisement
The Leader of Portsmouth City Council have condemned the decision to end ship building at Portsmouth dockyard.
Councillor Gerald Vernon-Jackson, said:
I condemn the decision to shut down the last remaining shipyard in England with the capability to build advanced surface warships.

This decision is bad for Portsmouth, with the loss of many highly-skilled jobs, but it's also bad for the defence of the UK and for the Royal Navy.

The remaining yards with the capability to build advanced warships are in Scotland, and the referendum on Scottish independence is less than one year away. Ministers have put the defence of the UK and the future of the navy at real risk.
We will work as hard as we can to protect jobs in Portsmouth.

Portsmouth remains the home of the Royal Navy with more than 10,000 jobs remaining in the dockyard.
– Cllr Gerald Vernon-Jackson, Portsmouth City Council Leader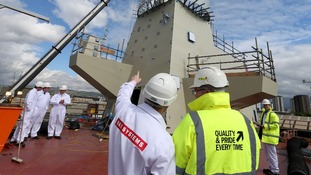 1800 jobs will be cut in shipyards operated by BAE Systems across England and Wales, bringing shipbuilding in Portsmouth to an end.
Read the full story
940 jobs will be lost at BAE Systems in Portsmouth.
Shipbuilding operations will end in Portsmouth in the second half of next year.
A total of 1775 jobs will be lost across its naval ship business, including its yards at Govan and Scotstoun in Scotland.
It is thought that a huge increase in the cost of building two new aircraft carriers could be the reason why jobs have been cut.
ITV Meridian understands workers at BAE in Portsmouth will be told what is happening to their jobs at 11.00am today. Phil Hammond MP, Defence Secretary, is making an announcement to the House of Commons at 12.30pm. The future of shipbuilding will be raised at Prime Minister's Question time at noon.
Advertisement
Video. Councillor Gerald Vernon-Jackson, leader of Portsmouth City Council had this to say about the threat of job losses at BAE Systems.
It has been suggested that the official announcement of job losses at BAE Systems will be at 10am today.
Up to 1000 jobs could be lost at the Portsmouth based shipyard.
It is believed a huge increase in the cost of building two new aircraft carriers could be to blame.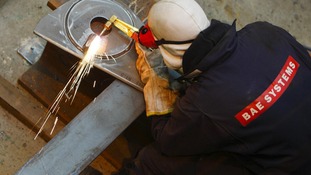 Unions are to meet defence giant BAe Systems to discuss the future of the firm's three shipyards amid a review of its business.
Read the full story
National
We continue to work closely with the Ministry of Defence to explore all possible options to determine how best to sustain the capability to deliver complex warships in the UK in the future.

This work is ongoing and we are committed to keeping our employees and trade unions informed as it progresses.
– A BAE Systems spokesman
Load more updates
Back to top