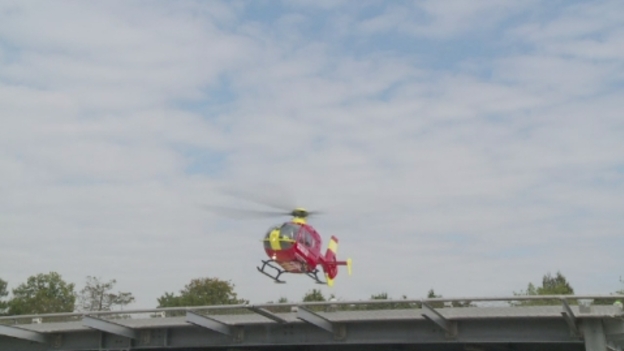 They've helped to save the lives of hundreds of people across the south and today the thousandth landing by an air ambulance was made at Southampton General. It happened as visitors arrived for the hospital's annual open day. Richard Jones reports.
Advertisement
Today the 1000th flight of the air ambulance landed at Southampton General Hospital.
It took place during a hospital open day where people were given a behind the scenes look at the workings of a major trauma centre.
The event, which is now in its sixth year, will see more than 100 events, activities and information stands.
People will be able to walk through a pair of giant inflatable lungs, watch a virtual autopsy and tour the operating theatres, as well as meet leading Cancer Research UK (CRUK) scientists, try on a pair of simulation specs to understand different eye conditions and meet the Pets as Therapy (PAT) dogs.
When former Brighton and Hove Albion and Crawley Town goalkeeper, Michel Kuipers, was involved in a car crash in 2003, his life and career were left hanging in the balance.
But thanks to the quick work of the Kent, Surrey and Sussex Air Ambulance he was able to continue the job he loved. Charlotte Wilkins reports.
An air ambulance charity is now carrying a portable blood analyser on board it's helicopter. Thames Valley And Chiltern Air Ambulance says the introduction of the i-Stat helps it to fulfil its promise of providing enhanced patient care.
Kent, Surrey and Sussex Air Ambulance is the first to launch a 24-hour service, which will include night flights.
The charity will operate a Helicopter Emergency Medical Service from today across our region.
The Kent, Surrey and Sussex Air Ambulance Trust's state of the art helicopter operates every day of the year to save lives across our region and is capable of flying to a medical scene in less than 20 minutes.
The aircrafts allow the service to work closely with South East Coast Ambulance Service, responding to more than 1500 emergency calls every year.
Advertisement
It costs £5m a year to run the Kent, Surrey and Sussex Air Ambulance - a cost entirely met by fundraising. But those who've benefited from the service say it's money well spent. The quicker a seriously injured patient gets to hospital, the better the chances of survival. David Wood reports.
A new helicopter will serve as a 24-hour air ambulance for Kent, Surrey and Sussex.
The newer version of the helicopter based in Redhill will ensure the aircraft is ready for night flying in the late summer.
To prepare for the 24-hour service, the charity's specialist paramedic crew have already started delivering a medical service using a response car throughout the night.
Adrian Bell, Chief Executive of the Kent, Surrey and Sussex Air Ambulance, said:
"We have replaced one of our helicopters with a new version capable of night operations. While we are waiting for the necessary regulatory processes to be completed we have started operating by car during the hours of darkness."
A former British grasstrack champion who survived a racing crash thanksto Kent Air Ambulance has had a tattoo of the helicopter done on his back in tribute to themedics who saved his life.
Nineteen year old Craig Drury suffered multiple injuries after he was catapulted from his 250cc machine in the last race of the day at Collier Street. He suffered a punctured lung, a lacerated liver, a torn spleen, broken ribs, three fractured vertebrae and a broken leg and collarbone.
Craig has since made a full recovery and has now had a tattoo of Kent AirAmbulance inked on his back by Life Family Tattoo in Sevenoaks where he lives.
He said: "I had it done because I wanted a permanent reminder that the pilot, doctor and paramedic saved my life, and to publicise the charity.
"I've already got six tattoos but this one runs from shoulder to shoulder and took three-and-a-half hours to do. It looks amazing."
A new air ambulance dedicated to children - had its first test flight in Hampshire today. The charity-based service aims to fly babies and children to specialist hospitals all over the country - saving up to four thousand lives a year. Martin Dowse reports.
Load more updates