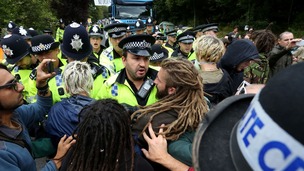 Greenpeace has launched a legal challenge to stop any further fracking in England.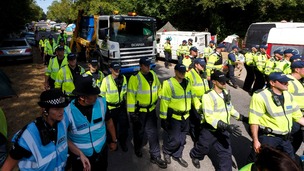 Police said they are winding up their operation overseeing anti-fracking protests in Balcombe as the cost is expected to hit £4 million.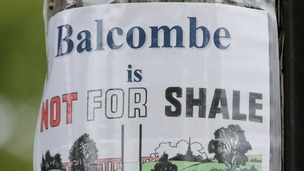 George Osborne has unveiled tax breaks for controversial fracking in a bid to create the "most generous" regime for shale gas in the world.
Live updates
More drilling at protest site?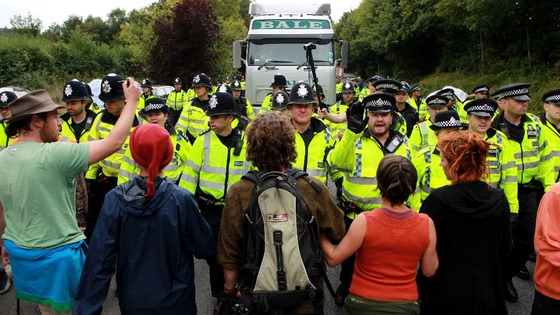 More drilling could take place outside a Sussex village which has been the focus of anti-fracking protests. Energy firm Cuadrilla has submitted plans to carry out "flow tests" at the Balcombe site after test drilling found hydrocarbons in rock samples.
A Cuadrilla spokesman said the new application did not include a request to carry out fracking. The firm had drilled a 3,000ft vertical well and a 2,500ft horizontal bore, but the well had been closed off while it sought fresh planning permission.
A West Sussex County Council spokesman confirmed the application was submitted on Wednesday and that it would take 10 days for it to be published and appear on the authority's website. He said there would then be a formal consultation.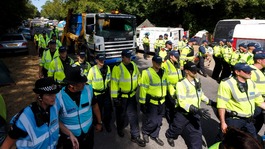 Police said they are winding up their operation overseeing anti-fracking protests in Balcombe as the cost is expected to hit £4 million.
Read the full story
Advertisement
More drilling at protest site?
Police said they are winding up their operation overseeing anti-fracking protests in West Sussex as the final cost to taxpayers is expected to hit around £4 million.
Energy company Cuadrilla has been spending the week clearing the site at Balcombe after completing its exploratory oil drilling earlier this month.
Although no hydraulic fracturing, or fracking, has been taking place, the village has been thrust to the forefront of anti-fracking protests over the past two months.
Caroline Lucas charged
Balcombe drilling complete
Protesters have vowed to remain at the controversial drilling test site at Balcombe in Sussex until the area is cleared. Energy firm Cuadrilla is withdrawing from the site where it had been carrying out exploratory drilling.
Anti-fracking campaigners say they will eventually stand-down but will come back if the company returns for further tests. Sarah Saunders speaks to Balcombe protesters and Ewa Jasiewicz from from No Dash For Gas.
Balcombe drilling complete
The well is now closed off for the coming months as Cuadrilla applies for planning permission to come back and test flow rates. We appreciate that the Balcombe community has had to bear the strain of protest, as have our on-site and support team and contractors.

We commend West Sussex County Council and police for both facilitating peaceful protest and preserving order."
– Francis Egan, Cuadrilla CEO,
Advertisement
Balcombe drilling complete
The well was a success and we are very encouraged by the findings so far."
– Andrew Quarles, Cuadrilla's Exploration Director
Balcombe drilling complete
Cuadrilla have announced that the Balcombe exploration drilling operations have now been completed. They've started removing their drilling equipment from the site and expect to be out by September 28th.
Protest van blocks Balcombe road
A busy main road in Balcombe had to be closed today as a van, protesting against fracking outside Cuadrilla, blocked the road.
The van was parked diagonally across the B2036 London Road at 11am today, blocking both carriageways.
A woman then locked herself to the top of the van.
Superintendent Lawrence Hobbs said, "This is once again causing significant disruption to the local community at a time when there are increased vehicle movements as the site is being prepared for closure."
Exploratory oil drillers are beginning to pull out of the site at Balcombe.
Police have warned that there is likely to be on-going disruption this week as up to 20 vehicle movements a day, necessary to clear the site, have to be escorted in and out by the police to reduce the risk of them being delayed even further by protesters.
Women's anti-fracking protest
An airbase control tower in Berkshire - that was used in the Cold War - could become a museum. The tower on the edge of Greenham Common hasn't been used since the base closed in 1993.
Greenham Parish Council has submitted a bid to West Berkshire Council to take it over as a community asset.
Load more updates
Back to top