A prompt emergency call saved two houses in Caversfield from serious fire damage.
At 4:42pm yesterday Oxfordshire County Council Fire and Rescue Service were called to reports of a large garden shed on fire in Turnpike Road, Caversfield, near Bicester.
Within minutes a crew from Bicester arrived to find a severe fire which was spreading to the rear of two domestic properties. Additional fire engines were immediately requested and Firefighters tackled the fire using two water jets, a high pressure hose reel and thermal imaging cameras.
Fire engines from Bicester, Kidlington, Banbury and Buckingham attended the fire, which is believed to have been caused by an electrical fault. The occupants of all the houses evacuated safely and there were no injuries.
"Thankfully the fire was discovered very quickly and the occupier immediately dialed 999. Fires of this nature grow rapidly and the prompt actions of both the caller and firefighters ensured the damage to both houses was only external. A delay of even a few minutes would likely have resulted in the fire spreading inside both properties."
– Watch Manager Chris Hollis from Bicester Fire Station
Staff fled from flames and hundreds of shoppers were turned away as a fire broke out at a popular shopping village preparing for the Easter rush.
Around 40 firefighters were called to the Bicester shopping village, in Oxfordshire, after a blaze broke out in an Italian restaurant.
Nearby residents saw plumes of smoke climb into the sky, as the designer outlet was shut down.
Asana Greenstreet reports:
Advertisement
Bicester Village reopened at 1300 this afternoon according to the shopping centre.
7 fire crews dealt with the blaze which started at 0840 this morning.
A number of shops remain closed.
Advertisement
#bicestervillage is closed today due to a fire and is likely to remain closed for the rest of the day. Follow for updates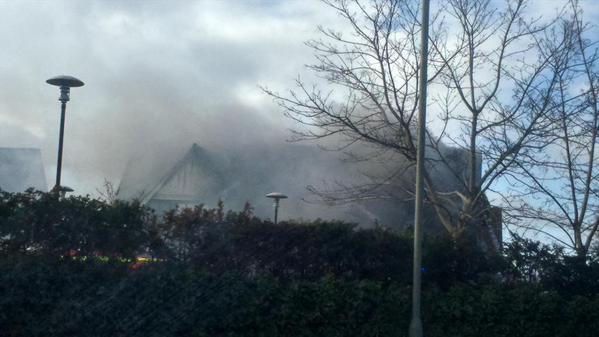 A spokesperson from the fire brigade told ITV Meridian that the fire is at Carluccios restaurant in Bicester Village outlet. Crews were called at 08:40 this morning, seven fire appliances from Oxfordshire Fire & Rescue are tackling the blaze. Bicester Village is currently closed while the incident is dealt with. It's believed no-one has been hurt.
Load more updates