A man who drove at a group of people enjoying a night out in Bournemouth town centre has been jailed for 13 years. Dean James Cambage, 33, was sentenced today at Bournemouth Crown Court after pleading guilty to dangerous driving, attempted grievous bodily harm with intent and one count of grievous bodily harm. He was told he would have to serve a minimum of eight years before being considered for parole.
The court heard how Cambage, of Bournemouth, was drinking in The Winchester nightclub on Poole Hill in the early hours of Sunday 24 August 2014 when he got into a dispute with staff over a glass of wine that his friend wanted to exchange for a beer. Cambage left the club, got into a grey BMW and deliberately drove at two people who were standing outside.
One male member of staff sustained cuts to his face which required stitches and a broken left wrist. A woman, who was walking past the club at the time, was left badly bruised following the attack.
The car Cambage was driving was found abandoned at 4.55am the same day on East Overcliff. The court heard the vehicle had been stolen from an address in Sunbury on Thames in Surrey.
After the incident, Cambage fled the area and his disappearance sparked a major manhunt involving arrest enquiries in Dorset and London and appeals in the media and on BBC Crimewatch. The court heard that Cambage was arrested in London on Thursday 26 February 2015.
Detective Constable Will Burnett, of Bournemouth CID, said: "This was a terrifying incident which was sparked by a dispute over a drink. Dean Cambage's actions that night were extremely reckless and dangerous. The fact that Cambage's victims were not more seriously injured is nothing less than miraculous. Bournemouth welcomes thousands of people each weekend who visit the town to enjoy its vibrant club and bar scene. Incidents like these will not be tolerated. We will relentlessly track down and bring to justice those who seek to disrupt Bournemouth's nightlife
Lib Dems from our region are back home tonight after their party conference.
Their new leader Tim Farron told them general election result in May was "utterly devastating".
He said it's time for the Lib Dems to win again. From Bournemouth, Phil Hornby reports:
Advertisement
A driver who deliberatley mowed down a group of people outside a pub in Bournemouth has been jailed for 13 years.
Dean Cambage was drinking in The Winchester on Poole Hill in August last year when he got into an argument with staff over a glass of wine. When he left the club the 33-year-old got into his BMW and drove at a group of people standing outside injuring two of them.
The Liberal Democrats are holding their annual conference in Bournemouth.
The party suffered a crunching defeat in this year's general election.
This afternoon they'll vote on whether to scrap Britain's nuclear weapons. The party's new leader, Tim Farron, will make his big speech on Wednesday.
Car parking at one of the south's busiest seaside resorts will double, it was announced today.
Bournemouth Council is blaming "severe financial challenges" for the proposed rise in the town, but drivers say they're being held to ransom and there's concern the fees will put tourists off.
Watch Martin Dowse's report:
A rise in car parking charges is planned in Bournemouth, with some places more than doubling in price.
Bournemouth council says "severe financial challenges" facing all local authorities have left them with no choice but raise charges.
These are some of the proposed changes:
At Bath Road and Beacon Road car parks it would cost £12 for a stay of up to six hours – up from £6.60.
Parking on East Overcliff Drive would rise from £2.60 to £6 for up to 6 hours.
At Bourne Avenue, Braidley Road, Hinton Road and Madeira Road, two hours would rise from £1.30 to £3.
A 12-month town centre parking permit at Winter Gardens or Keystone House would rise by £100 to £750.
Longer stays at town centre car parks like Cotlands Road and Lansdowne Road are frozen at £3.50 for four hours and £4 for up to 24 hours.
For over four years, the council haven't put their charges up, so the chamber are not jumping up and down against this.

We've got to be realistic that the council are going through a huge amount of cuts. Because they've supported us in the town for so long, through the recession and, not lifted anything, I think it's acceptable and understandable.
– Mandy Payne, past president of Bournemouth Chamber of Trade and Commerce
Advertisement
A 34-year-old man has been arrested after a stand-off with emergency services in Bournemouth.
At 3.27am today, Dorset Police were called to an alleged assault at an address along Mallard Road in which a woman had sustained an injury to her eye.
Officers attended but the male suspect had left the scene.
Later in the morning, at 6.34am, they received a report that a man, believed to be the suspect from the first incident, was threatening two men with a machete.
A cordon was put in place on Mountbatten Gardens, with residents unable to access the street for several hours.
Nobody was injured.
Emergency services have spent several hours at the scene of a stand-off in Bournemouth, where a man is thought to have been threatening two other men with a machete.
Police officers, firefighters and ambulance were called to Mountbatten Gardens, where a cordon is now place.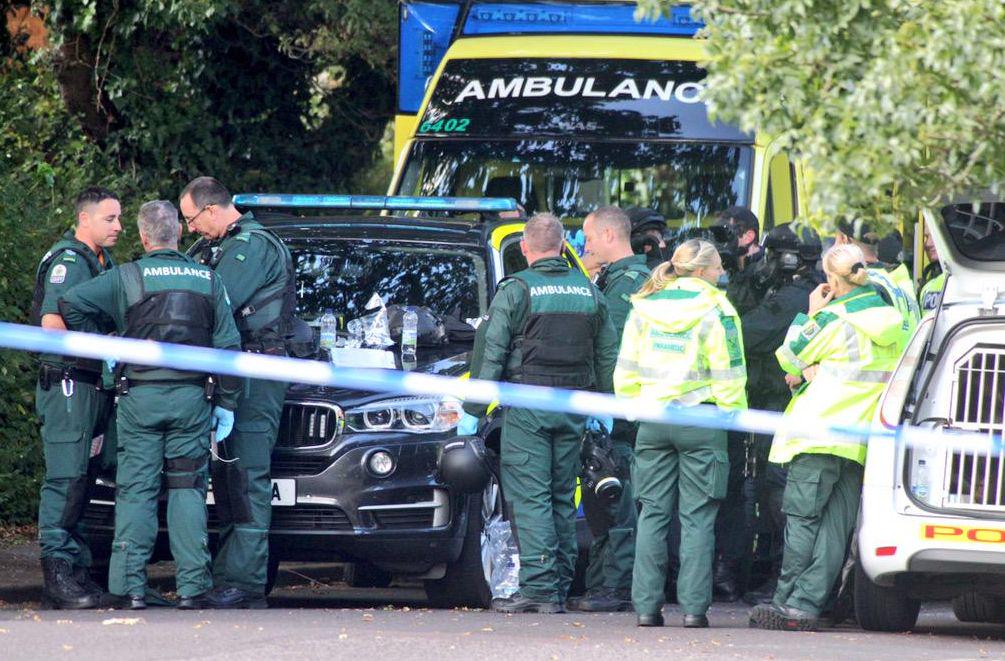 The Bournemouth Echo reports that at around 1.30pm, police confirmed that one man had got out of the property and was safe.
The weather let down organisers of the 8th annual Bournemouth Airshow today. The red arrows were just some of the planes supposed to be on display - but they were grounded because of the rain. Sally Simmonds sent this
Police in Bournemouth are appealing for witnesses and anyone with information to come forward after a man was threatened with a knife in the town.
At around 10.30pm yesterday, Wednesday 12 August 2015, a member of staff at Tesco on Riverside Avenue approached a man who was reportedly looking through car windows in the car park.
The offender pulled an army-style hunting knife out of a black rucksack and threatened the member of staff before cycling away on a mountain bike.
The victim, a local man aged in his 30s, was not physically injured.
The offender is described as white, aged in his 20s, approximately five feet six inches tall with a crew-cut hair style. He spoke with an eastern European accent and was wearing a grey hooded top.
"This was a frightening incident for the victim. I am appealing to anyone who witnessed the incident or saw a man matching the description given in the area at the relevant time to please call me urgently. All calls will be treated in strict confidence."
– Police Sergeant Matt Chutter, of Bournemouth police
Load more updates