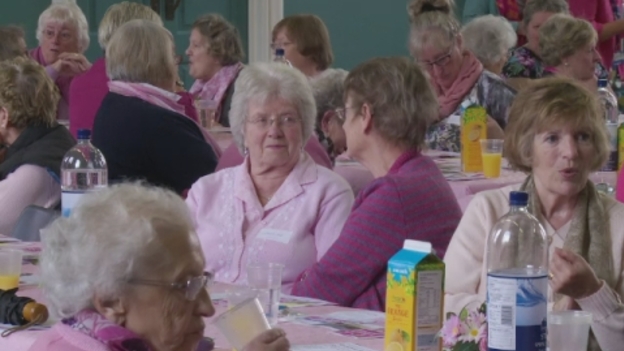 Former breast cancer patients and those recently diagnosed with the disease - have begun a campaign to build a new specialist unit in Wiltshire.
Three quarters of a million pounds is needed for the dedicated centre at Salisbury District Hospital which would be able to treat four and a half thousand women each year. Penny Silvester reports.
There's condemnation from Cancer Charities that a drug which can extend the lives of some women with advanced breast cancer has been rejected for NHS use because it is too expensive.
Kadcyla has shown remarkable success in trials at The Queen Alexandra Hospital in Portsmouth, and a woman from Reading says it's extended her life by three years.
But it costs 90 thousand pounds for a course of treatment, too much for the NHS financial watchdog, NICE, which made the decision. It has criticised the manufacturers for the high cost.
Rachel Hepworth speaks to cancer survivors Manjinder Coulter and Kimberly Mawby, Chief Exec of NICE, Andrew Dillon, Sarah Rawlings from the charity Breakthrough Cancer, and Jennifer Cozzone from pharmaceutical company Roche.
Advertisement
A drug that can extend the lives of some women with an advanced form of breast cancer has been rejected for NHS use because it is too expensive.
The high price of Kadcyla makes it "impossible" to recommend for widespread use in the health service, the National Institute for Health and Care Excellence (Nice) said.
The drug, also known as trastuzumab emtansine, is used to treat breast cancer patients with HER2-positive breast cancer that has spread to other parts of the body. It is used when the cancer cannot be surgically removed and the patient has stopped responding to initial treatments.
It can offer these women a last hope, extending the lives of patients by around six months.
But final draft guidance from Nice says that the drug, which costs around £90,000 per patient at its full price, it too expensive to recommend for widespread use in the health service.
A patient using the breast cancer drug Kadcyla, which could be blocked from routine NHS access because it is too expensive, told ITV News the treatment had improved her quality of life.
"I was in quite a bad state, and within about two cycles my life felt like it had turned a corner. I was able to do things I wasn't able to do prior to being on this treatment," Mani said of the drug, which currently costs around £90,000 per patient.
A drug that was trialled in Portsmouth and can prolong the lives of breast cancer sufferers by nearly six months has been refused by the NHS because of costs.The Herceptin type drug was trialled in Portsmouth but can cost up to £90,000 per patient.
We speak to National Institute for Health and Care Excellence's Andrew Dillion about the new drug and what he thinks about the NHS' decision to refuse the expensive treatment.
The watchdog, which decides which new medicines are cost effective, said its guidance for Kadcyla, manufactured by Roche, or trastuzumab emtansine, was in draft form and is now up for public consultation.
Meanwhile patients will be able to apply to their local NHS and to the Cancer Drugs Fund.
When Anikka Burton was diagnosed with breast cancer, she was overwhelmed with bouquets of flowers and gifts sent by well-wishers. Although she was touched by their kindness, she was unable to enjoy many of the gifts and they went to waste. But her experience gave her an idea.
Anikka set up a business selling products which cancer patients would find useful and that wouldn't interfere with treatment. Charlotte Wilkins reports
Advertisement
If you found out you carried the breast cancer gene, would you opt for a double mastectomy? Well after Angelina Jolie went public about her decision to have the life saving surgery, tests for the breast cancer gene have risen by 67% and double mastectomies have quadrupled.
It is no longer a taboo subject and many women have spoken out about how it has changed their lives. But one group has gone a step further. They have taken the brave step of stripping off for a calendar to try and dispel the myths and raise money for charity. David Wood reports.
The University of Reading is playing a leading role in a new study which will look at the effects of breast cancer patients eating watercress.
Female volunteers, who are at the early stages of the disease, will eat 100g of watercress every day for eight weeks to see if it has any impact on treatment.
Blood samples will be taken from the volunteers and sent to Reading for expert analysis.
The trial is part of Breast Cancer Awareness Month this October and is aiming to show how important a healthy diet is during radiotherapy treatment.
Previous research has shown that several compounds within watercress have properties that can fight cancer.
It is also full of vitamins and minerals, providing more Vitamin C than an orange and more iron than spinach.
It is described as a revolution in breast cancer treatment, an injection which dramatically reduces the time that patients must spend in hospital. Until now, women prescribed the drug Herceptin have received it via a drip, which is time consuming and painful.
From today though, they have the alternative of a five minute injection. Helen Ford reports.
The wear it pink campaign has so far raised more than £23 million and the next event will be supported once again for the south.
The MP for South Basildon and East Thurrock has joined the fight against breast cancer by taking part in this year's campaign.
It is estimated to be the Breast Cancer Campaign's biggest fundraiser to help lifesaving research.
Mr Metcalfe commented:
"Every year in the UK around 50,000 women and around 400 men are diagnosed with breast cancer. Sadly 12,000 women and 80 men die from this disease. This is why we need to support Breast Cancer Campaign's fundraising efforts so they can continue to fund research which will one day lead to a cure."
Load more updates