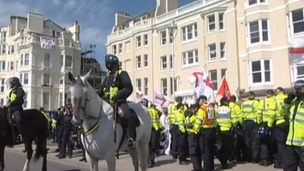 A march by the extreme right-wing group, the English Defence League, attracted just 200 supporters in Brighton today.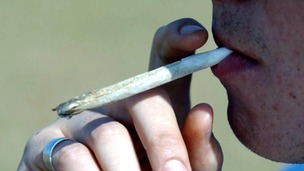 Brighton and Hove could become the first place in the country to provide rooms where people would be able to use drugs safely.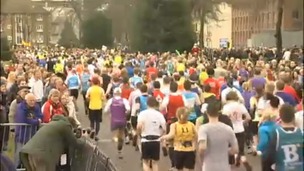 A 23-year-old man, who has not yet been named, died after collapsing during the Brighton Marathon.
Live updates
Pupils could 'grade' teachers
Children at Brighton College complete assessments of whether teachers are on time for class or deliver inspirational lessons.
The head says he will even consider asking staff to leave the profession if their feedback from pupils is consistently poor.
Christine Alsford reports.
More homelessness in Brighton
The cold truth was revealed today about the true extent of Brighton and Hove's homelessness problem which has risen by a shocking 35% in the past two years.
Council chiefs believe the issue is partly to do with the economic climate - but also fear that a steep rise in private rent could be to blame. Here's Malcolm Shaw.
Advertisement
Missing teenager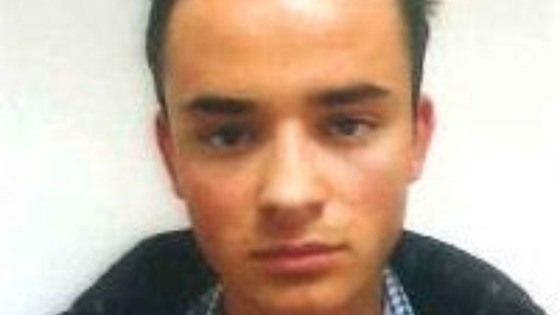 Police are concerned for the welfare of a missing Albania teenager. Alban Kastrati, 17, was staying in Portslade when he left the house on November 20 and did not return.
He is described as tanned with black hair and around 5' 9". he was wearing a black puffa jacket, blue jeans, a blue and white checked shirt. He has a scar on his left cheek.
Sergeant Ross Wickings said: "We are concerned about where he is as he only arrived in England on November 19, does not know the Brighton area and speaks little English.
"Anyone who has seen him is asked to contact police on 101 quoting serial 456 of 20/11."
Giant ribbon for World AIDS Day
The police have release dramatic footage of the aftermath of a burglary following a spate of break ins in Hampshire. Homeowners are being warned to review their security after a number of properties in the Waterlooville and Havant areas were targeted. Richard Slee reports.
Giant ribbon for World AIDS Day
The world's largest Aids awareness ribbon, measuring 45 metres, has been unveiled in Brighton. The event is one of several taking place across the south east to mark World AIDS Day. Tom Savvides reports.
Giant ribbon for World AIDS Day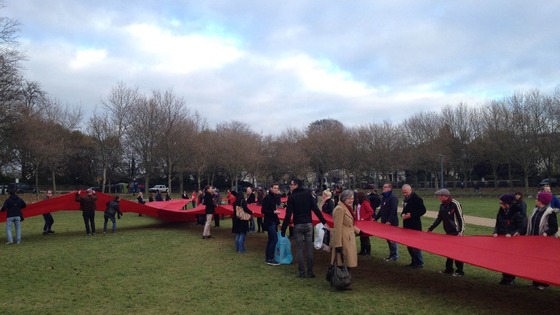 Advertisement
Giant ribbon for World AIDS Day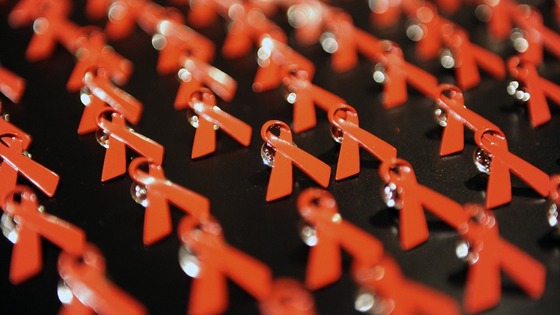 Caroline Lucas MP will be marking World AIDS Day today at an event where the world's largest AIDS awareness ribbon - at 45 metres wide - will be unveiled. The MP for Brighton Pavilion will open the 'You, Me and HIV' event organised by AVERT, the Brighton World AIDS Day Community Partnership.
Caroline Lucas said: 'I'm extremely proud to be taking part in World AIDS Day. It is about remembering those who have died, and supporting those for whom HIV and AIDS, along with the associated stigma, prejudice and financial hardship, remain a daily reality.
'Brighton and Hove has the highest prevalence of people with HIV outside of London and yet around one in five does not know he or she has the virus. If people are diagnosed and treated in time, they can now live a normal life span, and infectiousness can be reduced by 96%.'
Brighton film festival
The Brighton film festival is drawing to a close this weekend. Cine-City is in its 11th year and showcases the very best in international cinema. But on Saturday, local film-makers are being given the chance to have their work screened.
Charlotte Wilkins has had a preview and speaks to Cine-City Co-Director, Tim Brown; Producer, Cecilia Bartolome; and directors Sina Krause, Barbara Myers and Paul Loman.
Council tax could rise in Brighton
People in Brighton and Hove are warned their council tax could increase next year.
The city council is proposing a two per cent rise from April. It blames cuts in Government funding and the need to save nearly twenty four million pounds.
ITV Meridian spoke to Councillor Jason Kitcat, Leader of Brighton and Hove City Council.
Police are appealing for witnesses after a man has been approaching women in the early hours in Brighton and threatening them with a hammer. The first incident happened at 1am on Tuesday 19 November when a 21-year-old woman was walking back across the Level after finishing at work.
She was then approached by a man carrying a claw hammer on the corner of Howard Road, who threatened her and demanded money and her phone.
The second incident happened on Sunday 24th November at 5.25am where the woman victim was dropped off in a taxi with friends at the bottom of Elm Grove.
A man then approached her when she was near to the corner of Bonchurch Road. He told her to hand over her phone and showed her the top of a hammer that he had in the top of his trousers.
The victim managed to run away.
Load more updates
Back to top