A Sussex police officer has been attacked and injured as he tried to make an arrest on Brighton seafront.
It happened at the Kings Road Arches on July 11th but details have only just been released. The officer was punched and suffered cuts to his head.
A man's been charged and will appear in court next week.
A 14-year-old girl who went missing on Saturday after attending the Brighton Pride march has been found.
Georgia Holder, who is from Crawley, was found in Brighton last night.
Police have thanked those who helped find her.
Advertisement
A police car has been designed for Sussex Police, especially for Brighton Pride, which kicks off tomorrow.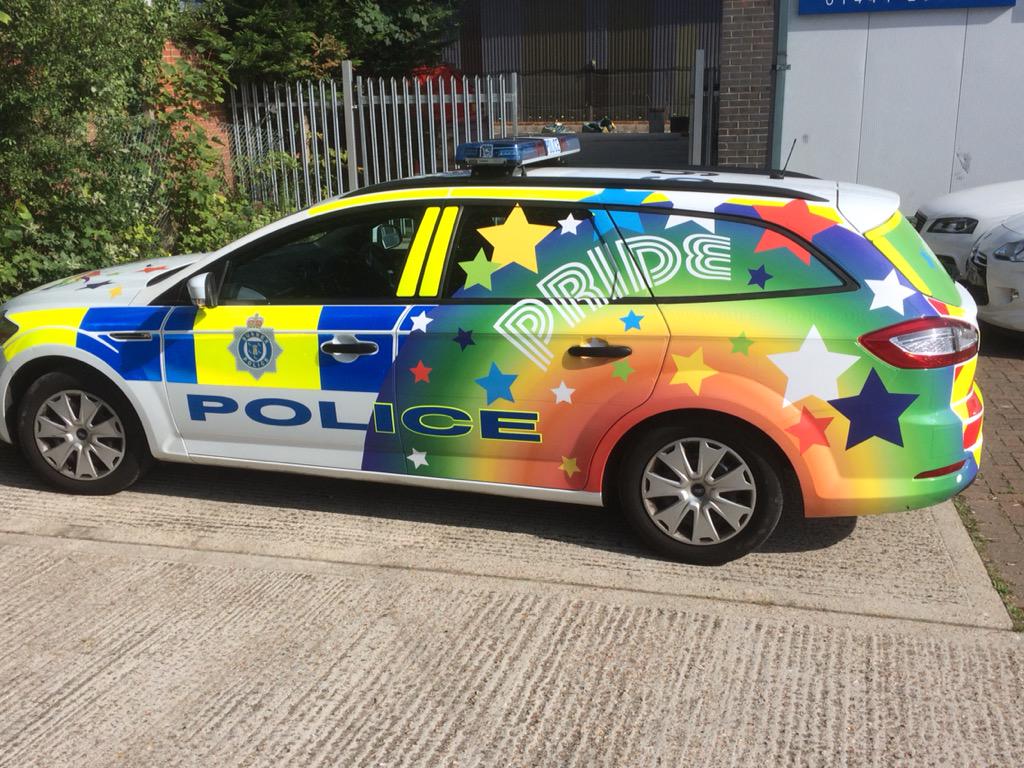 Now in it's 25th year - 160 thousand people are expected to attend. It's the largest event of its kind in the country. This year, an extended parade will start from Hove Lawns at 11am and retraces the steps of the first Pride walks.
Smoking could be banned on Brighton beach. The city council is discussing the issue this week.
Residents may be asked for their views. Brighton and Hove City Council will meet on Tuesday to decide whether a public consultation should proceed.
There is already a voluntary smoke-free scheme in the city's children's playgrounds. Now the beach and the city's parks could be designated as smoke-free zones.
The public consultation would run for 12 weeks.
In October 2010 a devastating fire ripped through Hastings Pier - many people will never forget that night - and some believed the pier would never be rebuilt.
But just under five years on, the Victorian structure is being returned to it's grand, former glory, thanks to a £14m investment.
John Ryall has been to take a look at its progress.
Now, Brighton racecourse has had a colourful history.
Once frequented by King George IV and his aristocratic pals, it was later portrayed as the haunt of gangsters and racketeers in Graham Greene's book "Brighton Rock".
Well, now a group of students have been behind the scenes to find out what it's really like today.
Malcolm Shaw joined the boys for a day at the races.
Advertisement
Police are investigating the death of a man found in Chesham Place, Brighton, early on Tuesday (14 July).
Ambulance and police were called at 3.34am and discovered the body of a 54-year-old man at a flat.
The death is unexplained but a 60-year-old man has been arrested on suspicion of murder and is in police custody.
Police are concerned about 14-year-old Harvey Andrews, who has been missing From Burgess Hill since Monday.
He was last seen leaving a school in Queensdown Road in Brighton at 1.30pm, wearing black Adidas jogging bottoms and a grey polo shirt.
Police say they believe he could still be in the Brighton area.
We are concerned about Harvey because of his age. It is possible he could still be in Brighton as he has friends in the area.
– PC Dan Johnson, Sussex Police
An innocent man who was pepper-sprayed by police during a row in Brighton says mobile phone footage saved him from a jail sentence.
The 24-year-old estate agent was left temporarily blinded and struggling to breathe following the incident. The officer who sprayed him has since resigned but now an independent panel says she should be charged with gross misconduct. Watch John Ryall's report.
The RNLI in Brighton is warning people not to drink alcohol before swimming in the sea - after their fourth rescue in a month
Volunteers rushed to the rescue of an intoxicated man who was spotted near Brighton Palace Pier this morning (Saturday 4 July).
The crew were paged at 5.45am after receiving a call from Sussex Police saying that a man had entered the water fully clothed and was refusing to come out.
The man was brought onto the lifeboat where a full medical assessment was carried out. His condition was deteriorating due to a mixture of alcohol and cold water shock and he was taken to Royal Sussex County Hospital.
This is our 4th shout in a month to an intoxicated male. We are urging all party-goers not to go in the sea after a night out as can be very dangerous. Today the gentleman was very lucky with the quick response from Sussex Police, Brighton Seafront Office, Shoreham Coastguard and the crew from the lifeboat.
– Jade Cohen, volunteer Brighton lifeboat
The incident highlights the RNLI's annual Respect the Water campaign which seeks to educate people about the potential dangers of entering the sea without checking conditions, without proper equipment and precautions, or while under the influence of alcohol.
Load more updates