The first performance at the new Brighton Open Air Theatre is taking place today in Sussex.
The grass stage carved out of a former bowling green was the brainchild of local playwright Adrian Bunting. Sadly he died of cancer two years ago before his dream could be fulfilled, but his friends and the local community got together to make sure his idea came to fruition. Andy Dickenson reports.
The re-elected MP for Brighton Pavilion, the former Green Party leader Caroline Lucas has called for a reform of the voting system.
The politician held on to the Green Party's only parliamentary seat, winning 22,871 votes in the Brighton Pavilion constituency. However, more than a million people cast votes for Green candidates - Ms Lucas says that means there is something wrong with our voting system and she called for electoral reform, saying she would ally herself with other parties or organisations calling for change - including UKIP which also has just one MP after winning more than 3.7 million votes.
"I think it's a real travesty over a million people voted Green up and down the country and yet that's been translated into just one seat.

"I'm feeling fairly confident that as a result of what we've seen tonight there will be a real movement outside of Parliament, a real anger for people wanting voting reform."
– Caroline Lucas, Brighton Pavilion MP
Advertisement
Caroline Lucas thanked her supporters and helpers after the Greens held Brighton Pavilion with an increased majority.
A man has been charged with murder after a body was found in a flat in Brighton.
49-year old Star Randel-Hanson, who's unemployed, of Tyson Place, Grosvenor Street, Brighton, has been charged with the murder of Derek Marney.
The body of the 70-year old was found in a flat in Vernon Terrace, Brighton.
Star Randel-Hanson is due to appear in custody at Brighton Magistrates Court on Friday 8 May.
A post-mortem examination established that the death resulted from a stab wound.
Staff at Brighton Centre are preparing to count ballot papers that will decide who will win in Brighton overnight.
Voting ended at 10pm and as polling stations close, areas across the South are getting ready to count the number of votes for each political party.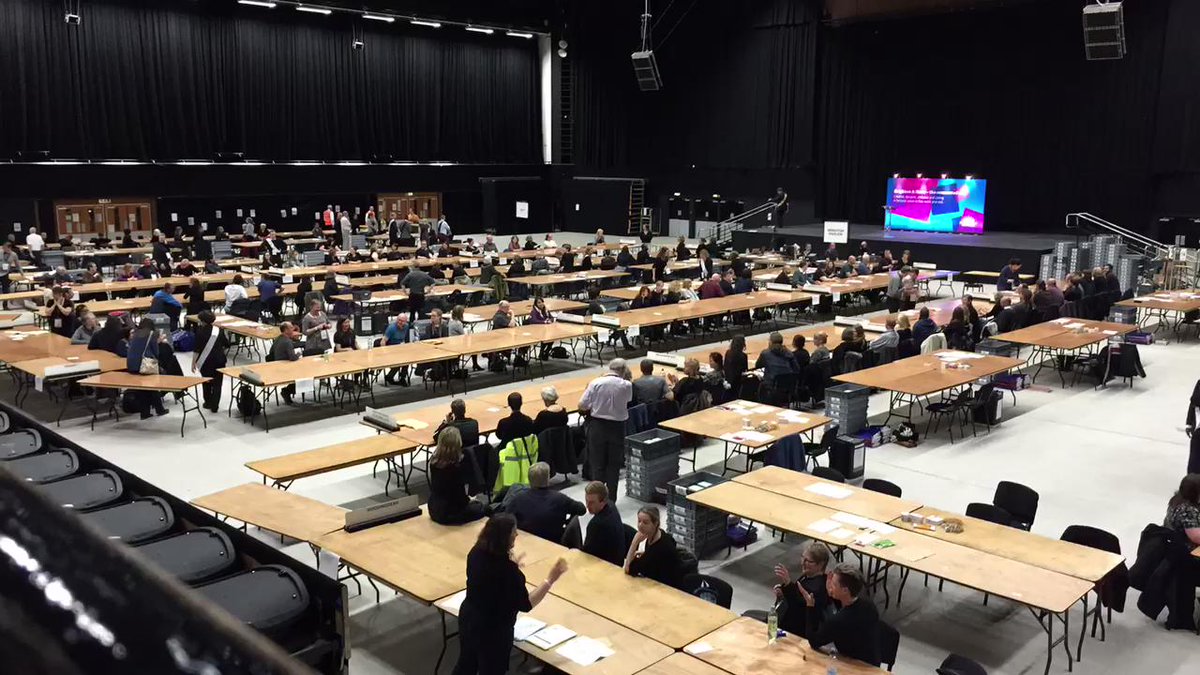 Advertisement
A man is being questioned by detectives on suspicion of murder after the body of a pensioner was found in a flat.
The alarm was raised by a resident who was concerned about their elderly neighbour, believed to be a man aged in his 60s or 70s, and officers rushed to the block of flats in Brighton to discover the body.
A spokesman for Sussex Police said the death was being treated as suspicious and a murder investigation had been launched.
"At about 5.30pm on Bank Holiday Monday police went to a flat in Vernon Terrace, Brighton, after a member of the public reported concern for the occupant at that address," he added.
"On entering the property officers found the body of a man, who is believed to be the elderly occupant.
"The death is being treated as suspicious."
A 49-year-old local man was arrested that same afternoon on suspicion of murder and is still in custody being questioned about the death.
A post mortem examination was expected to take place on Thursday while murder squad detectives were still trying to trace the man's relatives.
"We believe that deceased and the person in custody were known to each other. Inquiries are at an early stage but we are not looking for anyone else in connection with this death at this time."
– Detective Chief Inspector Paul Rymarz, of the Surrey and Sussex Major Crime Team
The operator of a seafront restaurant was fined today after mouse droppings were found in the kitchen.
Read the full story ›
A London Ambulance Service paramedic dubbed a "guardian angel" for bringing a man back to life while on a family holiday in Brighton has been honoured with an award.
Mel Armstrong was on Brighton Pier with her husband and two children on New Year's Eve when she saw a man collapse at the slot machines.
The 34-year-old said: "I heard a loud bang and I turned around and there was a man slumped against a machine. As I looked down, I could tell instantly he was about to stop breathing. I did CPR and after a few minutes managed to get a pulse back."
Mel cared for the patient, Brian Smith, until an ambulance crew arrived and took him to hospital, leaving Mel not knowing if he had lived or died.
But Brian's nephew Mark House, who happens to work as a clinical team leader for the ambulance service, got in touch with Mel after he learned what happened. Mel, who was given a London Ambulance Service VIP Award for her action, has since met with Brian and his family and they have become firm friends. They plan to meet back on the pier this New Year's Eve to celebrate Brian's recovery.
Brian, 72, from Cheam in Surrey, said: "We normally go down to Brighton pier on New Year's Eve as a family. We got to the slot machines and someone turned the lights out on me and I went down like a sack of potatoes."
The grandfather-of-five, added: "If it hadn't been for Mel, I wouldn't be sitting here. She's my guardian angel. It was my lucky day that she was there. She didn't have to do what she did - she could have walked on, but she stepped up to the plate."
Mel, who has worked for the service for 12 years, added: "There were hundreds of people watching what was going on and as I left quite a few said 'well done' and shook my hand. I believe I was meant to be there that day and since meeting Brian, we just clicked and have formed a strong bond."
With just hours to go, Brighton and Hove is preparing for the launch of its annual Festival.
Next year will be the 50th anniversary of what is now the largest arts celebration in England.
Following on from tomorrow's children's parade, the city will host 150 different events over the next three weeks - including more than 40 premieres.
ITV Meridian spoke to Andrew Comben from the festival.
Load more updates