The Brighton Wheel will not have its lease renewed and will have to cease trading ahead of the i360 opening, as originally agreed.
Read the full story ›
Police are trying to trace a taxi driver who picked up a woman after she was raped in Brighton.
The taxi picked up the 18-year-old from an address in the city and dropped her off at the Revenge nightclub in Old Steine. That was at around 3am on Friday 12th June.
The teenager was very slim and was wearing a light crop top and skinny black jeans.
The victim then raised the alarm that she had been a raped by a man who she had met earlier that night.
She had been on a night out with friends but at about 2.20am she left the nightclub with a white man. He took her to a house and then raped her.
Detective Constable Léonie White said: "The victim is very upset about her ordeal and she is being supported by specialist officers.
"We know that she left Revenge, but do not know whether she walked to the address with the man or whether they went together in a taxi.
"We need to speak to any taxi drivers who were working in Brighton who could have picked up the victim either when she left the club or to take her back there after the attack.
"We would also like to speak to anyone else who may have seen the victim leaving the club with a man at about 2.20am.
"If you know anything at all, please contact us."
Anyone with information should email 101@sussex.pnn.police.uk quoting serial 254 of 12/06, call 101 or contact the independent charity Crimestoppers anonymously on 0800 555111.
Advertisement
The final barge with material for Brighton's new i360 attraction has arrived from the Netherlands.
The vessel is carrying the final eleven steel cans to complete the structure, which has reached a height of 28 metres.
The viewing tower is set to be completed by September - and opens to the public next year.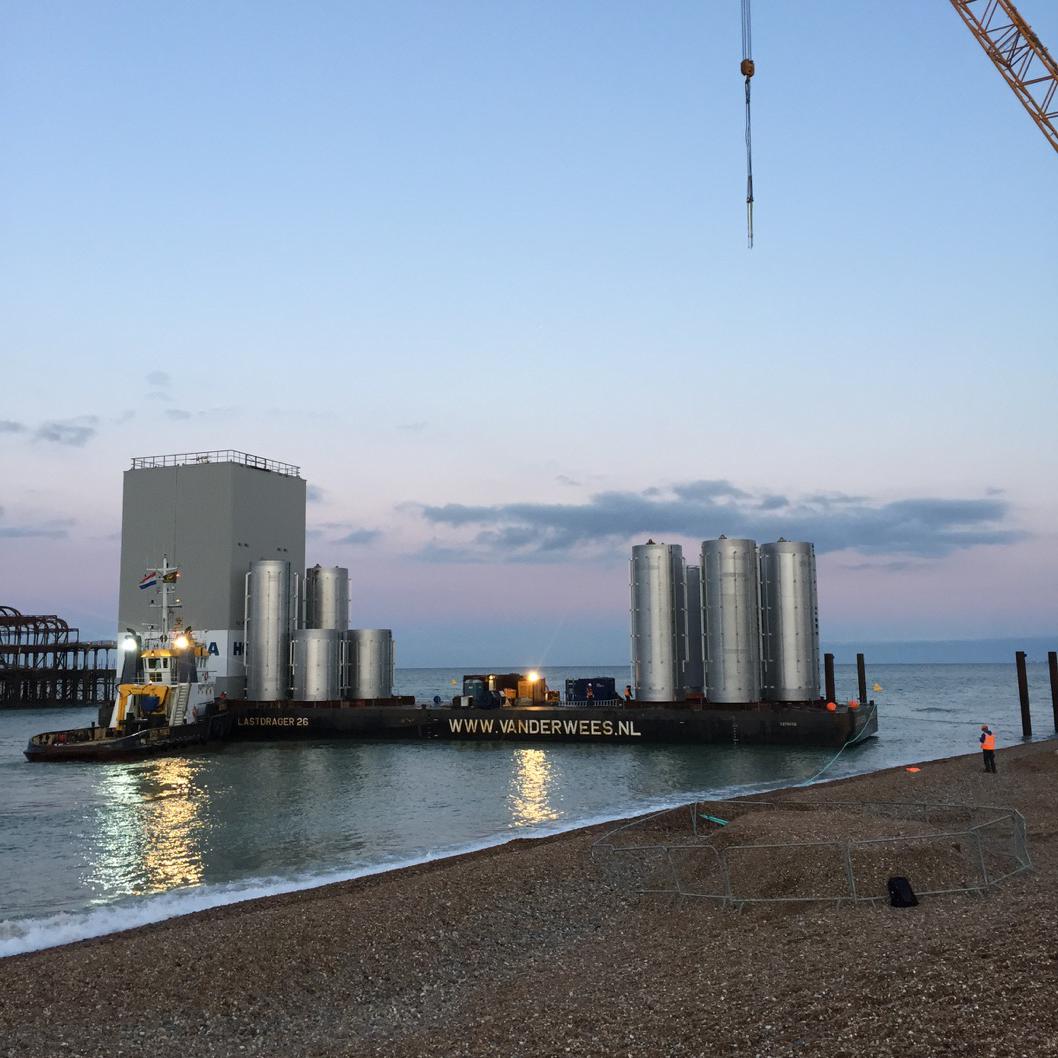 The dream of live performances returning to a derelict theatre that once hosted the Beatles could become a reality. Campaigners feared plans to transform the Brighton Hippodrome into a cinema would spell the end of it as a live venue.
Those plans have since been dropped and the site's been bought by the Academy Music Group. They'll spend the next six months comparing options for the building's future. Here's David Fisher from Brighton Hippodrome CIC.
Brighton & Hove's homeless crisis has reached unprecedented levels according to a new report by the city's housing trust.
In the last year almost six hundred people have been reported as sleeping rough in the city. A lack of affordable homes, alcohol and drug abuse, and a poor support network for people with mental illnesses have all been blamed for the rise.
In the video below, Andy Winter from Brighton Housing Trust tells ITV Meridian how the situation is worsening.
A man who died swimming in the sea in Brighton has been named.
Thabo Gwemende, 22, of Talfourd Way, Surrey, was swimming on Saturday morning when sea conditions were rough and the current was strong.
He disappeared from near the Palace Pier and a search was carried out. He was seen in the sea approximately 1,000 metres east of the pier.
Coastguards managed to pull the man from the water and efforts were made to revive him, but he was later pronounced dead at the scene.
Advertisement
Record-breaking audience numbers, ticket sales and number of shows have led Brighton Fringe 2015 to be the charity's strongest yet.
Attendances were up by 25% from 2014, with audience figures for Brighton Fringe's opening weekend up by 50%. This included a record number of people at Fringe City and the Brighton Fringe Family Picnics, estimated to be 75,000.
Overall, more than 400,000 people attended Brighton Fringe events this year.
A man who got into difficulties swimming under Brighton Pier this morning has been taken to hospital after being pulled from the sea by a Coastguard rescue swimmer.
The UK Coastguard received the call at 7.05am from a friend of the man saying he had lost sight of the 21-year-old man.
Coastguard Rescue Teams from Newhaven and Shoreham were tasked to search for the man, along with RNLI lifeboats from Brighton and Newhaven, and the Coastguard Rescue helicopter from Solent. A senior Coastguard officer was also on scene.
The man was found within 45 minutes and brought ashore by a Coastguard rescue swimmer and the Brighton lifeboat.
Some are experienced singers, others have never sung before but they are all coming together on Saturday to put on a spectacular show. More than a hundred and twenty members of Brighton's Gospel Choir will take part in a summer concert at the Clarendon Centre and a special guest will also be performing. Tom Savvides caught up with the choir during rehearsals.
More than a hundred and twenty members of Brighton's Gospel Choir will take part in a summer concert at the Clarendon Centre on Saturday. We caught up with the choir members in rehearshals.
Load more updates