In the wake of the devastating earthquake in Nepal at the weekend Hampshire County Council says it is providing a range of support to Nepalese communities living in the county.
The County Council's Ethnic Minority and Traveller Achievement Service (EMTAS) and Services for Young Children team, will be offering assistance and a signposting service, through pre-schools, nurseries, Children's Centres and schools, including interpreting and first language support via EMTAS.
The council says the Educational Psychology team is ready to provide schools with bereavement support for their pupils, where needed.
Additionally, Hampshire's libraries are equipped with computers that have internet access enabling people to go online to check for news about, or from, their families living in Nepal.
Furthermore, the library service has a new online resource – 'Library PressDisplay' – that provides access to 3000 newspapers, including several Nepali publications such as "The Kathmandu Post".
We extend our sincere sympathies to all those affected by this tragic event, to the families of those who have lost their lives in such tragic circumstances, or who have been injured or left homeless. The Nepalese communities living here in Hampshire are in our thoughts and prayers. We recognise that this must be an extremely distressing and worrying time and we are doing what we can to provide assistance.
– A spokesperson for Hampshire County Council
Advertisement
Commuters now find their daily rush hour struggle is more stressful than going to the dentist or moving house, a major new survey reveals.
Read the full story ›
More than 200 people in Cheriton near Folkestone have paid their respects to those affected by the earthquake in Nepal. A two minutes silence and a candle lit vigil have been held in memory of those who've lost their lives:
Rail passengers have faced a second day of disruption because of chaos last night at Waterloo when a person was hit by a train.
There have been minor delays on some lines because trains were in the wrong place following the problem. Hundreds of thousands of passengers were stranded when all services were halted during the rush hour last night.
Meanwhile South West Trains has issued an apology this morning.
We are very sorry for the serious disruption that many of you will have faced whilst travelling on our services yesterday. This was due to two significant incidents at critical locations on our network.

The first incident occurred at approximately 1130, when we received a report of a person being struck by a train on the lines between Wimbledon and Surbiton. Due to the unfortunate nature of these incidents, emergency services had to close all lines in both directions for two hours to conduct investigations. During this time, many trains were unable to reach their destinations for many hours. This not only affects the trains in service at the time of the incident, but also has a knock-on effect to following services. For example, a train crew that should have been working on a train departing London Waterloo at 15:00 will not yet have arrived at London Waterloo at 15:00 as they will have been working on a previously delayed train.

We worked quickly to divert and alter trains in order to reduce the cascade effect of these delays, however the lines between Wimbledon and Surbiton are essential for us to deliver a full train service, and so their closure led to significant disruption for both long-distance and suburban services.

While we were recovering the service in order to run punctually during the evening peak, we had a second significant incident at Clapham Junction, where a train developed a fault and became unable to move forward. It had stopped across the key junction which serves the Windsor lines. The 'Down Windsor Slow', 'Down Windsor Fast' and 'Up Windsor Fast' lines were all closed for two hours from 16:25. This meant that all trains to Reading, Windsor & Eton Riverside, Twickenham, Ascot, Staines and Hounslow were unable to get to and from London Waterloo.

This incident compounded the earlier delays across the whole of the network. While both incidents were managed as quickly as possible, many train crews were unable to reach their trains to begin or continue working, and the stock for the evening peak departures was unable to reach Waterloo. Many trains were therefore delayed departing Waterloo, and many were then unable to enter a platform at Waterloo.
– South West Trains
Rail passengers across the South are being warned of severe disruption over the bank Holiday weekend.
The South West Trains network will be affected as many platforms at Waterloo will be out of action to allow for a major track upgrade.
Southeastern rail passengers will also face delays. More work in the London Bridge area will mean diversions and longer journeys.
Network Rail say it s part of the £6.5 billion project to improve service from Kent and Sussex to London.
Anyone travelling to London faces longer journeys and major changes to services.
Advertisement
There is still major disruption on South West Trains between London Waterloo and Woking due to a person being hit by a train at Surbiton earlier.
Tickets are being accepted on local buses, underground, First Great Western and Southern Rail services.
Lines have now reopened but there are knock on delays of up to 90 minutes. Cancellations and revised services will continue until around 11pm or until the service is fully recovered.
There is disruption on South West Trains between London Waterloo and Windsor and Eton Central due to faulty train at Clapham Junction.
Tickets being accepted on local bus routes and London Underground are accepting tickets for reasonable routes.
Windsor bound lines are currently blocked and trains between London Waterloo and Hampton Court will not run.
Thames Ditton and Hampton Court will not be served and there's no estimate for when a normal service will resume.
Having a 1 1/2hr journey turn into a 3hr one...This is my life.fyi trains to/from Waterloo be cancelled #commuting #London
In exciting Severe Disruption news, they've now locked the doors into Waterloo. We are officially overcrowded. http://t.co/2MB8vjOwKy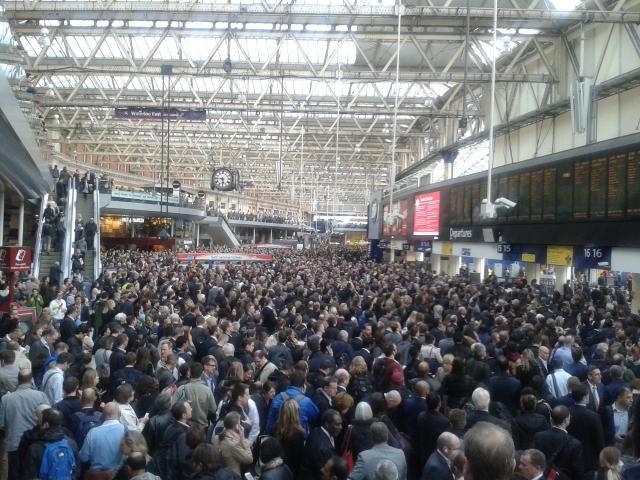 Load more updates