The South-East fell silent at midday - to remember those who lost their lives in Tunisia a week ago.
The children at the 'City Academy Whitehawk' in Brighton also paid tribute to the victims.
A book of condolence for the victims of the Tunisian tragedy has been set up at council reception for anyone wishing to pass on their condolences to those affected.
" Following the news of the tragic event in Tunisia we have set up a book of condolence at the council offices, for anyone that wishes to express their sympathy to the families of those affected.

"The devastating news that one of the borough's residents was a victim in this tragedy has certainly shocked the close knit community of Tadley and also meant that, as a borough, we feel strong local connection to what is being felt nationally.

"Our thoughts and prayers go out to the family and friends of all the victims along with others affected by this tragedy."
– The borough's Mayor, Cllr Anne Court
Advertisement
Hundreds fell silent on Southampton based Queen Mary 2 on her way between Southampton and Liverpool. She is off the Irish coast.
The ships whistle was sounded as a mark of respect.
Many of the passengers travelling through London Waterloo station took a minute out of their day to remember those who lost their lives during the Tunisia attack.
People across the South remembered the those who lost their lives during the silence at midday across Britain.
Read the full story ›
Britain has fallen silent to remember the victims of the Tunisian terror attack.
The Queen and David Cameron joined millions across the UK in observing the minute's silence at noon.
The tribute comes a week after 30 Britons were killed in the horrific attack.
Advertisement
David Cameron observed the minute's silence in memory of the Tunisia attack victims in his Witney constituency today.
Tourists gathered on the same beach where dozens of Britons were murdered last week to observe the minute's silence.
ITV News' Lutfi Abu-Aun shared a picture of people holding hands at the scene: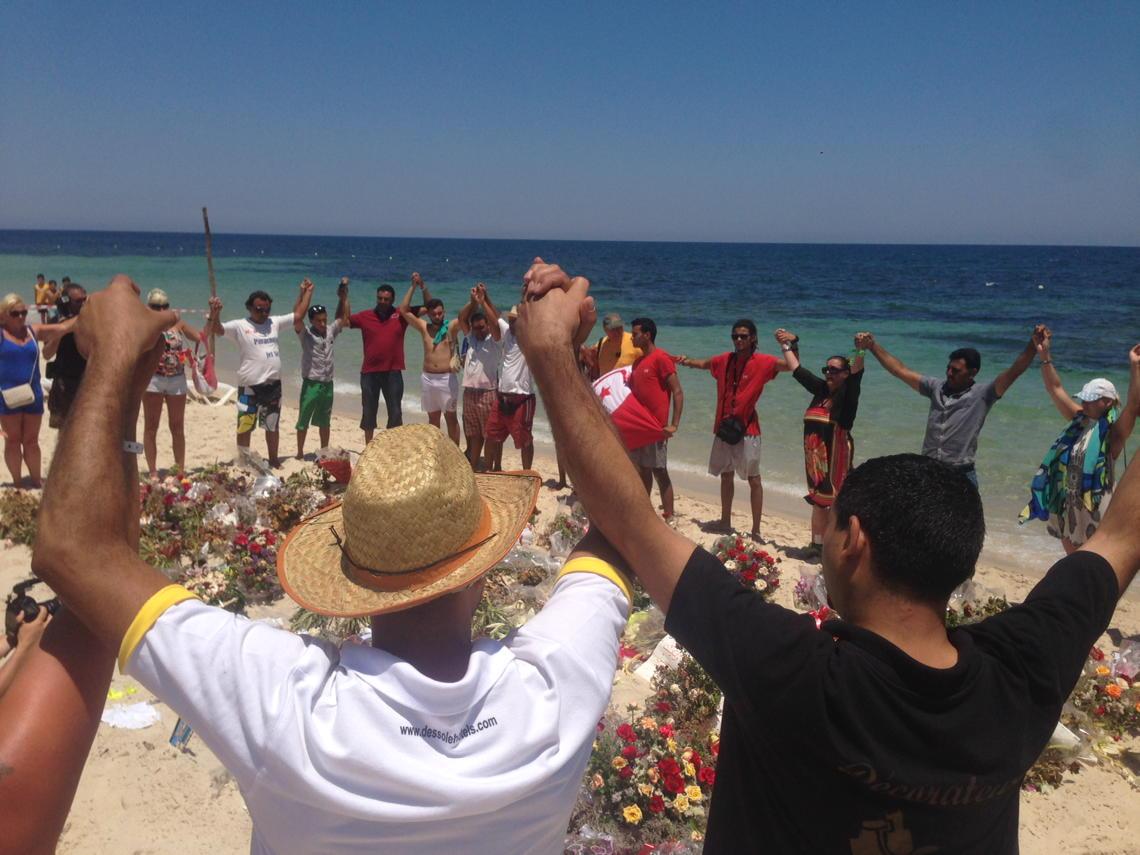 Spectators and staff at Wimbledon have paid tribute to the 38 people killed in last week's terror attack in Tunisia.
Hundreds stood in silence on Murray Mound at midday before clapping once the minute was over.
Matches started at 12.15pm rather than the usual 11.30am to allow players, staff and fans to take part.
Load more updates