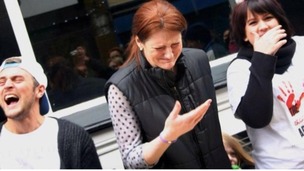 What on earth are these people eating? Find out more here.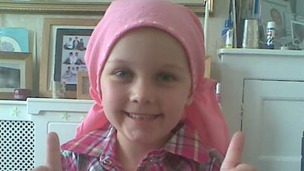 Friends of a seven year old girl with a rare form of cancer have held a Bushtucker trial to raise money for treatment abroad.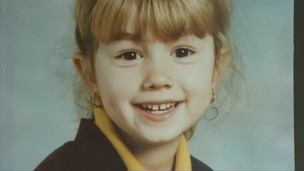 A new centre to research a cure for cancer has opened in memory of Alison Phelan, 7, who died after being diagnosed with a brain tumour.
Live updates
Cancer survivor releases charity song
A man from Buckinghamshire who lost his voice for almost a year after being diagnosed with throat cancer has released a song for charity.
Ray Coates from Aylesbury underwent major surgery and radiotherapy in order to beat the disease. He's now hoping to inspire others and raise vital funds for Cancer Research. Mel Bloor has been to meet him.
You can listen to his single here
Aylesbury cancer survivor releases album
An Aylesbury man who survived his battle with cancer which caused him to lose his voice has released a single to raise awareness of the disease.
Ray Coates from Aylesbury Vale battled with throat cancer since 2008 and some of his treatments saw him lose his voice for 6 months.
The singer decided release a single in order to raise funds and awareness of the disease and recorded a moving video to accompany the track.
Funds received from the sales of the single will go towards research into cures and treatment for cancer.
The song is dedicated to all those who have been affected by the disease; the families of the sufferers, survivors, medical professionals and those who have sadly lost their battle to cancer.
Advertisement
Skin cancer doubled in the south in the last 20 years
The number of people across the south diagnosed with skin cancer has doubled in the last 20 years.
Loti Jackson from Lindfield in Sussex had surgery to remove a cancerous mole from her face when she was 27-years-old.
She's among 2,000 people in our region diagnosed with the disease every year.
You're never too young to Coppafeel, the health campaign that's saving lives
Kris Hallenga is living with cancer after repeatedly visiting her doctor & being told she was too young to have breast cancer. She started a charity called Coppafeel, It aims to persuade young people to take responsibility for their own health checks. You can find out more about her charity here.
Kris was 23-years-old when she was diagnosed. Soon after she set up a Coppafeel to make young people aware that they too can be affected.
Not satisfied with just one project - Kris is now turning her attention to the curriculum. She's calling for prevention and detection to be taught in schools and has been supported in her quest by the Steve Brine, MP for Winchester. She's been talking to our reporter Kerry Swain.
You're never too young to Coppafeel, the health campaign that's saving lives
Kris Hallenga has been talking to Kerry Swain about how she hopes that lessons on cancer could save lives.
You're never too young to Coppafeel, the health campaign that's saving lives
A woman who is living with cancer has launched a campaign for children to be taught about the disease in school.
Kris Hallenga, who's 28, has been speaking to pupils at three secondary schools in Winchester today. She was only 23 years old when she developed breast cancer, and by the time it was diagnosed it had spread. Kris wants lessons about cancer to be introduced to the national curriculum.
The campaign launched today is called Rethink Cancer.
Advertisement
Cancer patient goes online
by David Johns (@davidjohns_itv)
He thought he was feeling a bit unwell - so imagine the shock when Nicky Boardman from Kent discovered a two-foot-long, 11-pound tumour had been growing inside him for years.
He was given just a six percent chance of living for five years but despite the odds, has been writing an upbeat online diary about his experiences. David Johns reports, speaking to Nicky Boardman, his wife Kerry, and Deborah Alsina from Bowel Cancer UK.
Cancer caused by tanning addiction
Anna Taylor from Worthing developed cancer on her face after using a sunbed almost every day in her early twenties. She has issued a warning to others about the dangers of excessive tanning.
Following our report on her story, ITV Meridian interviewed dermatologist Dr Dev Shah, from the British Association of Dermatologists.
Cancer pre-op chemo new research
Southampton researchers have revealed that oesophagael cancer patients are benefiting from chemotherapy before an operation to remove their tumour than originally thought.
For patients, this could mean an increased chance of survival or lengthening the time before their cancer returns.
Southampton University researchers have looked at the records of more than 200 patients with the special type of cancer known as adenocarcinoma treated at Southampton General Hospital.
Previous research shows that giving chemotherapy before surgery can benefit patients by causing their tumours to shrink.
Southampton opens young cancer unit
Southampton General Hospital is opening the new Teenage Cancer Trust unit to care for young cancer patients across our region.
The Duchess of York is opening the new facilities which will care for young patients from Dorset, Hampshire, Isle of Wight, Wiltshire and the Channel Islands.
The £2.4m funds have been raised by charitable donations across the south in order for the specialist unit to open.
The Duchess said: "I've been a Teenage Cancer Trust patron for over 20 years and I've seen it grow and lead the way in the treatment of young adult cancer.
"The new unit features six inpatient en-suite bedrooms with sofa beds for family and friends to stay overnight. Patients, who range from 16 - 24, have been closely involved in the design process."
Load more updates
Back to top