Kris Hallenga has been talking to Kerry Swain about how she hopes that lessons on cancer could save lives.
A woman who is living with cancer has launched a campaign for children to be taught about the disease in school.
Kris Hallenga, who's 28, has been speaking to pupils at three secondary schools in Winchester today. She was only 23 years old when she developed breast cancer, and by the time it was diagnosed it had spread. Kris wants lessons about cancer to be introduced to the national curriculum.
Advertisement
David Johns (@davidjohns_itv)
He thought he was feeling a bit unwell - so imagine the shock when Nicky Boardman from Kent discovered a two-foot-long, 11-pound tumour had been growing inside him for years.
He was given just a six percent chance of living for five years but despite the odds, has been writing an upbeat online diary about his experiences. David Johns reports, speaking to Nicky Boardman, his wife Kerry, and Deborah Alsina from Bowel Cancer UK.
Southampton researchers have revealed that oesophagael cancer patients are benefiting from chemotherapy before an operation to remove their tumour than originally thought.
For patients, this could mean an increased chance of survival or lengthening the time before their cancer returns.
Southampton University researchers have looked at the records of more than 200 patients with the special type of cancer known as adenocarcinoma treated at Southampton General Hospital.
Previous research shows that giving chemotherapy before surgery can benefit patients by causing their tumours to shrink.
Southampton General Hospital is opening the new Teenage Cancer Trust unit to care for young cancer patients across our region.
The Duchess of York is opening the new facilities which will care for young patients from Dorset, Hampshire, Isle of Wight, Wiltshire and the Channel Islands.
The £2.4m funds have been raised by charitable donations across the south in order for the specialist unit to open.
The Duchess said: "I've been a Teenage Cancer Trust patron for over 20 years and I've seen it grow and lead the way in the treatment of young adult cancer.
"The new unit features six inpatient en-suite bedrooms with sofa beds for family and friends to stay overnight. Patients, who range from 16 - 24, have been closely involved in the design process."
Advertisement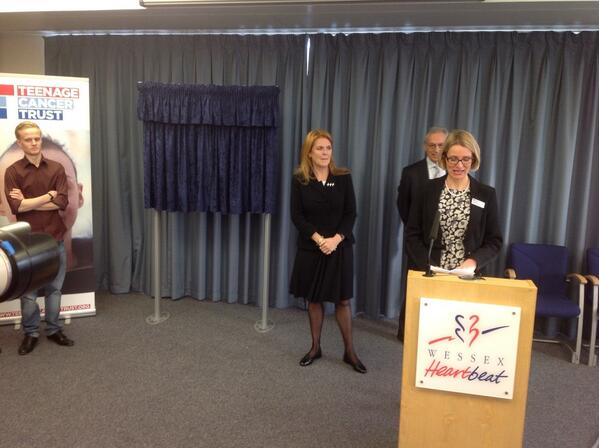 A new specialist unit for young people suffering from cancer is to be opened at Southampton General Hospital today.
The Duchess of York Sarah Ferguson will unveil the new Teenage Cancer Trust facility which will serve counties across the South, including West Sussex, Hampshire and the Isle of Wight.
More than two million pounds was raised in order to build the state-of-the-art unit and put together a team of specialist medical staff and support.
Pop group Rizzle Kicks, from Brighton, are supporting a Christmas campaign to raise awareness of testicular cancer. The male cancer charity Orchid is running the campaign over the festive period.
Orchid has created these testicle-shaped tree ornaments for Christmas with the slogan 'Check Your Bauballs'.
Orchid male cancer nurse Rob Cornes says: "Testicular cancer is the most common cancer in men aged 15-35. 98% of cases are curable if caught early, so it's vital that men know how to check themselves and recognise the symptoms. "
Oxford University is getting part of £35million grant to develop new technologies for research into cancer.
With the funding, the university will be a centre for cancer imaging. It's hoped the new technology will help experts understand how the disease develops in the body.
Load more updates