Southampton researchers have revealed that oesophagael cancer patients are benefiting from chemotherapy before an operation to remove their tumour than originally thought.
For patients, this could mean an increased chance of survival or lengthening the time before their cancer returns.
Southampton University researchers have looked at the records of more than 200 patients with the special type of cancer known as adenocarcinoma treated at Southampton General Hospital.
Previous research shows that giving chemotherapy before surgery can benefit patients by causing their tumours to shrink.
Southampton General Hospital is opening the new Teenage Cancer Trust unit to care for young cancer patients across our region.
The Duchess of York is opening the new facilities which will care for young patients from Dorset, Hampshire, Isle of Wight, Wiltshire and the Channel Islands.
The £2.4m funds have been raised by charitable donations across the south in order for the specialist unit to open.
The Duchess said: "I've been a Teenage Cancer Trust patron for over 20 years and I've seen it grow and lead the way in the treatment of young adult cancer.
"The new unit features six inpatient en-suite bedrooms with sofa beds for family and friends to stay overnight. Patients, who range from 16 - 24, have been closely involved in the design process."
Advertisement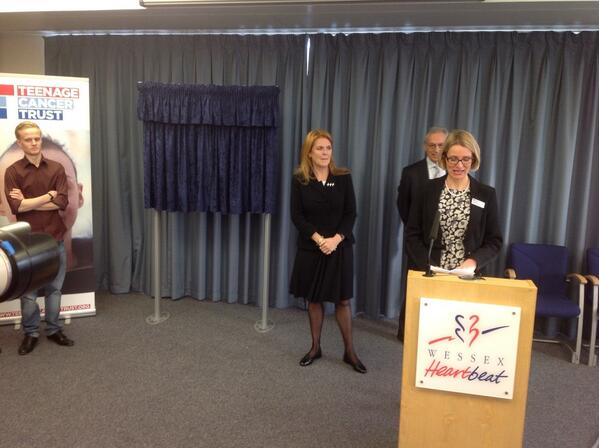 A new specialist unit for young people suffering from cancer is to be opened at Southampton General Hospital today.
The Duchess of York Sarah Ferguson will unveil the new Teenage Cancer Trust facility which will serve counties across the South, including West Sussex, Hampshire and the Isle of Wight.
More than two million pounds was raised in order to build the state-of-the-art unit and put together a team of specialist medical staff and support.
Pop group Rizzle Kicks, from Brighton, are supporting a Christmas campaign to raise awareness of testicular cancer. The male cancer charity Orchid is running the campaign over the festive period.
Orchid has created these testicle-shaped tree ornaments for Christmas with the slogan 'Check Your Bauballs'.
Orchid male cancer nurse Rob Cornes says: "Testicular cancer is the most common cancer in men aged 15-35. 98% of cases are curable if caught early, so it's vital that men know how to check themselves and recognise the symptoms. "
Oxford University is getting part of £35million grant to develop new technologies for research into cancer.
With the funding, the university will be a centre for cancer imaging. It's hoped the new technology will help experts understand how the disease develops in the body.
Advertisement
Boys should receive the HPV jab that girls are already receiving, according to a dental charity.
The British Dental Health Foundation says that the human papillomavirus (HPV), often transmitted via oral sex, will overtake tobacco use as the main risk factor for mouth cancer within the next decade.
Currently, girls aged between 12 and 13 receive the vaccine to prevent developing cervical cancer in the future.
Drinking alcohol to excess and poor diet as well as tobacco use and HPV increase the risk of developing mouth cancer.
The burden of HPV associated cancers is now almost the same in men as in women. Men face a significant and rising risk of HPV-associated disease, and without vaccination men remain at risk
– Professor Margaret Stanley OBE from the Department of Pathology University of Cambridge
Men have been putting on their trainers - and Y-fronts - for a male version of the Race for Life. Two local fundraisers have organised the event in Hastings to help raise awareness of men's cancers. More than 100 runners took part.
Nashreen Issa was there and spoke to organisers Jo Brazier and Hollie Chant as well as cancer survivor Adam Hart.
Also in the report is Chloe Louise Williams from Cancer Research UK, Hamed Ovaisi and Sam Thomas from a five-a-side football league.
Prime Minister David Cameron visited cancer patients in Oxford today after extending a cash pot used to pay for life-extending drugs. The Cancer Drugs Fund, worth £200m a year, was set up for patients to access drugs approved by doctors but not been given the go-ahead for widespread use on the NHS.
The scheme was set to run until 2014. Mr Cameron spoke to reporters at the John Radcliffe Hospital in Oxford and explained why the funding programme will run for an extra two years.
Prime Minister David Cameron and his wife Samantha met patients at an Oxford cancer ward on the same day he announced a £400m cancer drug fund. Mr Cameron pledged to extend the Cancer Drugs Fund which was set up to help patients access certain drugs before they get approval for widespread NHS use
The Camerons earlier visited the children's cancer ward at the John Radcliffe Hospital in Oxford to make the announcement.
Load more updates