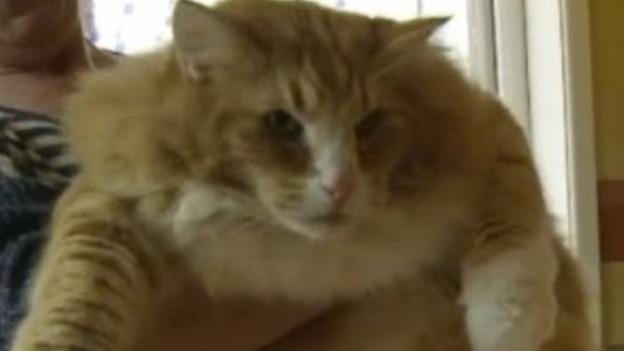 He's believed to be one of Britain's fattest cats. He's ballooned to more than two stone in weight and all attempts to get him in trim have failed.
So that's called for desperate measures - and now the massive moggy from Dorset is on a strict fitness regime - with a very unlikely mentor. Martin Dowse takes up the story.
He's believed to be one of Britain's fattest cats and now Ulric who lives in Dorchester, Dorset is being put through his paces by a new personal trainer.
Weighing in at 2st 2lbs Ulric has been declared as morbidly obese by vets. His owner Jan Mitchell has tried everything to help him shift the pounds but nothing has worked until now.
Jan and her husband have bought five month-old Dennis, a a pugalier (a pug crossed with a King Charles cavalier spaniel) and since he arrived Ulric has managed to lose 2lbs - that's more than he managed in 16 months of dieting.
Jan says Ulric and Dennis bonded instantly and spend their days chasing each other round the garden, play-fighting and wrestling helping Ulric to finally lose some weight.
Ulric was a normal-size kitten but his lazy nature and his habit of stealing his sister's food meant he ballooned to the same weight as an average three year old. He is only a few pounds off what is thought to be the world's heaviest cat, Meatball from the US, who weighs in at two-and-a-half stone.
Advertisement
The RSPCA is appealing for information after a cat was shot in Churt, Farnham, Surrey, causing so much damage that his leg had to be amputated. Frank, a one year-old male black and white cat, was discovered in a lethargic state at his home in Parkhurst Fields on the afternoon of Monday 20 October. He was limping and unable to put any weight on his back leg. After being taken to a vet, they discovered an air rifle pellet in his femur which had completely shattered the bone. It was recommended thatthe kindest thing to do was remove the leg altogether, as so much damage hadbeen done.
The RSPCA are appealing to the public after a young cat was found tied up by his neck on a building site.
Archie the 18-month-old tabby cat went missing from his home in Hartley Wintney in Hampshire.
The owners handed out leaflets and told workers, who were working on the estate they live on, that they had lost their cat.
After 8 days, one of the workers found Archie with a tight ligature around his neck, tied to a metal fence.
They contacted the owners straight away and took him to the vets.
The nylon cord had to be cut from around his neck, which is though to have been tied around him deliberately.
Archie is now recovering but the RSPCA are hoping that someone in the local area may know how he came to be tied up.
Anyone with information is asked to call 0300 123 8018.
Sarah Saunders (@SSaundersITV)
His bulldog spirit saw Britain to victory during World War II. But Sir Winston Churchill had a soft spot when it came to cats.
The wartime leader's love for his feline friends was so strong that he left instructions that a cat must always live at his former home Chartwell, near Sevenoaks in Kent, even long after his death.
Sarah Saunders spoke to Katherine Barnett, Chartwell House and Collections manager, and Jock the cat's new owner.
RSPCA inspector Penny Baker said: "The 10 year ban handed down by the court shows how seriously they viewed these offences.
"He is very lucky that the cat wasn't more seriously injured. Daisy was less than a year old at the time and didn't weigh much. If he had done that when she was older and heavier then he could have caused serious damage to her spine."
Advertisement
A man from Southampton who was filmed swinging his cat by the tail has been banned from keeping animals for 10 years.
Matthew Coffin admitted two counts of causing unnecessary suffering to Daisy the cat after he was filmed man-handling the animal in his studio flat in September last year.
The 27-year-old, of Vanguard Road, claimed at first that he was not showing off, but was preparing the cat for a visit by someone who had a tendency to pull cats' tails.
However, while he maintained his reason for pulling the cat's tail, he admitted before the magistrates an element of bravado when he acted in the way that he had.
Coffin was fined £150 and also ordered to pay £257.50 costs.
Pablo, from Lewisham, who travelled over 400 miles to Fife in Scotland, is being reunited with his owner in Sussex today.
Danielle Draper from the National Centre for Cats Protection explains how he made such great strides.
A cat from Lewisham, who ended up over four-hundred miles away in Scotland, is being reunited with his owner in Sussex today.
Pablo went missing last year but thanks to his microchip, his owners were identified and he is being flown back home.
Tracy Shiells, Regional Development Manager at Cats Protection in North Scotland said, "We have learned that a lady living in Lewisham mistook Pablo for a stray and took him into her home. She then moved to Rosyth in the last few weeks, bringing Pablo and her other cat with her."
David Johns (@davidjohns_itv)
For a nation of animal lovers we're doing a pretty bad job. Animal centres across Kent are reporting ever greater numbers of cats, dogs and other pets being dumped, abandoned or mistreated.
The RSPCA says its centres at Canterbury and Leybourne are now at crisis point - so full, they simply can't deal with any more animals. David Johns reports, speaking to Christine Dooley and Adele Collier from the RSPCA in Kent.
To help re-home a cat or any of the other animals, please call the RSPCA on 0300 123 0751 or visit www.rspca.org.uk
Load more updates