A member of the public called the animal welfare charity after spotting the tabby and white cat, trapped in a tree - with a crisp packet stuck on his head.
RSPCA animal welfare officer (AWO) Marie Stevens attended Thicket Lane, in Halnaker, near Chichester and, with the help of two colleagues, managed to climb around 12ft up the tree to the cat.
The member of the public was concerned that the cat would not be able to get down from the tree as he couldn't see.
"I reached out to the cat and just managed to quickly whip the crisp packet off of his head before he panicked and disappeared further up the tree," AWO Stevens said. "As soon as I pulled the packet off, the cat jumped from the branch to freedom and ran off."
The owner of a lucky black cat - saved after she was found wedged into a two inch gap between two buildings - has spoken of her rescue.
Jon Harper discovered little Pheobe pinned between his house and garage in Hassocks. Firefighters were forced to cut a hole into a wall to get her out.
Advertisement
A curious cat called Phoebe had an unfortunate experience after becoming wedged in a gap between her owners' home and the family garage.
Read the full story ›
With the UK being battered by gales and stormy weather, it's also raining cats and mogs at Battersea Dogs & Cats Home. The rescue centre has seen a whirlwind of cats and kittens being dumped in boxes and abandoned by their owners.
Most recently, a litter of four nine-week old kittens were found dumped in a black bag and brought into Battersea where staff named them Monsoon, Typhoon, Hurricane and Blizzard to reflect the weather conditions outside.
In addition to the site in South West London, the Home also has two other centres based at Old Windsor, Berkshire and Brands Hatch, Kent.
Honey, a cat from South Ockendon in Essex, has been selected as a finalist in a national competition run by a vet charity. The PDSA Pet Survivor Awards recognise the UK's most incredible tales of pet survival.
The nine-year-old tabby survived being blasted in the face with a large metal ball bearing and is now up against five other pets for the coveted title of PDSA Pet Survivor 2015.
The competition recognises the pets' incredible survival spirit, the love and devotion of their owners and the skill and dedication of the veterinary teams who helped to save their lives.
The winner will be decided by a public vote.
He's provided a loving home for thousands of unwanted cats for the last 15 years. But now a charity worker is urgently seeking help after he was diagnosed with lung cancer.
Ron Ayres runs the rescue centre from his rented home in Brighton and cares for up 250 cats each year. Today he said he fears for the future, and the animals, unless new premises can be found.
Advertisement
A family of ginger cats have been abandoned in a cat carrier next to sewage works in Dorset.
A mother cat and two four-month old kittens were found by the roadside on a lane that leads up to Sherborne's household recycling centre this week.
The cats were found to be crawling with fleas and are now being cared for by the RSPCA.
Anyone with any further information about this incident can contact the RSPCA on 0300 123 8018.
We understand that sometimes people can face unexpected difficulties in life and this can mean a crisis when it comes to their pets but there are organisations out there that can help when times get tough and there is no excuse to dump any animal in this way. People need to be aware that not only are incidents such as this unthinking and callous but they are also a criminal offence.
– RSPCA inspector Ken Snook
Five kittens are recovering after being buried under rubbish and left to die. They were found by a member of the public in a small cardboard box. It was buried under rubbish beside bins in Basingstoke.
The kittens were crying to be fed, underweight and cold. Happy Cat Rescue at Bordon took the animals in. They have been hand-reared for the past six weeks - bottle fed every two hours. One of the kittens died, but the others are now said to be 'flourishing'.
David Johns (@davidjohns_itv)
Here's a startling fact. A single female cat can become parent, grandparent, and great-grandparent to up to 20 thousand descendants in just five years. Yes, you read that right. Twenty thousand cats.
And that's why animal charities are becoming over-run and are calling for drastic solutions. Cat Chat - the Kent-based charity - wants more vets to offer neutering or spaying for free, or at least at low cost.
David Johns has been to one cat rescue centre to see the extent of the problem.
He spoke to cat rehomer Sharon Weller and Sir Roger Gale MP.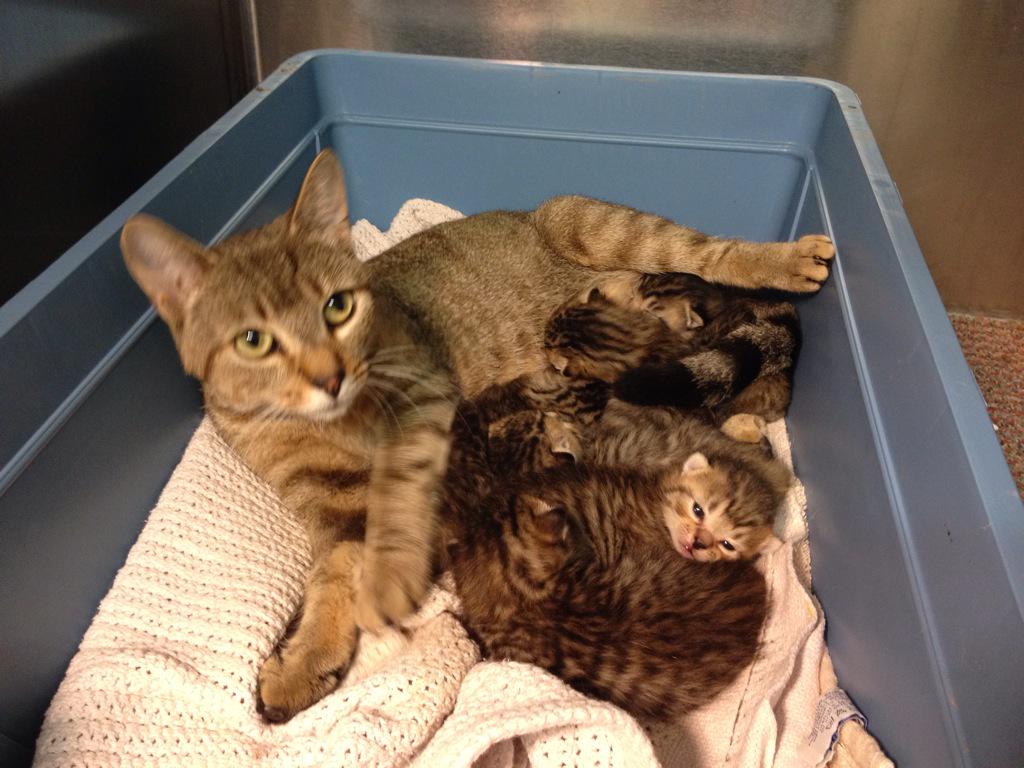 Load more updates