Major Tim Peake has revealed what life is like on the International Space Station, three days after he left Earth.
Read the full story ›
Fred thought he would make the perfect astronaut - until he tried a simulator of the Soyuz rocket at the European Astronaut Centre in Germany. The rocket carried Major Tim Peake safely to the International Space Station. However, well into the flight, Fred developed a few problems...
Advertisement
Fred is at the European Astronaut Centre in Germany today - waiting to talk to Major Tim Peake. He's tried out a mock-up of the International Space Station...
Fred will be talking to Major Tim Peake today as Meridian's astronaut settles into the International Space Station.
Read the full story ›
1st 48hrs on #ISS - busy but incredible. Amazing how fast the body adapts to new environment. Found my tea...life is good! #Principia
"A spectacular day in the office". That's how Major Tim Peake's mother has described her son's historic journey to Space.
The former helicopter pilot from Sussex has spent his first day on board the International Space Station - BUT his first priority was to phone home. He made a video call to his family back on Earth. Mel Bloor reports.
Advertisement
ITV News Meridian's special programme presented by Fred Dinenage & Sangeeta Bhabra
The Queen has sent a good luck message to Tim Peake after he arrived on the International Space Station.
The message, which was tweeted, said: "Prince Philip and I are pleased to transmit our best wishes to Major Timothy Peake as he joins the International Space Station in orbit.
"We hope that Major Peake's work on the Space Station will serve as an inspiration to a new generation of scientists and engineers.
"The thoughts and prayers of the whole country are with him and the crew, especially at this time of year.
"We join with his friends and family in wishing him a productive mission and a safe return to Earth."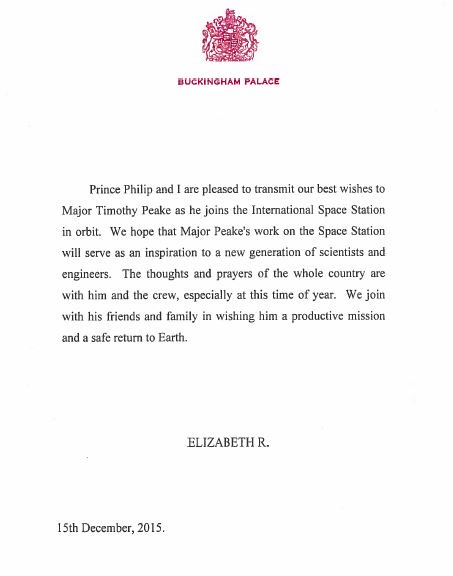 Tim Peake has been welcomed to the International Space Station after the hatch to his Soyuz spacecraft was opened.
Mr Peake, NASA astronaut Tim Kopra and Russian commander Yuri Malenchenko entered the station at 7.58pm GMT after a six-and-a-half hour journey.
Former science minister David Willetts said Tim Peake's arrival at the International Space Station was a "great day".
Lord Willetts, who was instrumental in setting Britain on the path to sending Mr Peake into space, said it was good that the UK was finally part of the ISS mission.
He said it was a great day "for Tim Peake personally and Britain as a whole".
Speaking about the ISS mission, he said: "This is something that is going to be part of the future of space exploration.
"Britain should be part of it and now we are."
Load more updates