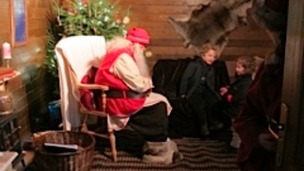 Lapland UK in Ascot is restoring people's faith in Christmas attractions.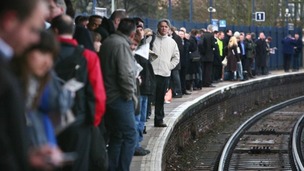 Hundreds of thousands of rail passengers using South West Trains face massive disruption over the Christmas and New Year holidays.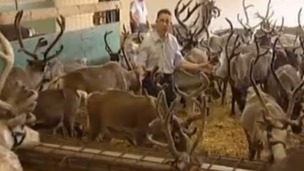 A couple in Kent looked after a couple of reindeer for a friend. It turned out to be a much bigger project than they'd expected....
Live updates
Hot Turkey Boat Race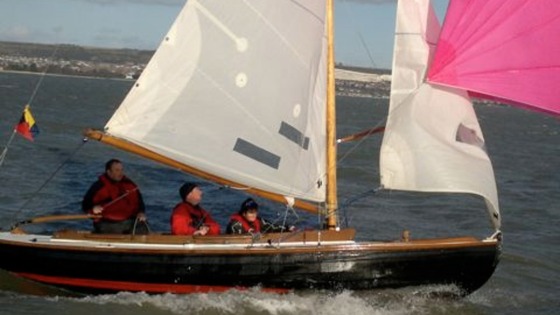 Portsmouth Sailing Club are holding a one-of-its-kind event as they host a boat race on Christmas Day in aid of the RNLI.
Today, the sailing club have been granted special permission to race from the entrance of the harbour as Christmas Day is the only day when the Royal Navy do not use this entrance nor is it used for commercial shipping.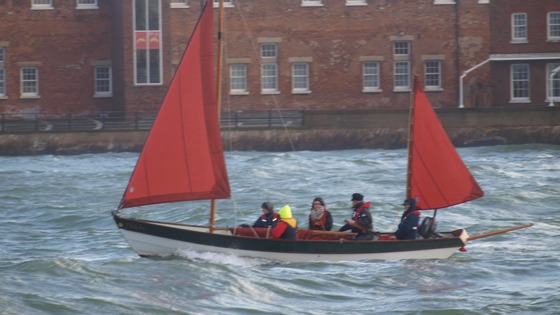 The event has previously attracted high profile participants such as Sir Robin Knox-Johnston among other willing competitors.
The event is open to all types of boats there is expected to be lots of fancy dress.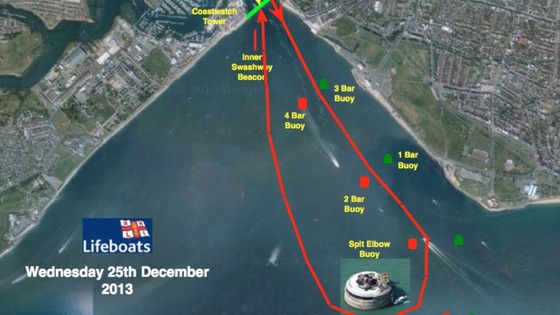 Royal Navy Christmas message to families
Marcel and Richard are among many sailors who will be away over Christmas on a Royal Navy deployment.
The Royal Navy Type 45 destroyer HMS Daring is on a nine-month global deployment.
The sailors from Southampton and Fareham will be missing their families this year.
Marcel usually spends Christmas Day with his family in Southampton and this year will be flying his wife and newborn son to meet the ship in Singapore.
Marcel's Christmas message to his family is: "I miss you all very much andmy thoughts are with you always. HMS Daring's ship's company are like anotherfamily to me and they are looking after me very well. _
"Don't forget to play silly games – the clue is 'It's a Christmas message, three words, first second and third words are all one syllable'. I love you!"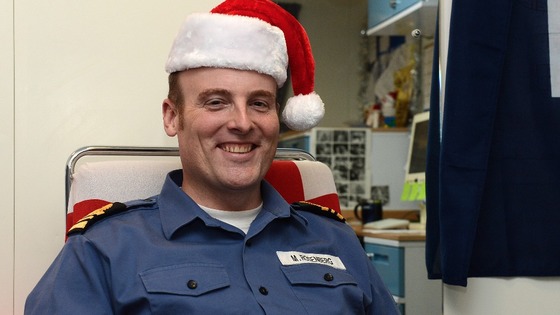 Usually Christmas is a big family occasion for the Carter family. "I always spend Christmas with my wife, kids, family and friends from church. Then we'll go to church, get home and finish the cooking before socialising with friends and family."
Richard's Christmas message to his family is:_"To my girls – Daddy will be home soon so continue to be good for Mummy and I'll be bringing all your presents with me when I get back. To my wife Nicole – thank-you for selflessly holding down the fort every time I had to be away. _
" love you so very much and will be home as soon as I can."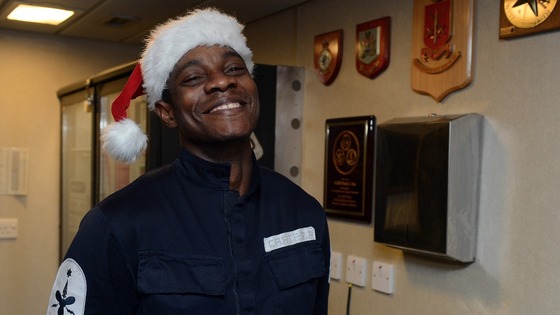 Advertisement
Physios urge relatives to buy elderly slippers
Physiotherapists are urging people across our region to buy elderly friends and family a new pair of slippers for Christmas as the best way to prevent accidents.
More than 200,000 people end up in hospital each year from avoidable slips, trips and falls if better shoes were worn.
The Chartered Society of Physiotherapists (CSP) say it is important to ensure footwear is the right size and attending exercise classes will help to maintain bone strength and balance as they get older.
Falls are the largest cause of emergency hospital admissions for older people and can have terrible consequences. But there are simple measures that can be taken to reduce the risk of falling. Providing appropriate footwear that fits well, supports the ankle and has a good grip on its sole is one such step, to allow people to move safely around their home. Giving an elderly friend, relative or neighbour a new set of slippers for Christmas would be an act of kindness with an importance that lasts long after the wrapping paper has been cleared away."
– Sue Rees, Chair of Council at Chartered Society of Physiotherapy
Hampshire Constabulary wish 'a safe and happy festive season'
The force has been planning ahead to ensure resources are dedicated to the right areas over the Christmas period to keep people safe and reduce crime.
Local operations are taking place across the force area to help prevent such offences, protect victims and keep communities safe.
Simon Hayes, Police and Crime Commissioner for Hampshire said: "For the majority, Christmas and New Year is a time to celebrate and enjoy time with family, friends and colleagues. But for others, it's a time to commit crime."
I want to wish everyone in Hampshire and the Isle of Wight a safe and enjoyable festive season. This is always a very busy time and as we know, that can lead to an increase in violence, alcohol-related crime, anti-social behaviour and thefts. That's why we've been planning ahead to ensure we have the right resources in the right place at the right time. I would like to thank all of our officers, staff and volunteers and Special Constables who will be working hard throughout this period and will continue to do so to help keep our communities safe."
– Laura Nicholson, Assistant Chief Constable
Father Christmas robs Oxford store
Thames Valley Police are appealing for witnesses after a man dressed as Father Christmas robbed an Oxford store earlier today.
At around 9.30 the man dressed in a big red suit walked into the Next store at Oxford Retail Park in Cowley and threatened staff with a knife.
The member of staff then handed over money from the safe and the offender made off on a bicycle towards Blackbird Leys bridge.
The offender is described as white male, medium build, 5ft 9ins to 6ft, in his thirties and wearing jeans and a blue fleece under the Santa outfit.
This was a frightening incident which has left the staff member very shaken. We would urge anyone shopping around the Oxford Retail Park this morning who saw a man on a bike, dressed as Father Christmas, and who has not spoken to us already to get in touch as a matter of urgency."
– Det Sgt Mark Stalder
NHS staff working over Christmas
Thousands of NHS staff will be working right through the festive period. Tom Savvides interviews Phil Richardson, Dave Griffiths and Dave Hawkins from South East Coast Ambulance Service.
Advertisement
Christmas getaway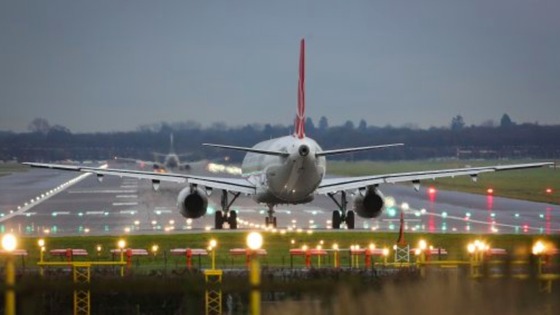 The big Christmas travel getaway is underway with millions heading away on trains, planes, ferries and on the roads. Staff at railway stations have been entering into the festive spirit by dressing up as Santa's helpers and handing out thousands of mince pies.
Heathrow and Gatwick expect 2.5 million passengers over the holiday with half a million taking to the Channel Tunnel and ferries.
Customs advice for Christmas holidaymakers
While many of us are dreaming of a White Christmas in the South of England, others are heading for sunnier skies to celebrate the festive period. Amanda and Fred spoke to Southampton Airport's Neil Garwood about what we can take through customs and what festive items it's best to leave at home.
New look for faithful brussel sprouts
Farmers are now growing purple brussel sprouts as part of an attempt to get younger generations to eat the controversial Christmas vegetable. The natural process is bred similarly to their green counterparts but they are mixed with red cabbage to provide the colour change.
Octopus prepares for Christmas countdown
At this time of year as we juggle the food shopping, presents, and decorations - we could all do with more than one pair of hands.
Luckily there's one Brighton resident that has exactly that and she's even able to use them to count down the last few days to Christmas
Lizzie the Octopus has been given her very own advent calendar but it's not as simple as it sounds! Malcolm Shaw reports.
Load more updates
Back to top