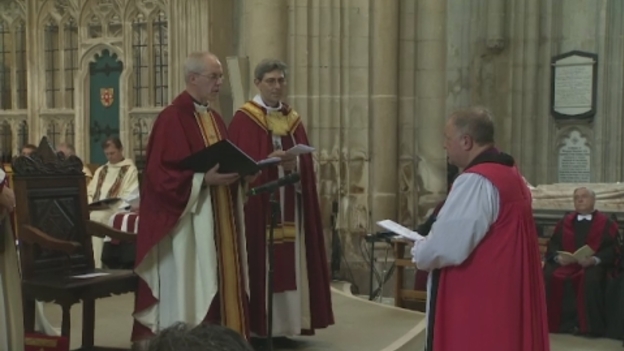 The new Bishop of Basingstoke has been consecrated by the Archbishop of Canterbury at Winchester Cathedral. Reverend Canon David Williams grew up in Uganda before becoming Vicar of Christ Church in Winchester in 2002.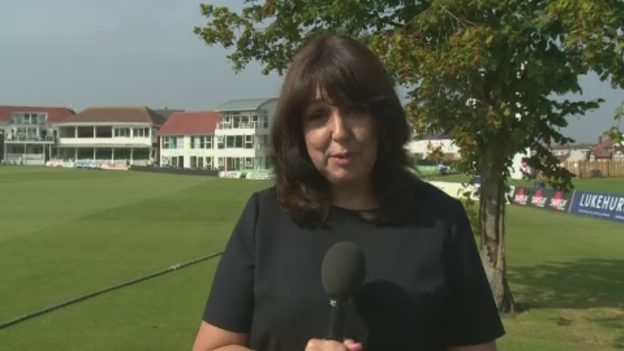 Sporting opponents often claim to have God on their side - but never has that been so true today as when a cricket match between two Christian faiths began. A team from the Vatican arrived in Kent to take on an Anglican eleven. We sent our reporter Andrea Thomas to speak with both teams before play got underway. She spoke to Reverend Stephen Gray, captain of the Church of England XI and Tony Currer, captain of the Vatican XI.
Advertisement
Parishioners of a historic church in Hampshire had to attend services at other churches this morning after a devastating fire.
The 800 year old St Peter's Church at Ropley near Winchester was engulfed in flames throughout Thursday. An investigation is being held into the cause of the blaze.
The Church of England has criticised plans for a high speed rail link through Oxfordshire and Buckinghamshire. The Archbishops' Council has expressed concerns at proposals to dig up a number of burial sites along the route.
More than 30,000 graves must be exhumed to make way for HS2 including two and a half thousand within the ruins of St Mary the Virgin Church in Stoke Mandeville. See our report from Mel Bloor
The Church of England has announced it's opposition to the Government's controversial HS2 high speed rail line.
One of the Church's most powerful bodies, the Archbishop's Council says the route which would pass through Buckinghamshire and Oxfordshire, will desecrate thousands of graves.
In a statement a Department for Transport spokesman says throughout the development, burial grounds have been avoided as much as possible. ITV Meridian spoke to Helen Glass of HS2 Ltd.
The Anglican Bishop of Portsmouth has welcomed yesterday's vote which could pave the way for the first women to become Church of England bishops.
The Rt Rev Christopher Foster was one of eight representatives from the Diocese of Portsmouth on the Church of England's General Synod, which voted overwhelmingly for a package of measures as the next steps to enable women to become bishops.
The General Synod voted by 378 to eight in favour of proposals outlining the Draft Legislation of Women in the Episcopate. The proposals included a simple piece of legislation allowing women to become bishops and archbishops, and a way of resolving any future disputes over the arrangements.
Advertisement
Now, how surprised would you be to open your post one day to find a 19th Century Bible - sent anonymously from Germany? That is what happened to one man in Hastings. Andy Dickenson takes up the mystery.
The Bishop of Guildford the Rt Reverend Christoper Hill is retiring after six years in the role. The 68-year-old is one of 26 bishops in the House of Lords.
A retired West Sussex Church of England priest and a former organist and choirmaster have been found guilty of a string of child sex abuse offences dating back more than 25 years.
A judge said that Father Keith Wilkie Denford and Michael Mytton had committed "a grave and gross breach of trust". Prosecutors said Denford, 78, used the respectability of the cassock to groom and abuse two boys over an 18-month period from when they were aged around 13.
Following Denford and Mytton's convictions, the Bishop of Chichester Dr Warner said: "I note the verdict reached by the court today and we will now move swiftly to implement our own disciplinary procedures following this verdict in the case of Mr Denford.
"The Diocese fully acknowledges the suffering caused both to survivors of abuse and their families.
"We deeply regret the betrayal of trust in the context of public pastoral ministry and we extend our prayers and support to those caught up in the events highlighted by this case".
Prosecutors said Denford, 78, used the respectability of the cassock to groom and abuse two boys over an 18-month period from when they were aged around 13. On one occasion he got into a bath with one of the boys while aroused.
On another occasion he pressed himself up against a boy intimately with the words: "How nice it is to have a cuddle".
Load more updates