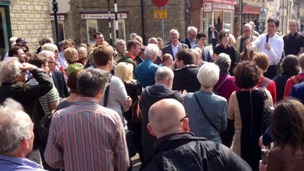 Labour leader Ed Milliband was on the campaign trail in David Cameron's Witney constituency today.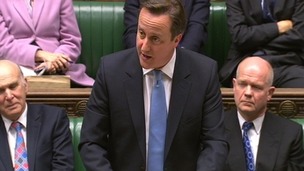 David Cameron is set to enter the fray for the first time in the hotly-contested Eastleigh by-election battle.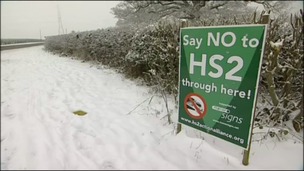 The Transport Secretary says it's "worth upsetting people to build HS2".
Live updates
The perfect pine for the PM
It's set to become one of the most famous and admired Christmas trees in the world - filmed and photographed thousands of times. And it was grown in Oxfordshire.
Andrew Ingram from Watlington has won a competition to provide this year's Christmas tree for Downing Street. Heather Edwards went to meet the man behind the perfect pine.
Berks MP calls for EU poll
Number 10 roundly slapped down Adam Afriyie's plan to table an amendment to legislation paving the way for a promised vote in 2017 - insisting it would not be allowed to pass "in any circumstances".
"The PM will not let it stand," a spokesman said.
The Windsor MP - once the subject of leadership bid speculation - said the public was "not convinced" that the Prime Minister would stick to his pledge of a vote if the Conservatives win the general election.
Writing in the Mail on Sunday, Mr Afriyie said delaying posed "significant dangers" including building support for the UK Independence Party (Ukip) - a serious concern for many colleagues and activists.
Advertisement
Tories told: 'Stick with it!'
The Prime Minister told Conservatives from the South: 'Stick with it and let's finish the job'. He was speaking on the final day of the Tory conference in Manchester. Our political reporter Phil Hornby was in the hall, listening to Mr Cameron's speech.
David Cameron's bad back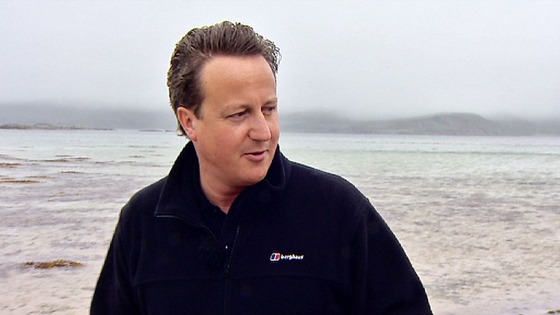 During a family holiday on the Scottish island of Jura, the Prime Minister said a scan showed he had a protruding disc.
Mr Cameron, who enjoys deer stalking, said his back pain meant he avoided the hunting activity, which requires crawling on the ground.
His comments came during a pre-recorded interview with the BBC. Mr Cameron said about the whisky-producing island: "It's a great place to unwind. I like the great outdoors. I like an active holiday.
The island is home to thousands of red deer and according to the Prime Minister deer stalking is "probably one of the most defendable" field sports. He also denied giving up hunting because of opposition to the sport by some people.
"I find now I'd rather go for a walk and this year I've got a phenomenally bad back so I really don't think I'll be able to crawl," he said.
Cameron backs fracking
Cheaper energy bills and tens of thousands of new jobs. Today the Prime Minister said he thought the benefits were too great to ignore as he stressed his support for fracking, even in populated areas of the South.
There are three potential sites in the region. Test drilling has already been been carried out at Cowden near Tunbridge Wells. Tests are underway at at Balcombe in Sussex and planning pernission granted for exploratory work at a site near Sandwich. Around 40 more sites are being looked at.
This week, hundreds of protesters are expected to join an existing protest at Balcombe to set up a climate camp - which will call for fracking to be banned. Andy Dickenson has been there to gauge reaction.
Cameron backs fracking
Greenpeace have responded to David Cameron's support of fracking throughout Britain.
This morning the Prime Minister gave his backing to fracking, saying that he thought it would create new jobs and secure Britain's energy future.
Advertisement
Cameron backs fracking
Fracking protestor George Barba shares his reaction to David Cameron's comments in support of the fracking process.
Our reporter Andy Dickenson spoke to protestors in Balcombe about their response to the Prime Minister's controversial comments.
Cameron backs fracking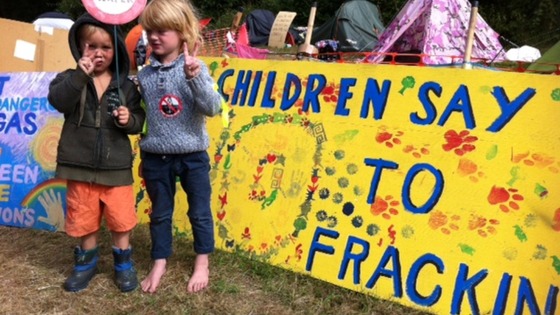 Despite the Prime Minister's support of the fracking process, protestors at Balcombe are continuing to oppose the drilling process.
In an effort to persuade communities of the benefits of fracking, the process of extracting gas by the hydraulic fracturing of rock using high pressure liquid, firms will offer £100,000 of benefits for each exploratory well.
David Cameron also believes that fracking could bring in more jobs.
Cameron backs fracking
In today's telegraph, Greenpeace have responded to comments made by the Prime Minister as he backed the fracking process.
Leila Dean, Greenpeace Energy Campaigner said:
"If this is David Cameron's attempt to reassure his party and voters, he'll have to up his game. We've seen that foisting fracking on communities – South or North – doesn't work, and his comments are likely to further stir rebellion in the Home Counties, not quell it."
The Prime Minister's claim that UK shale gas will reduce energy prices doesn't stack. Experts from Ofgem to Deutsche Bank to drilling company Cuadrilla itself agree UK shale will not bring down bills, because unlike the US, the UK is part of a huge European gas market.

The government must come clean about where its getting its advice from, and the role shale gas lobbyists are playing in it."
– Leila Dean, Greenpeace Energy Campaigner
Cameron backs fracking
He sought to play down fears about the environmental dangers posed by fracking, claiming there was "no evidence" that it would cause contamination of water supplies or other damage if properly regulated.
Last week Mr Cameron said Britain would be "making a big mistake" if it did not seriously consider fracking and the prospect of cheaper gas prices.
The Prime Minister said the country is "missing out big time at the moment" and Mr Osborne warned it would be a "real tragedy" for the UK to allow the "energy revolution" to bypass it.
Load more updates
Back to top