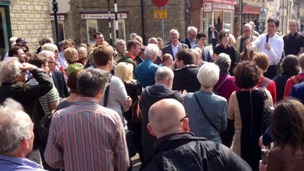 Labour leader Ed Milliband was on the campaign trail in David Cameron's Witney constituency today.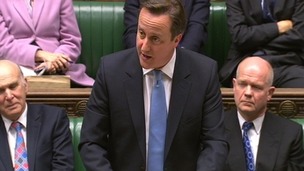 David Cameron is set to enter the fray for the first time in the hotly-contested Eastleigh by-election battle.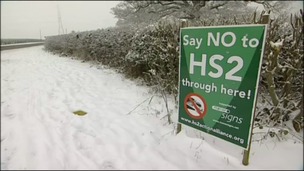 The Transport Secretary says it's "worth upsetting people to build HS2".
Live updates
Cameron backs fracking
In an effort to persuade communities of the benefits of fracking, the process of extracting gas by the hydraulic fracturing of rock using high pressure liquid, firms will offer £100,000 of benefits for each exploratory well.
Mr Cameron said:
"Companies have agreed to pay £100,000 to every community situated near an exploratory well... If shale gas is then extracted, 1% - perhaps as much as £10 million - will go straight back to residents."
– David Cameron MP, Prime Minister

He also claimed a thriving shale-gas industry could create tens of thousands of jobs.
Cameron backs fracking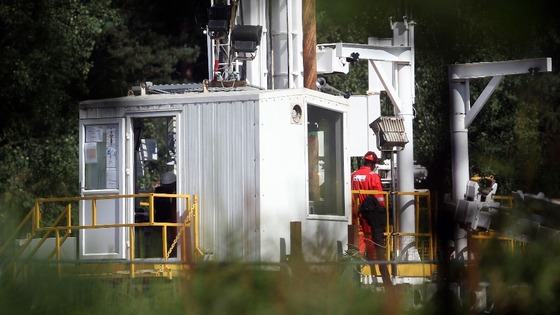 The Prime Minister's intervention follows comments from former Government adviser Lord Howell of Guildford, the father-in-law of Chancellor George Osborne, who suggested that fracking should be confined to "desolate" areas of northern England.
Fracking has transformed the energy market in the United States, cutting costs for households and businesses and ministers hope for a similar effect in the UK.
The Prime Minister said it has "real potential to drive energy bills down" and insisted that the Government was not "turning our back" on low carbon generation but needed to secure a mix of energy sources.
Advertisement
Cameron backs fracking
David Cameron has insisted that the whole of the country should accept fracking.
The Prime Minister said the process would not damage the countryside and cause only "very minor change to the landscape".
Writing in The Daily Telegraph Mr Cameron said: "I want all parts of our nation to share in the benefits: north or south, Conservative or Labour."
He added:
"If neighbourhoods can really see the benefits - and get proper reassurance about the environment - then I don't see why fracking shouldn't get real public support."
– David Cameron MP, Prime Minister
Cameron backs fracking
I believe the whole country should get behind fracking - providing cheap energy and jobs across the UK. You can read why in @telegraph.
Poll names favourite churches
Politicians and celebrities have been naming their favourite churches, including some very special buildings in our region - among them the favourites of Prime Minister David Cameron and UKIP leader Nigel Farage. David Wood reports.
Prime Minister's Kent visit
David Cameron offically opened the world's largest off shore windfarm today - describing it as ''great for Kent and great for Britain." He was speaking in Margate after touring the vast site - by helicopter.
The London Array is in the outer Thames Estuary - 12 miles from the coast of Kent and Essex.
There are claims tonight that wind turbines and other forms of green energy will hike up energy bills - something government ministers deny. Watch Derek Johnson's report.
Advertisement
Prime Minister's Kent visit
Prime Minister David Cameron said world's largest offshore wind farm was ''good for Kent and good for Britain.''
Mr Cameron described London Array, in the outer Thames Estuary, as a "big win for Britain" which proves the country is capable of delivering large-scale projects.
A small group of protestors shouted slogans as Mr Cameron's car drove in and out - and demonstrated against government cuts.
The PM was speaking at Turner Contemporary in Margate at the inauguration of the fully functioning wind farm, which reached full capacity earlier this year with the commissioning of its 175th and final turbine.
Mr Cameron said the project represented a huge investment for renewable energy and was providing jobs for local people. He denied that mainly overseas companies were benefitting from the construction.
Prime Minister's Kent visit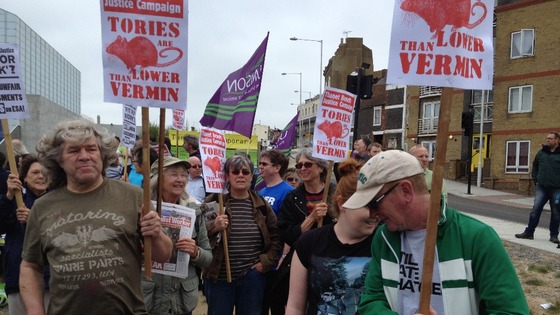 Crowds of protesters against government cuts are growing in Kent for the Prime Minister's visit.
David Cameron is opening a London Array windfarm in Margate today, which is expected to be the largest in the world.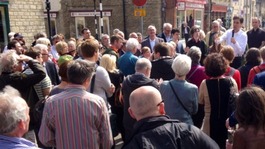 Labour leader Ed Milliband was on the campaign trail in David Cameron's Witney constituency today.
Read the full story
Miliband in PM's constituency
The Labour leader went electioneering in Witney today - Ed Miliband in the heart of David Cameron's constituency. It's ahead of next week's county council elections.
In Oxfordshire, out of more than 70 councillors, just 9 are Labour. But Mr Miliband's message was: there mustn't be any no-go areas for his party. Phil Hornby reports.
Load more updates
Back to top