David Cameron was in a buoyant mood as he talked to supporters in his constituency.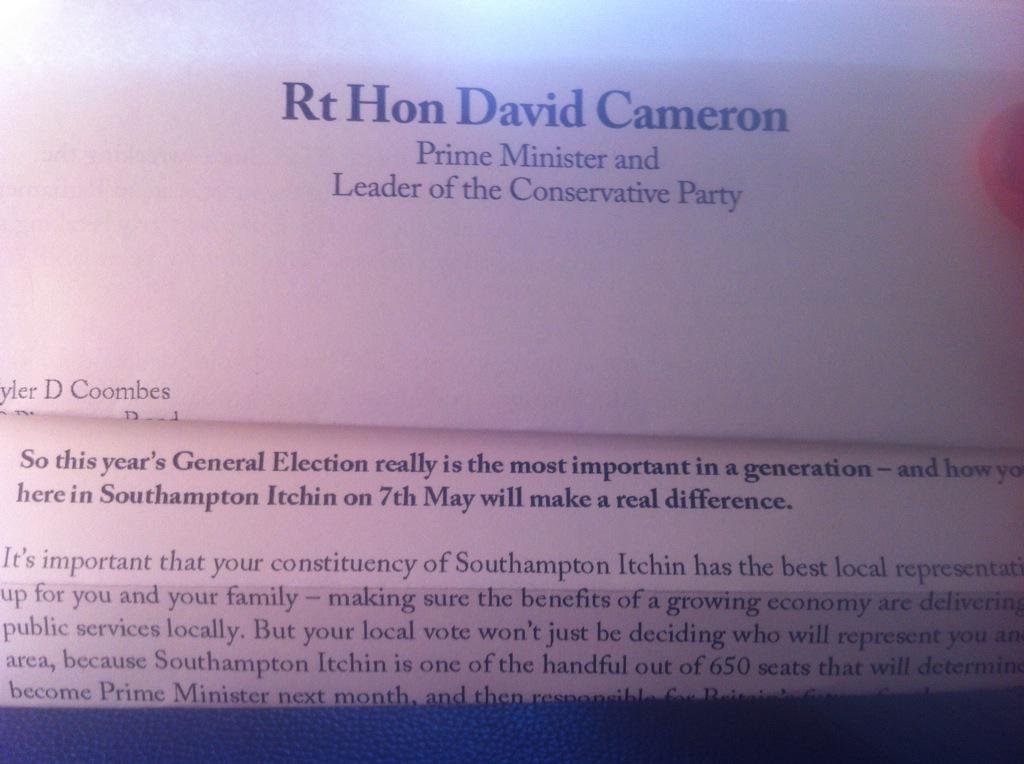 An election campaign letter from Prime Minister David Cameron spelled a constituency name wrong three times.
Letters were sent to residents in Southampton Itchen constituency with the area spelt "Itchin".
Local resident Tyler Coombes tweeted Mr Cameron saying the error was "poor"
A Conservative Party spokesman said it was "an honest mistake".
Advertisement
David Cameron has promised more action to clamp down on child abuse. He says that a big change in culture is needed.
The Government has pledged more than £300 million to be spent on research into dementia while all NHS staff will have to undergo training in the condition. The announcement was made by David Cameron while visiting a Dementia Friends / Alzheimer's Society event at The Clare Charity Centre in Saunderton, Buckinghamshire. The centre is located west of Thame in Oxfordshire.
The Prime Minister has denied press reports that the regular army could be cut to 60,000 men and women. He was asked about it by the MP for Aldershot Sir Gerald Howarth.
Mark Reckless, the UKIP MP for Rochester and Strood, challenged the Prime Minister to debate with Nigel Farage. Mr Cameron replied by accusing UKIP of wanting to privatise the NHS.
Advertisement
It's not the first time the Prime Minister has received a frosty reception.
But yesterday, the Witney MP endured a cold welcome of a different kind, as he ran in freezing conditions through Oxfordshire.
It was all part of the Great Brook Run - which takes place every year in Chadlington.
David Cameron was one of 140 runners who took part in the charity race and he's not a novice to the event, running in 2008, 2009 and 2012.
The run saw him wade through brooks in the Oxfordshire countryside before finishing off the race with a pint.
The Prime Minister visited the Thames Valley today to announce more than £40m of funding to help protect the region against future flooding.
Thousands of homes and businesses were destroyed after weeks of heavy rainfall earlier this year.
The two black boxes from flight MH17 have arrived in Farnborough six days after the crash which claimed almost 300 lives. As some of the bodies were flown to the Netherlands from the crash site in Ukraine - the Dutch government asked for the UK's help in analysing the plane's data. Kate Bunkall sends this report.
A Department for Transport spokesperson said: "We can confirm that the two black boxes from MH17 have been delivered by the Dutch Safety Board to the Air Accidents Investigation Branch at Farnborough for download."
Load more updates