David Cameron discusses Britain's new runway with ITV Meridian political correspondent, Phil Hornby.
Read the full story ›
A consultation has been launched today into plans to spend millions pounds tackling one of the region's worst traffic bottlenecks.
Rush hour congestion is a major problem on the A40 between Witney and Oxford - with thousands of vehicles using the single carriageway every morning during the week.
The options on offer include adding a new lane or creating tram or train links. Sam Holder reports.
Advertisement
Anti-fracking protesters have driven a tank to Prime Minister David Cameron's constituency home.
Fashion designer Vivienne Westwood was on board the tank to support the demonstration.
The protest outside Mr Cameron's Oxfordshire home is in opposition to the drilling for shale gas - a process known as fracking.
There are concerns that chemicals used during the drilling could harm the environment.
David Cameron made his comments about Operation Stack in London after the COBRA meeting.
David Cameron said he would be a proud to lead a majority Conservative government as he delivered his victory speech outside Number 10 this afternoon.
He said: "I truly believe we are on the brink of something very special in this country."
Earlier the Prime Minister arrived back at Downing Street with his wife Samantha after the meeting the Queen at Buckingham Palace.
Mr Cameron spent just over 20 minutes with the Queen after learning that the Tories had reached the 326 seats needed to command an absolute majority in the House of Commons.
David Cameron was in a buoyant mood as he talked to supporters in his constituency.
Advertisement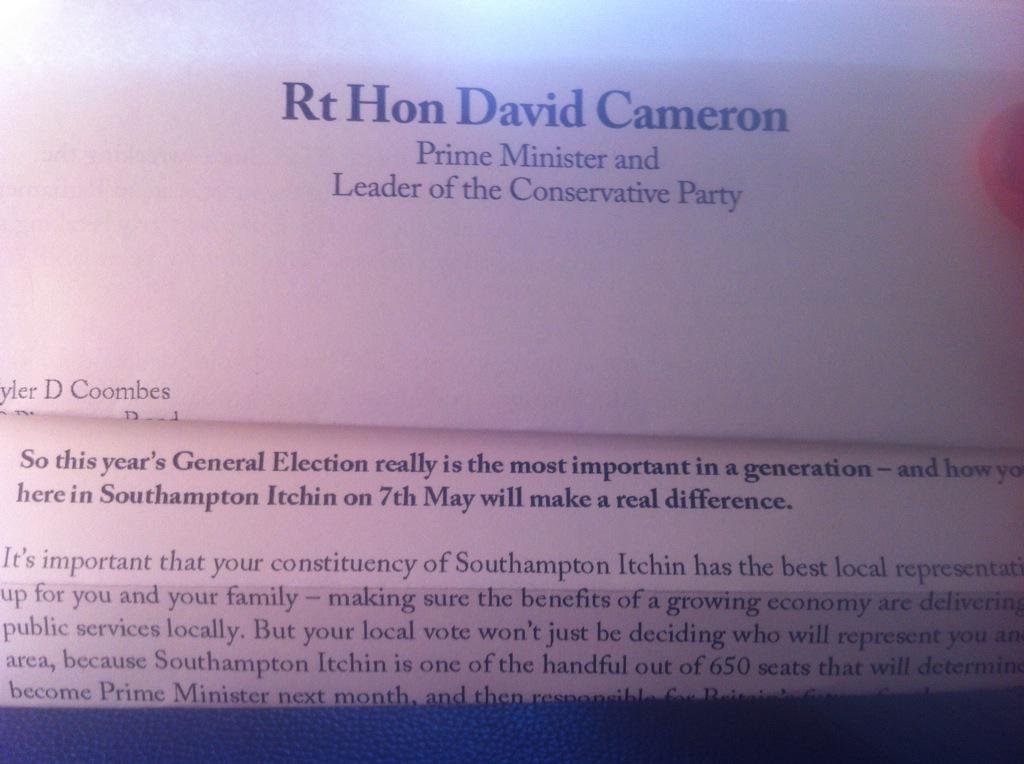 An election campaign letter from Prime Minister David Cameron spelled a constituency name wrong three times.
Letters were sent to residents in Southampton Itchen constituency with the area spelt "Itchin".
Local resident Tyler Coombes tweeted Mr Cameron saying the error was "poor"
A Conservative Party spokesman said it was "an honest mistake".
David Cameron has promised more action to clamp down on child abuse. He says that a big change in culture is needed.
The Government has pledged more than £300 million to be spent on research into dementia while all NHS staff will have to undergo training in the condition. The announcement was made by David Cameron while visiting a Dementia Friends / Alzheimer's Society event at The Clare Charity Centre in Saunderton, Buckinghamshire. The centre is located west of Thame in Oxfordshire.
The Prime Minister has denied press reports that the regular army could be cut to 60,000 men and women. He was asked about it by the MP for Aldershot Sir Gerald Howarth.
Load more updates