Live updates
Delays on the motorway
An accident on the M25 between junction 5 and 6 is causing tailbacks. Delays affecting the M26 too.
Video of BA plane emergency
NATS air traffic controllers are working with airlines toclear the backlog of flights following runway closures at Heathrow today.
Controllers at Heathrow airport, as well as airports in the South East, are working out which flights are most important to help contain the situation.
Both runways were closed at Heathrow this morningafter a BA flight to Oslo had engine problems and returned to the airport.
We have well-rehearsed plans and processes in place forhandling an incident like this but nevertheless it has been extremely busy forour controllers in Swanwick and at a lot of our airport operations.
– NATS Managing Director Martin Rolfe
Advertisement
Boat accident closes A34 north
The A34 northbound was closed when a boat came off its towing vehicle and onto the road.
Boat accident closes A34 north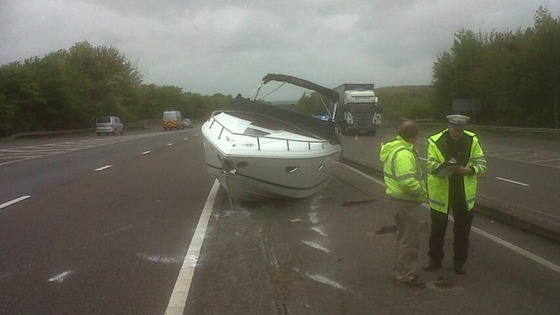 Motorists are facing delays after a boat fell off a lorry on the A34 in Oxfordshire.
The incident happened northbound at Milton a short time ago.
Flooding in Lancing
Bill Freeman of the Lancing Manor Residents' Network speaks about local flooding.
Flooding in Lancing
There were long queues on the A27 at Lancing in Sussex today, with the dual carriageway reduced to one lane eastbound. Homes in nearby Manor Way were abandoned. Many gardens have been under several inches of water over the Christmas period.
Emergency pumping work has been going on to try to tackle what residents say is an ongoing problem.
Advertisement
Travel problems this Saturday
The service has been suspended on South West Trains between Brockenhurst and Lymington Pier because a vehicle has hit a bridge at Lymington Town.
Trains are currently unable to run through the area so they are terminating at Brockenhurst. Alternative road transport has been arranged. There's no estimate of when a normal service will resume.
Travel problems this Saturday
Three cars have been involved in a collision on the A354 Portland Road in Weymouth. The road is partially blocked and it's causing delays to motorists heading to the Paralympic sailing events.
Travel problems this Saturday
Two lanes and an exit slip road are closed on the M25 clockwise at junction 1A for Swanscombe (A282) due to a vehicle fire. Although the fire is now out the vehicle needs to be recovered.
ITV Meridian's travel news
Southeastern is reporting disruption on its London bound service between Maidstone West and St Pancras International and also between Strood and Paddock Wood due to a broken down train at Snodland. London bound lines are currently blocked and trains are unable to run through.
Load more updates
Back to top