Lorry drivers and farmers in Calais have staged a demonstration as part of a protest against the "Jungle" migrant camp. British cross-Channel travellers have been warned they face disruption during a campaign to have the northern section of the camp demolished.
A 5mph rolling roadblock has been set up by hauliers and farmers on the A16 motorway, the main route to Calais Port and the Channel Tunnel.
Advertisement
A blockade of lorries and tractors held up traffic on the roads around Calais with a "go slow" protest against the "Jungle" migrant camp.
A convoy of trucks and tractors set off from Dunkirk to the north, while another made its way from Boulogne to the south at 7.30am local time on the A16, which runs along the edge of the town.
They are set to converge near the entrance to the Channel Tunnel and ferry terminals.
No traffic was being allowed to pass the blockade and police were stationed at the junctions, apparently to stop vehicles joining the motorway.
Hundreds of protesters also marched on foot along the road leading directly to the port.
Protesters have been gathering in Calais this morning ahead of a planned demonstration against the "Jungle" migrant camp.
British cross-Channel travellers have been warned they face major disruption as French shopkeepers, police, unionists and farmers join hauliers in calling for the northern section of the camp to be demolished.
A trade association has warned drivers will stand their ground until they see action to dismantle the camp.
A few hundred about to march on the motorway to link up with convoys of truckers and tractors enforcing a 'go slow' https://t.co/mMdRZ6LKBa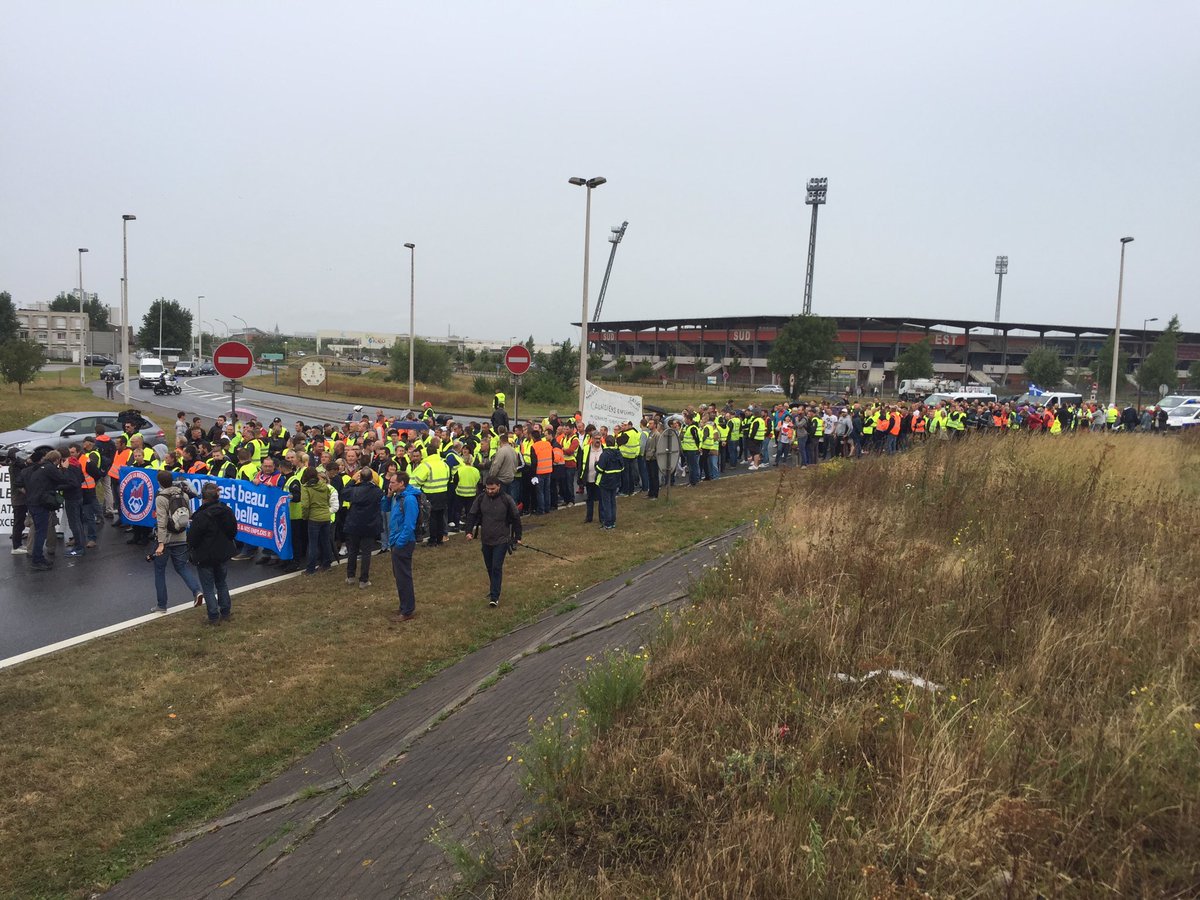 The railway line between Dover and Folkestone, which was badly damaged by storms, is to re-open three months ahead of schedule. It was closed on Christmas Eve after part of the sea wall collapsed, making the track unstable. It has caused travel problems for thousands of commuters but train services will start running again next month. Tom Savvides talks to the chief executive of Network Rail, Mark Carne. This report also includes interviews with Richard Dean of Southeastern and the MP Charlie Elphicke.
Two Royal Mint engravers have teamed up to capture watercolour-style portraits of some of Britain's best loved natural landmarks on a commemorative collection of sterling silver £5 coins – including a coin depicting the familiar sight of the White Cliffs of Dover.
Glyn Davies and Laura Clancy started by painting the scenes in watercolour, before going through the painstaking process of engraving every last detail onto the tools needed to strike the collectable coins.
Advertisement
Delays have eased following a weekend of chaos for travellers heading towards the Channel crossing, but police have warned of further disruption for weeks to come.
Holidaymakers faced hours on gridlocked roads near Dover this weekend as some spent the night in their cars as they tried in vain to get to the port. At one stage there were twelve-mile tailbacks and people endured waits of more than ten hours.
Shadow Home Secretary, Andy Burnham, is calling for urgent action to sort out the massive jams at Dover.
The Government needs to get on the phone to the French authorities and get a grip on this outrageous situation. Our new Prime Minister must urgently explain what representations she and the Home Secretary are making to their French counterparts. Theresa May should have anticipated heightened security checks in France. The Home Office and Department for Transport have been caught ill-prepared once again. This can't carry on and it certainly can't happen again. Ministers must take action to assist the thousands of holiday-makers who, through no fault of their own, are now stranded. It's the beginning of the busiest holiday period and the Government cannot allow this to continue.
– Shadow Home Secretary Andy Burnham
Ferry passengers have been warned it could take up to three hours to get through passport controls amid heightened French security checks.
Read the full story ›
Load more updates