Two Royal Mint engravers have teamed up to capture watercolour-style portraits of some of Britain's best loved natural landmarks on a commemorative collection of sterling silver £5 coins – including a coin depicting the familiar sight of the White Cliffs of Dover.
Glyn Davies and Laura Clancy started by painting the scenes in watercolour, before going through the painstaking process of engraving every last detail onto the tools needed to strike the collectable coins.
Advertisement
Delays have eased following a weekend of chaos for travellers heading towards the Channel crossing, but police have warned of further disruption for weeks to come.
Holidaymakers faced hours on gridlocked roads near Dover this weekend as some spent the night in their cars as they tried in vain to get to the port. At one stage there were twelve-mile tailbacks and people endured waits of more than ten hours.
Shadow Home Secretary, Andy Burnham, is calling for urgent action to sort out the massive jams at Dover.
The Government needs to get on the phone to the French authorities and get a grip on this outrageous situation. Our new Prime Minister must urgently explain what representations she and the Home Secretary are making to their French counterparts. Theresa May should have anticipated heightened security checks in France. The Home Office and Department for Transport have been caught ill-prepared once again. This can't carry on and it certainly can't happen again. Ministers must take action to assist the thousands of holiday-makers who, through no fault of their own, are now stranded. It's the beginning of the busiest holiday period and the Government cannot allow this to continue.
– Shadow Home Secretary Andy Burnham
Ferry passengers have been warned it could take up to three hours to get through passport controls amid heightened French security checks.
Read the full story ›
A lorry driver caught smuggling one and a half tons of tobacco into the UK, evading £297,000 in excise duty, has been jailed after an HM Revenue and Customs investigation.
Iosif Neuschli, 48, of Baia Mare, Romania, was stopped by Border Force officers at Dover Eastern Docks on 8 June 2016. Neuschli told officers the lorry he was driving contained 'cat food'. In fact the lorry's trailer unit contained five pallets loaded with 1,500 kilos of 'Turner' hand rolling tobacco.
Neuschli pleaded guilty to the fraudulent evasion of excise duty at Maidstone Crown Court. He was jailed for 18 months.
Advertisement
The French authorities in Calais have defended their decision to prevent an aid convoy of about 200 vehicles leaving Dover on its way to enter France.
The Pas-de-Calais authorities said they had issued the ban for various reasons including the potential for the convoy to "generate violent episodes"; and a lack of available police officers because of the current European football championships.
They also said the numbers of vehicles involved could "facilitate the intrusion of migrants".
"In these circumstances, the Prefect of Pas-de-Calais considered only the prohibition of any event is likely to effectively prevent public disorders that may occur.
"Moreover, any convoy on roads and highways, from Great Britain to Calais to slow or block the flow and constituting a public event, is prohibited."
The Kent Police force has responded to complaints about an aid convoy being prevented from leaving the Port of Dover on its way to Calais in France.
The convoy of more than 200 vehicles included teams from groups such as the Stop the War Coalition and the People's Assembly. They were carrying provisions and supplies for people living at the so-called 'jungle' refugee camp near Calais.
Kent Police assisted the Port of Dover Police and French authorities after a convoy containing approximately 200 vehicles were denied entry to France on Saturday 18 June.

The decision to refuse entry was made by the French authorities and no agency within the United Kingdom has any grounds to challenge this decision. The refusal of entry to France is a matter for the French authorities.

Upon being refused entry to France, a demonstration took place at the Port. This started at approximately 1.50pm, which resulted in a brief closure of the border controls.

Kent Police worked with partner agencies to ensure disruption was kept to a minimum and within approximately one hour the port resumed business as usual.
– Kent Police spokesperson
An aid convoy of around 250 vehicles has been held at the Port of Dover after French authorities refused them entry to France.
The Convoy to Calais is a coalition of various charities and groups who had planned to travel via ferry to deliver aid to the so-called 'jungle' refugee camp at Calais in France.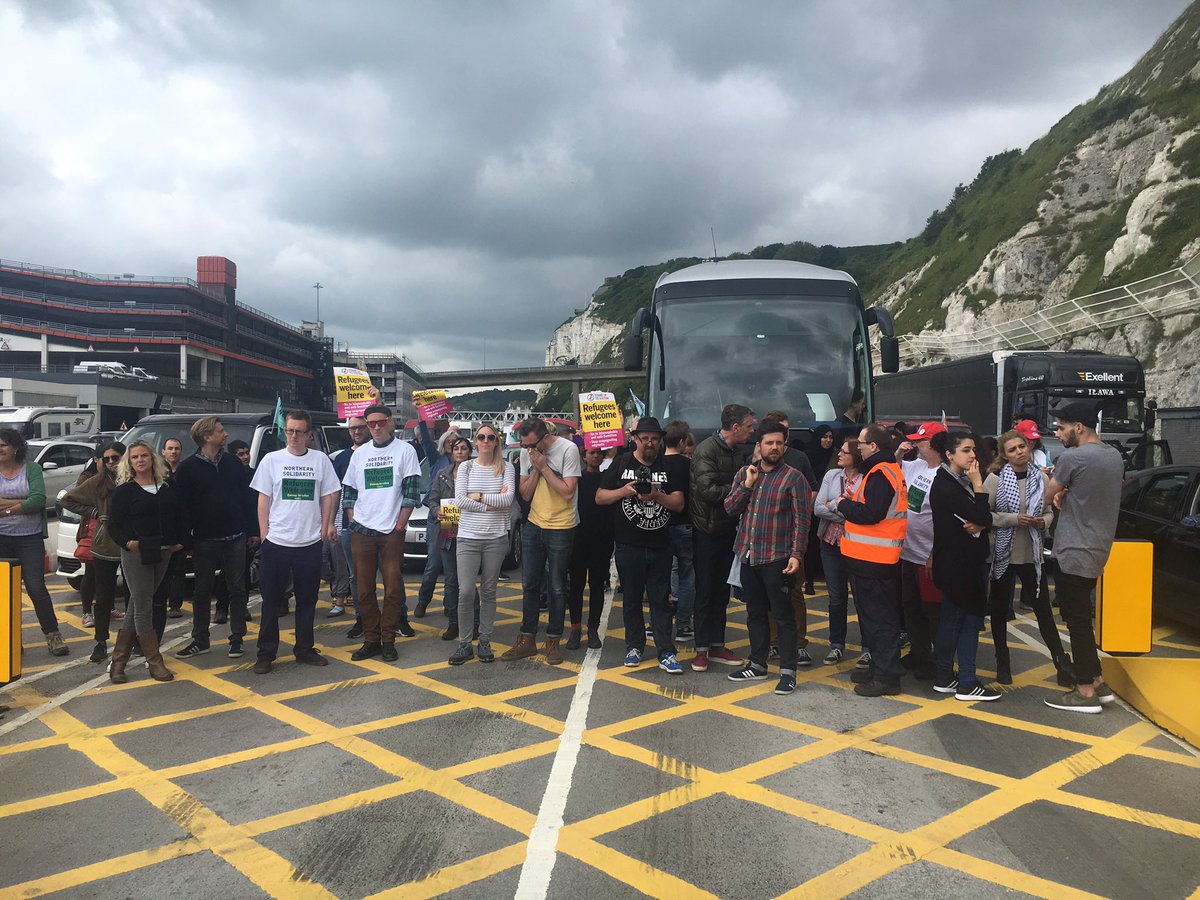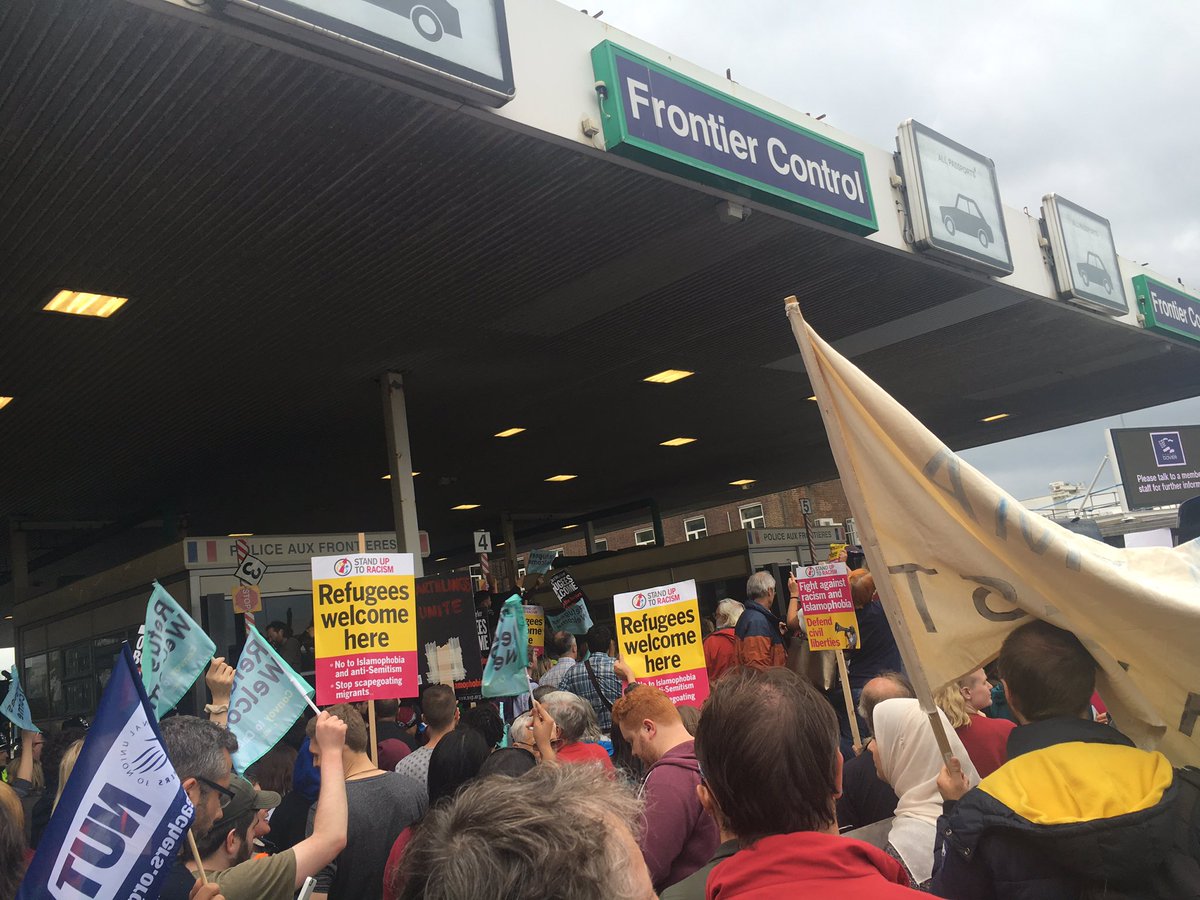 Load more updates