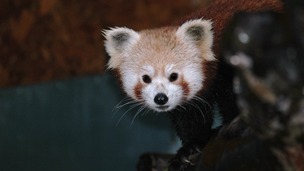 A zoo in East Sussex is seeing in the New Year with a new arrival.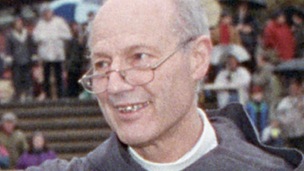 Police investigating allegations of sex offences by a retired Church of England bishop say other people have come forward claiming abuse.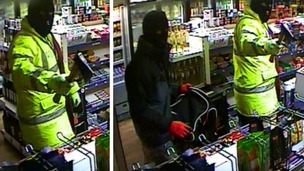 Police are appealing for information after staff at a petrol station in Sussex were allegedly threatened with an axe during a robbery.
Live updates
Firefighters strike today
Video. For four hours today, firefighters across the region were not on call to respond to emergencies because of a row over their pensions. From midday, they took to the picket lines to send out a strong message to the government that they do not want to work until they are 60.
Despite the walk out, the fire service said they did have contingency plans in place if 999 calls did come in and, as Kerry Swain reports, it wasn't long before one did.
Firefighters strike today
Firefighters walked out in their first national strike for 11 years today. Their message, 'Don't make us work on the front line until we are 60, because it will cost lives.'
But the government assured the strikers that their pay and pension deal were generous, and by making staff work on so-called front line duties, there would be no danger to the public.
The strike action lasted 4 hours. Fire chiefs said they would respond to 999 calls regardless but in the event there was little demand for callouts. Sarah Saunder reports.
Advertisement
Firefighters strike today
During the strike by firefighters and members of the Fire Brigades' Union today, Wiltshire Fire and Rescue Service attended two incidents across the county.
The fires attended were:
A small fire in a light fitting at Superdrug in Old George Mall, Salisbury. It was dealt with by the resilience crew from Salisbury and the on-call crew from Wilton.
A dishwasher fire in Oakhurst. It was attended by the resilience crew from Swindon and the on-call crew from Cricklade.
Of the firefighters that were meant to work this afternoon, 120 were on duty and 128 were on strike.
Chief Fire Officer of Wiltshire Fire, Simon Routh-Jones said, "I am obviously very please that we have had a quiet afternoon across the county, and my thanks go to the firefighters who continued to work through the strike period.
Firefighters strike today
Two crews from Kent Fire and Rescue service, are in attendance at a house fire in Hectorage road, in Tonbridge. The control room was called at 2:10pm to reports of a fire on the first floor of the property. No-one was hurt.
Firefighters strike today
Sean Starbuck from the Fire Brigade Union says that today's strike is the last resort.
Firefighters strike today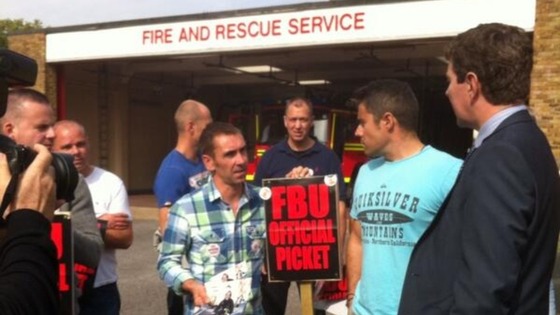 Firefighters from Eastleigh are striking.
They have been ordered not to wear their uniforms whilst on strike
Advertisement
Firefighters strike today
Crew from Swanage en-route to invesitgate report of a small grass fire in Furzebrook Road, Swanage.
Firefighters strike today
We spoke to Ann Millington from Kent Fire and Rescue about what will happen if there is an emergency today.
Firefighters strike today
Ensure portable heaters are kept away from flammable items when it use and never put clothes over them http://t.co/AfVJEDI8uR
Firefighters strike today
Caroline Lucas will show her support for striking firefighters by joining the picket line at Preston Circus in Brighton today.
Firefighters are striking between 12pm and 4pm over pensions and concerns that they will have to work until they are 60-years-old, with many being unable to meet fitness standards.
Caroline said, "This action is not just about fair pensions but also about public safety. It is dangerous and unfair to expect them to fight fires and rescue families into their late fifties.
"I am very please to add my support."
Load more updates
Back to top