Firefighters in Hampshire have made the world's biggest naan bread.
They aimed to book a break at least 3 metres by 1.2 metres.
Advertisement
An attempt to make the world's largest naan bread takes place in Hampshire later today. Visitors to Eastleigh Mela will be able to see the record breaking attempt.
The aim is to beat the world record whilst raising money for The Fire Fighters Charity, Water Wells Project and Hampshire Hurricanes.
The Eastleigh Mela will take place on Sunday 6 July 2014 (11am – 6pm) at Leigh Road Recreation Ground in Eastleigh. Every year, the Asian Welfare and Cultural Association coordinate a range of events to engage with the local community.
Firefighter will attempt to make the world's largest naan break in Hampsire tomorrow.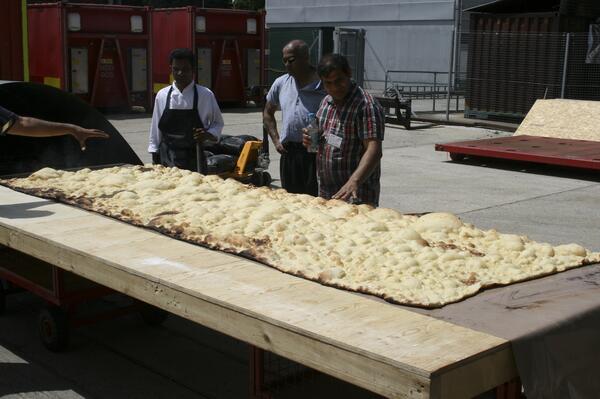 The aim is to cook a naan bread at least 3 metres by 1.2 metres. The current record measured 2.89 metres by 1 metre and weighed 9.5 kg (20lb 15oz).
Around 27 firefighters from Eastleigh, St Mary's, Redbridge, Fareham and Cosham attended a fire involving a diesel train in the early hours of this morning.
Crews were called to Campbell Road in Eastleigh where the engine compartment and diesel tank of one of the compartments was 100% damaged by fire. Two jets, one CAFS hosereel and 12 sets of breathing apparatus were used to tackle the fire the cause of which is under investigation.
The 999 call was received at 0024 and the stop message came in at 0247.
Two brothers are due in court charged with the murder of an Eastleigh newsagent.
Choudry Zishan was killed outside his family's shop on Eastleigh High Street in March.
Jonathan and Samuel McGinley, who are twenty two and twenty five and of no fixed address, are due at Winchester Crown Court.
Advertisement
Eastleigh is a key council in today's elections. The count is underway.
A woman who had bleached squirted at her head as she walked through an alleyway has thanked passers-by who she believes helped save her sight.
The victim was walking along a path between Newtown Road and George Street in Eastleigh, Hampshire, at 9.20am on Monday when the attack happened.
The 46-year-old said she screamed and used her panic alarm which alerted local residents who took her to the home of a former nurse, Sara Harrison, who helped by pouring water on her face until paramedics arrived.
The victim, who did not want to be named, told the Southern Daily Echo:
My eyes were stinging. I was screaming and crying. I was worried about my eyes, worried about what was going to happen to me. I don't feel safe. Why did somebody do it to me? I'm not doing any wrong.
– Bleach attack victim
The 46-year-old local woman has told officers someone approached her from behind and assaulted her. She was taken to the Southampton General Hospital and treated for irritation to her skin and eyes. Police would like to hear from anyone who saw or heard anything suspicious in the area at the time."
– Hampshire police spokesman
A 70-year-old cyclist who collided with a car at Curbridge has now died.
70-year-old William Logan from Eastleigh was left in a serious condition after colliding with an Audi on the A334 in Eastleigh.
He was taken to Southampton General Hospital for treatment but has since died and police are now appealing for witnesses or any information relating to the crash.
Hundreds of mourners have attended the funeral of a newsagent who was killed outside his shop in Eastleigh last month. People from all sections of the community gathered at the Medina Mosque in Southampton to pay their respects to Choudhry Zishan. Richard Jones reports.
Load more updates