Liberal Democrat and Conservative insiders both say that from early tallies, Conservative candidate Mims Davies looks to have won Eastleigh, overturning Lib Dem Mike Thornton's 1,771 majority. Mr Thornton won the seat at a 2013 by-election after disgraced MP Chris Huhne resigned. - PA
Have you been offered cheap flat pack furniture for sale?
Detectives are appealing for information following a burglary that occurred at an industrial unit in Tower Lane, Eastleigh on December 11.
Shortly after 1am offenders gained entry into a warehouse and stole the keys for a delivery vehicle. The offenders then drove off with the vehicle which had been fully loaded ready for deliveries.
I would urge anyone to think twice about buying any item at a greatly reduced price, especially if they believe it may be stolen property.
– Detective Constable Kevin Darvill from the Western Investigation Team
Four people from Southampton, two men aged 47 and 21 and two women aged 55 and 25 have been arrested in connection with the investigation and have been bailed until June pending further investigation. A large amount of stolen property has also been recovered.
Anyone with any information is asked to contact Det Con Darvill by calling 101 and quoting Op Renard or 44140441561, or call the charity Crimestoppers line on 0800 555 111, where information can be left anonymously.
Advertisement
Controversial plans for 1000 new homes have been revealed on the outskirts of a Hampshire town.
The North Stoneham Park development would transform land south of Eastleigh. If approved by borough council planners, the development would feature around 1,100 new homes spread across the 62-hectare site. The £70-million pound complex would also include a new primary school, nursery, community centre, shops and care home on the site near to junction 5 of the M27. Campaigners are worried about traffic and losing historic park land and playing pitches.
The plans have been handed in to the Borough Council after two public exhibitions last year. Eastleigh Borough Council, which owns the site alongside Highwood and the County Council, has earmarked the site south of Chestnut Avenue for housing for several years.
A decision on the plans is due during the summer, and if the development is approved construction work could begin next year.
Emma Wilkinson @emmawilkITV
The trial of two brothers accused of murdering a shopkeeper has heard how they washed their blood-stained clothes and trainers in a friend's washing machine shortly after killing him.
Choudhry Zishan, who was 35, was killed outside his shop in Eastleigh High Street in March. Today, the court heard how police had stopped the brothers about a separate incident in the town centre minutes before they carried out the attack.
They deny murder. Emma Wilkinson sent this from Winchester Crown Court:
Two brothers "spoiling for a fight" before they killed an Eastleigh father as he headed to work in the early hours, a court has heard.
Read the full story ›
The Deputy Prime Minister has been in Eastleigh this morning to meet apprentices from across the region.
Nick Clegg visited the Prysmian Cables factory to celebrate what the Lib Dems claim is a 90 percent increase in the number of apprenticeships under their government.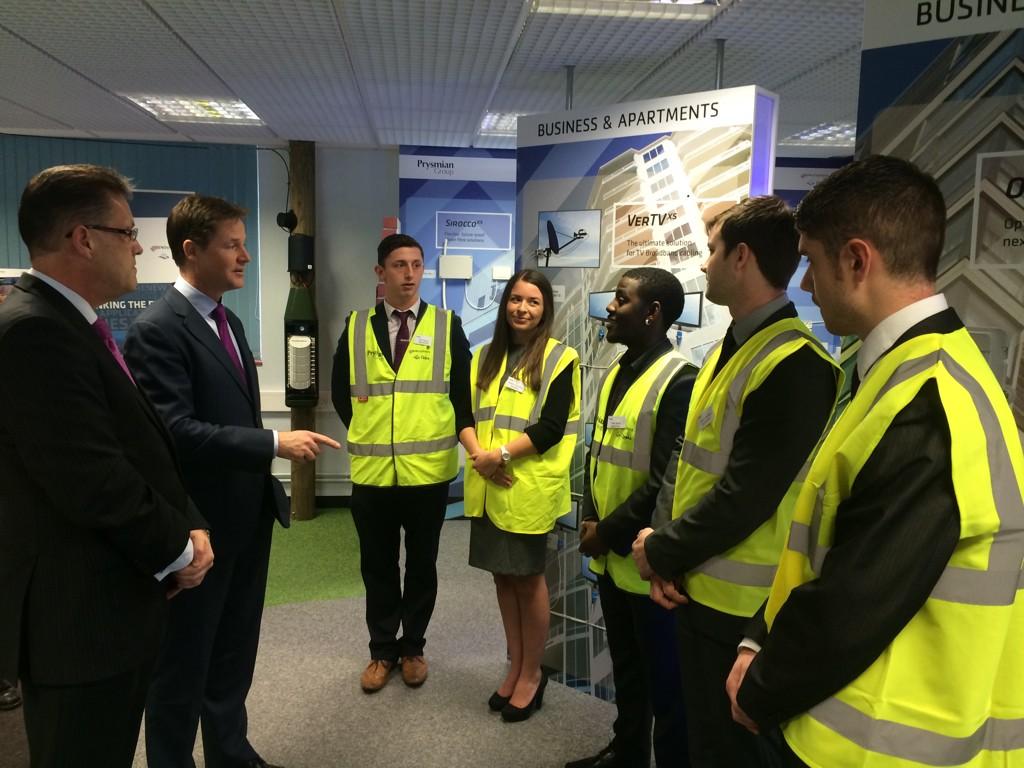 Advertisement
Former Eastleigh MP Chris Huhne has lost a challenge against an order that he must pay £77,750 costs from his prosecution for passing speeding points to his ex-wife.
Three judges at the Court of Appeal rejected his case at a hearing in London today. The costs order was made in May by Mr Justice Sweeney at London's Southwark Crown Court.
Prosecutors claimed more than £100,000 from Huhne, who pleaded guilty last February. Huhne's ex-wife, economist Vicky Pryce, who was convicted by a jury, was ordered to pay £49,200.
Huhne and Pryce have served prison sentences for perverting the course of justice after she took speeding points for her then-husband in 2003. Mr Justice Sweeney said he had "no hesitation" in rejecting Huhne's legal team's original offer of £25,000 towards costs.
The speeding points scandal brought about the end of Huhne's political career, forcing him to stand down as a Cabinet minister and later to resign as an MP.
Rejecting all grounds of challenge, Lord Justice Davis, sitting with Mr Justice King and Judge Michael Stokes, said Mr Justice Sweeney had "reached a conclusion as to what was just and reasonable which was open to him".
A 27 year-old man from Eastleigh has been jailed for four years and eight months at Southampton Crown Court after he admitted three charges of engaging in sexual activity with a 14-year-old girl.
Andrew Bailey of Yonge Close was charged after social media messages detailing his relationship with the teenager were reported to police.
Following the sentencing last week, investigating Officer DC Nick Hines from Hampshire Constabulary's child abuse investigation team said:
"In this case the victim was a young vulnerable girl whom Mr Bailey groomed and then had sex with, in the knowledge that she was only 14 years-old.
"This enquiry was challenging and required help from many different agencies and organisations including social services and Facebook. Andrew Bailey is rightly imprisoned, safeguarding the victim and the local community."
Police are appealing for the public's help to trace a man missing from Eastleigh. David Armstrong, 39, was last seen at his home address in The Crescent, Eastleigh at 11.30am this morning.
After he left the house, he walked to NatWest bank in Eastleigh, where he withdrew £100 in cash. He has not been seen since.
He is described as: a white man, 5 ft 7 ins tall, slim build, short dark cropped hair, wearing a grey fleece and dark trousers.
"We are concerned for Mr Armstrong's welfare and we would urge anyone who sees him, to contact the police immediately. I would also like to appeal directly to David and ask him to make contact with us, or his family, to let them know he is safe and well. Mr Armstrong works in Havant, but he did not attend work today. We are in the process of speaking to David's friends and family, as well as checking CCTV from local businesses and local transport. If you see David or have any information about where he might be, please call us immediately."
– Inspector Mark Foster
Anyone with information is asked to contact the duty Sergeant at Eastleigh Police Station by phoning 101 or call the charity Crimestoppers line on 0800 555 111, where information can be left anonymously.
Sarah Cooper @SarahCooperITV
A £1,000 reward is being offered to help catch a snatch thief who tried on the most expensive watch in a jewellers, before running away with it on his wrist.
The brazen thief, wearing sunglasses, asked to try on the rolex - with an £8,000 price tag. But seconds later he was gone. The robbery happened at David Mellor Jewellers at the Swan Centre in Eastleigh. Sarah Cooper speaks to one of the shop workers, Milly Blake, and James Mellor, managing director in training, in her report.
Load more updates