Emma Wilkinson (@emmawilkitv)
'Put feet first' is the message to diabetes sufferers in Hampshire, which it's been revealed, has the highest amputation rate in the country.
New figures show more diabetes patients have limbs removed in Gosport and Fareham than anywhere in Britain.
Experts say in many cases, such drastic measures could be have been prevented.
A man who had to have his lower leg removed spoke to other patients at a workshop in Fareham, about the importance of regularly checking feet.
Emma Wilkinson has more details: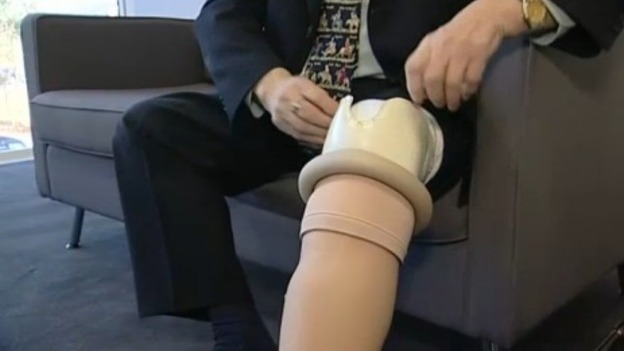 Fareham in Hampshire is Britain's most car-dependent town, official figures show.
There are 538.7 cars registered to addresses in Fareham for every 1,000 people living in the town, the figures published by the Office for National Statistics as part of a major international study on urban life show.
It means that people in the town, which sits between Portsmouth and Southampton, are more than twice as reliant on cars as those in Manchester, Liverpool or Nottingham and almost twice as much as those in London and other major cities.
The car-to-people ratio in the town is also 65% higher than in neighbouring Portsmouth and 52% more than Southampton.
Advertisement
A Royal Navy veteran amputee will tomorrow set off to kayak around the entire coast of the UK in an attempt to break the solo kayaking distance record. Richard Hunt's challenge is expected to take around four months.
He will undertake the challenge wearing a waterproof prosthetic limb and he hopes to travel a distance of approximately 2,300 miles.
The current record for the longest solo kayak journey is held by Helen Skelton on the Amazon River for Comic Relief. Richard has been training for 13 months.
Richard is raising money for BLESMA, the national charity for all limbless serving and ex-service men and women. He sought help from the charity after he lost his leg and says the charity helped him discover his passion for kayaking.
A package of works to ease congestion in Gosport and Fareham, worth £90m, has been proposed. The aim would be to remove bottlenecks from the two towns to the M27 whilst also improving access. The measures include a single carriageway Stubbington bypass with a speed limit of 50mph.
It will connect from Gosport Road to Titchfield Road, which was one of three possible routes put to the public in a consultation. The plans will be discussed by Hampshire County Councillors on March 17.
The family of an elderly couple killed in a crash on the A34 say they are "shocked and devastated" at their deaths.
Barry Janes, who was 70-years-old, and his wife Shirley died when their car left the carriageway at Three Maids Hill on Monday night.
The couple from Fareham were traveling southbound when their car, for reasons that police are investigating, crashed and ended up on its roof.
Anyone who witnessed the incident to help the police build a better picture of what happened that night of 24th February are asked contact PC Matthew Clayton on 101, quoting Operation Agate.
Advertisement
A suspicious package that was delivered to HMS Collingwood in Fareham, Hampshire is NOT thought to be suspicious.
Hampshire Police confirmed that the package is not suspicious.
A security incident is 'ongoing' at the Royal Navy's warfare school, HMS Collingwood in Fareham.
It is thought that the incident could involve a suspicious package but the MoD have not confirmed this.
A spokesperson said, "We can confirm there is an ongoing incident at HMS Collingwood, the Royal Navy warfare school in Fareham, Hampshire.
"It would be inappropriate to comment further at this stage."
HMS Collingwood is the headquarters of the navy's Maritime Warfare School and Surface Stream, delivering training including weapon engineering, diving,physical training, chemical biological radiation nuclear and damage control, sea survival, seamanship and military skills.
Load more updates