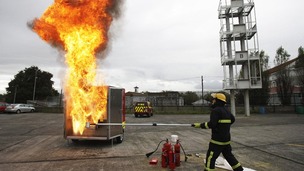 People are being warned of the dangers of chip pan fires as the nation celebrates its favourite food.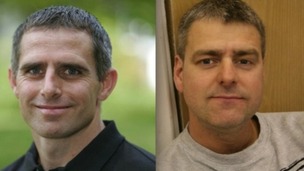 A coroner says that sprinklers should be fitted to all high-rise buildings of more than 30m after the death of two firemen in Southampton.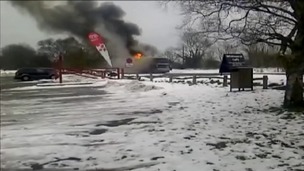 Three children are in hospital suffering from smoke inhalation after a fire broke out on a bus on a school trip.
Live updates
Large boat on fire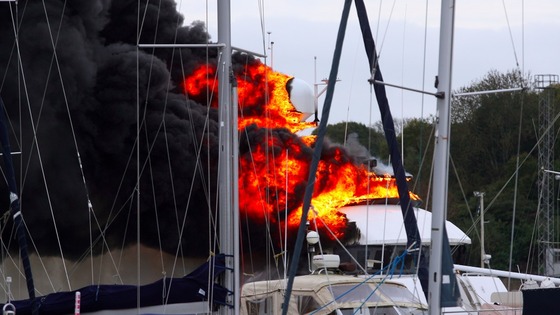 Large boat on fire
Firefighters are tackling a large boat fire on the Isle of Wight.
Officers were called to East Cowes Marina shortly after 1pm following reports of smoke billowing from a motor cruiser moored up near to The Lifeboat pub.
Two appliances from Newport and one from East Cowes Fire Station were initially sent to the scene, but a further two appliances from Ryde have been deployed to the scene to assist colleagues.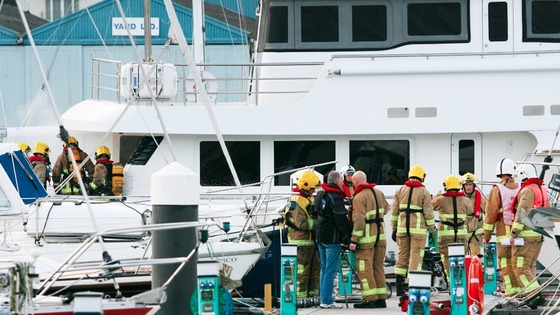 Thick, black smoke is billowing across East Cowes as flames engulf the luxury vessel, believed to be worth up to £5 million.
Residents in the area have been advised to keep windows and doors shut.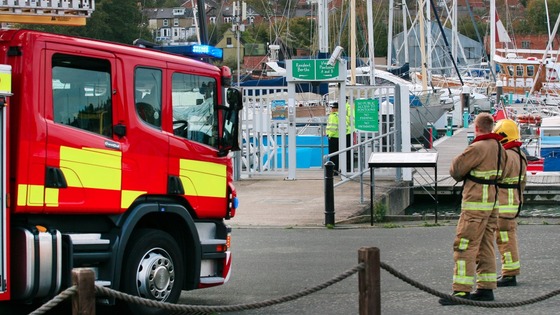 Advertisement
Crane fire causes M25 delays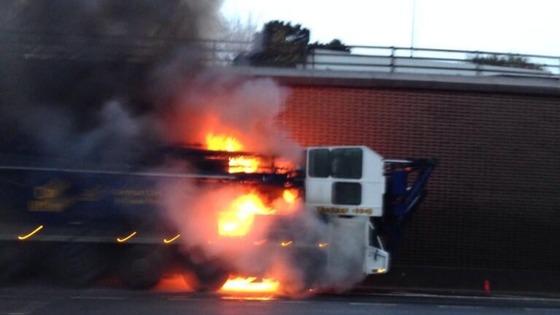 A mobile crane fire is causing problems on the M25 this morning.
Two lanes are closed and traffic is queueing due to the fire clockwise after J1B A282 / A296 Princes Road (Dartford).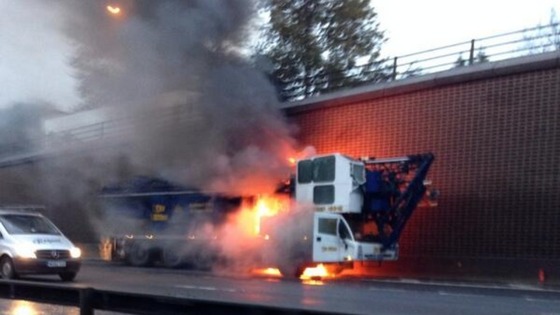 Lanes one and two are closed as the fire brigade attend a mobile crane fire on the hard shoulder.
Smoke alarm saves man's life
An Oxford man managed to escape a fire in his Oxford flat after his smoke alarm alerted him to smoke in his bedroom.
On the 3rd November at 11.24am, Oxfordshire County Council Fire and Rescue Service were called to a flat fire in Abingdon.
The elderly man initially tried to tackle the fire but then called the fire service who extinguished the heavily smoke logged property.
The fire was believed to have been caused by a defective electric blanket, which had set alight to the bedding, spreading to the rest of the bedroom.
This is another example of when a smoke alarm has saved lives! We would like to remind people to check that they have working smoke alarms in their homes.This flat had working smoke alarms, so for the rest of 2013 make it your resolution to ensure that you have working smoke alarms on each level of your house and check them on a regular basis.

The Incident also highlights the importance of having your electric blanket tested before use each year, this service is offered free of charge by Oxfordshire County Council's Fire and Rescue Service."
– Neil Priestley, Oxford Crew Manager
Car fire on the M20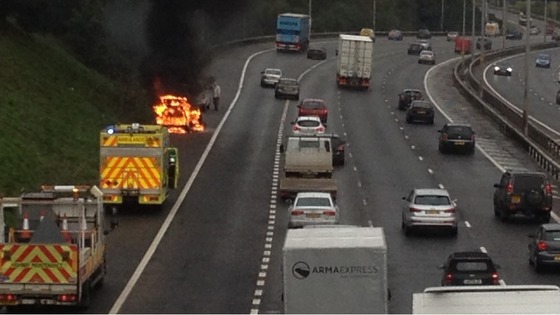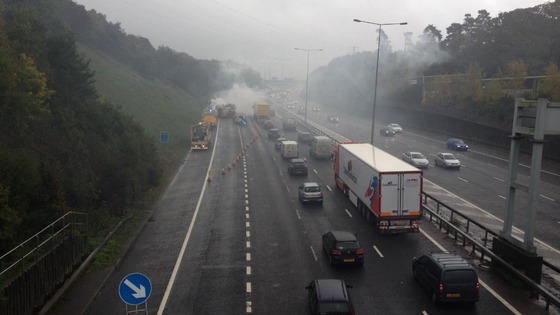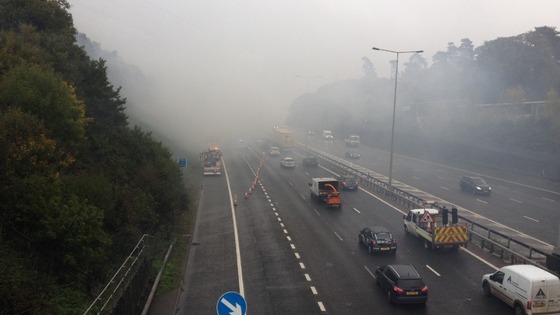 Historic cottage damaged by fire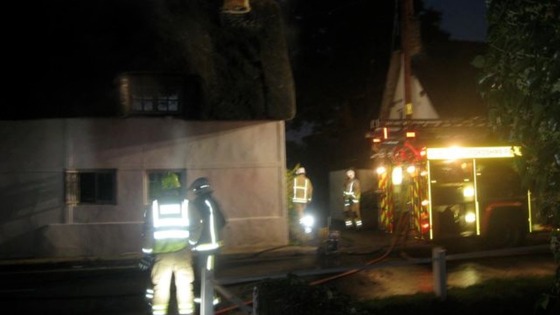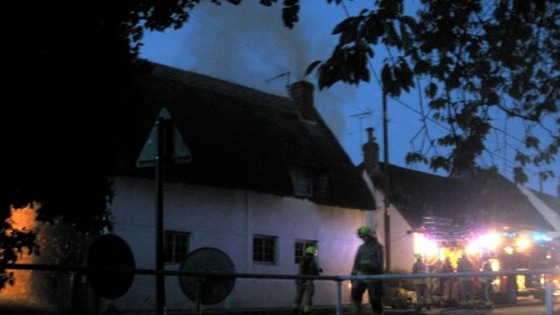 A fire that was determined as an 'unattended open fire' could have been far worse, say the fire and rescue services.
Seven fire appliances were dispatched last night to attend the fire at a thatched cottage in the village of Cuxham near Walington at around 18:09.
Breathing apparatus was needed as smoke was coming from the ground floor of the cottage.
Station Manager Bob Speakman said, "This unfortunate incident could have been far worse had the fire taken hold of the thatched roof.
"I am convinced that given a few more minutes left unchecked, the fire would have spread to the roof, causing extensive damage and the threat of spread to other surrounding thatched properties."
Advertisement
Smoke alarms do save lives...
A mother and toddler were saved from their home in Fareham this afternoon thanks to their smoke alarm.
Fareham crews were called to Hillson Drive in the Hill Park area at 1pm to a fire in a ground floor living room.
The mother and child were upstairs but managed to escape through the front door, thanks to the early detection of smoke from their alarm.
The blaze was under control within an hour but there was a considerable amount of damage to the living room and smoke damage to the rest of the house.
Crew Manager Mark Ryder said, "The mother heard the alarm activating downstairs and saw the living room on fire.
"Considering how quickly the fire developed, had she not had the warning from the smoke alarm she could have been trapped upstairs."
Man dies in flat blaze
Control Operators were alerted to a fire in a flat in Townhill Park, Southampton last night at 7.42pm.
Appliances were sent from Hightown and Redbridge Fire Stations to attend this incident. This was a fire involving a first floor flat with smoke issuing.
Crews entered the property wearing breathing apparatus and used hose reels to extinguish the fire.
Sadly, even though crews arrived promptly, and quickly tackled the fire, one adult male could not be saved.
The cause of this incident is not believed to be suspicious but is still under joint investigation by both Hampshire Constabulary and Hampshire Fire and Rescue Service.
Bravery Awards for fire-fighters
Fire-fighters, staff and members of the public have been recognised at the Kent Fire & Rescue Awards. Tom Savvides talks to award winner Andy O'Neill, Kirsty Sawyer and Craig Monahan, who were rescued from a fire, and award winner Anthony Fox.
Vandals stuck after starting fire
Video. Arsonists who started several fires and torched the inside of a chapel almost got trapped in their own flames. They had broken into the 19th Century building in Blandford, Dorset, damaging the historically important wooded pews before realising they had cut off their own escape route.
The town council says people who visit the cemetery have been left devastated by the damage and they are offering a reward for information to track down the culprits. Martin Dowse reports.
Load more updates
Back to top