A lorry is on fire on the M2 London-bound between junctions 6 and 5 (Faversham and Sittingbourne).
Both lanes of the B carriageway have been closed.
Kent Fire and Rescue Service are working to put out the fire.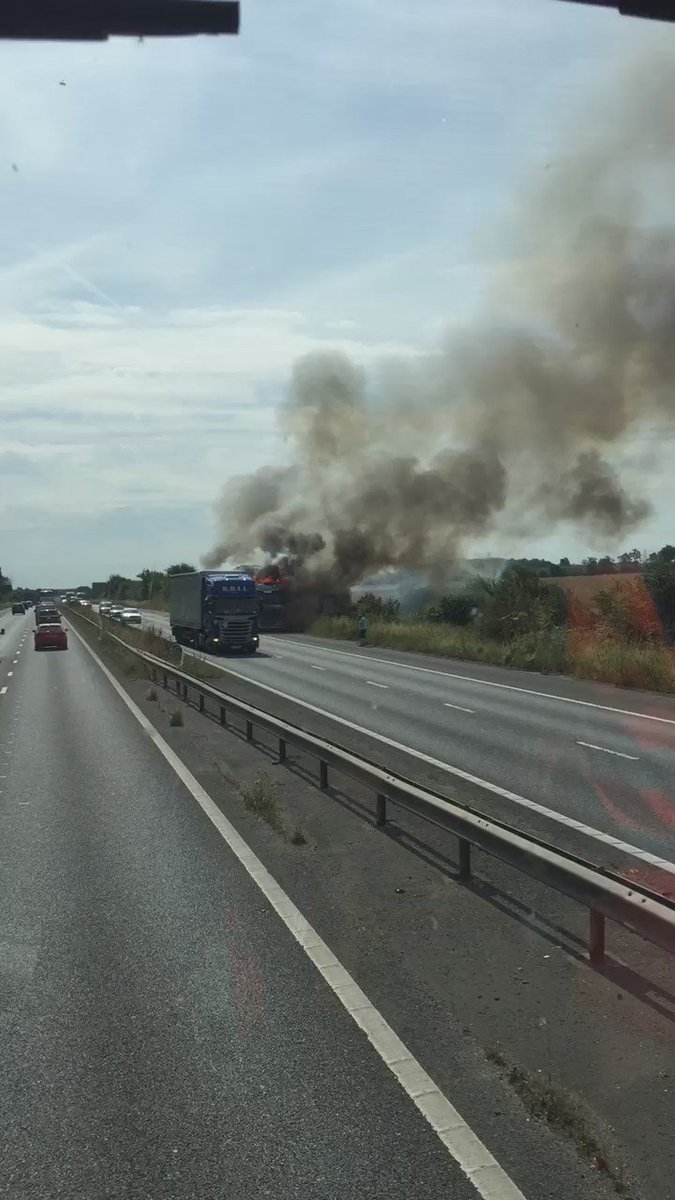 A six bedroom house near Ringwood in Hampshire has been badly damaged in a major fire.
It broke out at 6:30 this morning at Hangersley Junction near Poulner and took 40 firefighters more than two hours to put out the flames.
The roof and the front of the property has been completely destroyed but no-one was injured. Smoke could be seen over the A31.
Advertisement
Fire investigators are at a scrapyard in Poole which caught alight last night.
More than 60 fire fighters spent about 8 hours tackling the blaze at the Charles Trent scrapyard in Ringwood Road in Poole, after the alert was raised at 8.30pm last night. No injuries have been reported.
The UKRO Rescue Challenge is coming to Hampshire in September. It's an annual UK-wide event where more than 50 teams of professional firefighters from fire and rescue services across the UK compete against each another in the disciplines of Vehicle Extrication, Trauma Management, Urban Search and Rescue (USAR), Rope Rescue, Water Rescue and, for the first time this year, Animal Rescue.
The event will be held at Hampshire Fire and Rescue Service's headquarters in Eastleigh.
Automatic sprinklers in an underground car park have stopped a fire from spreading.
Firefighters were called to the car park at Gloucester Green in Oxford yesterday evening. They had to use Breathing Apparatus and Thermal Image cameras to find their way through the dense smoke, where they found a car in flames.
The automatic water sprinklers helped stop the fire from spreading to other cars.
Hastings-born Suggs helps complete pier decking, six years after it was destroyed by fire
Read the full story ›
Advertisement
A family from Kent have been left homeless after their mobile home was destroyed by fire
Read the full story ›
Fire crews are currently at the scene of a large thatch fire at East Creech near Wareham in Dorset.
Nine fire engines and multiple support vehicles are in attendance.
A national campaign warning of the dangers of beauty appliances is being backed by Hampshire Fire and Rescue.
It's thought 650,000 house fires in he UK have been caused by a hair straightener.
The new campaign called 'pull the plug' urges people to turn off their cosmetic gadgets.
"Straighteners can reach temperatures of more than 235C and can take up to 40 minutes to cool down. Considering that they reach temperatures hotter than a deep fat-fryer, there's a very high risk of damage or fire if left near flammable materials.

"Our research shows that one in 12 women have left a beauty appliance switched on at some point or other, which is extremely worrying.

"Our advice is to pull the plug on your appliances: switch them off when you've finished using them and leave them to cool on a mat or heat proof surface."
– Emma Apter, Head of Communications at Electrical Safety First
The Isle of Wight Fire and Rescue Service identified at an early stage that the fire which broke out at a car workshop in Cowes was accidental.
The fire occurred during vehicle repairs in a car repair workshop and spread quickly to adjoining buildings due to the involvement of flammable liquids.
Businesses are being reminded of the importance of ensuring that they have suitable fire procedures in place and that staff are trained to use provided extinguishers if required.
Load more updates