Fifteen fire engines are currently tackling a major blaze at a three storey block of flats in Kent.
The cause of the fire in Pollyfield Close, Snodland near Maidstone is not yet known.
More updates to follow.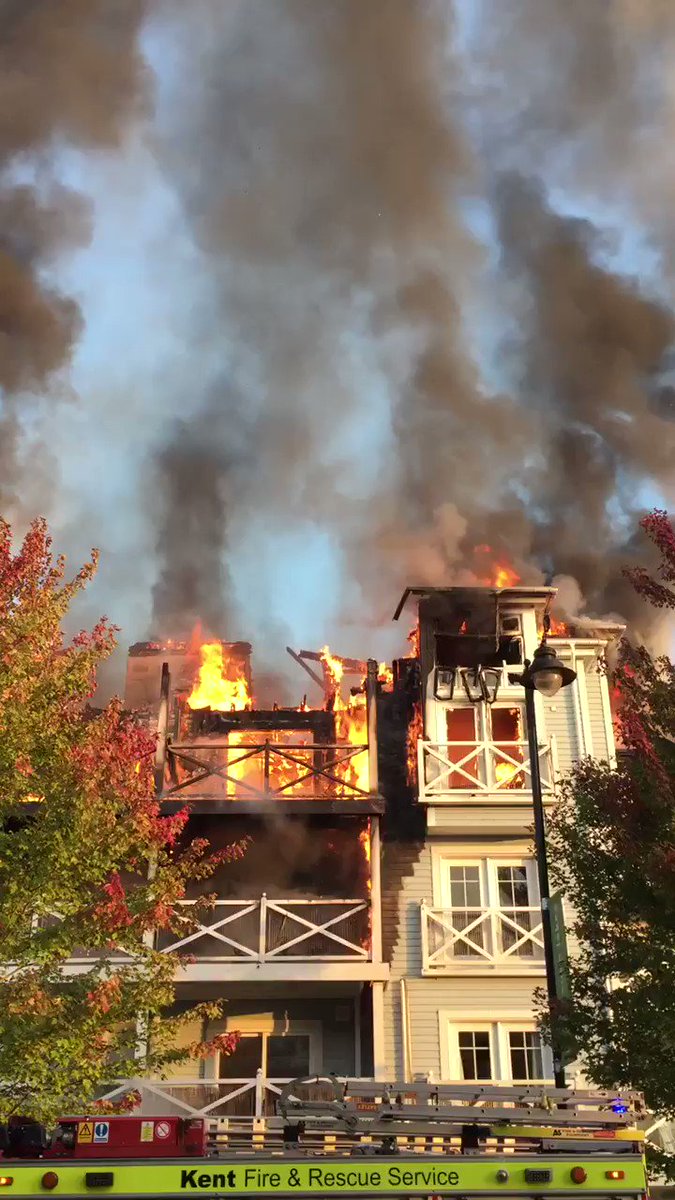 Sussex firefighters have been attempting a world record pole drop today.
They've been sliding down a pole which has been specially built at Brighton's main shopping centre. Money raised will go towards two charities. But did they break the world record? Here's Tom Savvides with the outcome, talking to Hove firefighters Kieran Wood and David Ball.
Advertisement
A fire in an industrial yard was accidentally started, fire investigators have found.
A cigarette had been tossed close to cleaning materials and a quantity of oil, causing a fire which spread rapidly through two cabins, trees and six LPG cylinders.
Firefighters from Dorset Fire and Rescue Service arrived at the yard in East Burton Road, in Wool, at 1.26am, bringing the fire under control by 4.45am. Crews stayed until 7am for damping down.
The blaze - which was next to a railway line - also caused disruption for early morning rail commuters. Train services near the line were stopped due to safety concerns about the amount of smoke and fire damage to the area along the embankment.
Two Hampshire firefighters have, between them, racked up over 100 years of experience with Hampshire Fire and Rescue Service (HFRS).
Alan Hammond and Malcolm Lucas both joined the service on 3 September 1965 as part of the Junior Fireman Scheme, and stayed with the service for the next 50 years.
They attended some of the biggest and most dangerous incidents in HFRS history, including the fire aboard the tanker Pacific Glory seven miles off the Isle of Wight in 1971.
Firefighters have been injured after their fire engine crashed while responding to a 999 call.
Emergency services are working to free them, although it's not known how many are trapped at this stage.
Two air ambulances, two ambulances and eight fire engines are at the scene in Headley Road, Grayshott in Hampshire.
More details to follow.
Firefighters are to go on strike, from this evening, for four days in a bitter ongoing row with the Government over pensions.
They're set to walk out from six o'clock this Hallowe'en evening, until next Tuesday. Contingency plans are in place. Managers say they've hired in contract staff to cover but this is one of the busiest weekends of the year with bonfires and firework displays.
Advertisement
Firefighters in Berkshire only received one call during its two houre strike this lunchtime.
The Royal Berkshire Fire and Rescue Service joined fire services in industrial action over pensions between midday and 2pm today. During that time, the service received one call regarding a domestic automated fire alarm, but firefighters didn't need to attend.
The next strike period runs from 10.59 pm until 11.59 pm tonight and this pattern will continue every day up to and including 16 August.
Firefighters across the south will launch a fresh wave of strikes today in a bitter row with the Government over pensions, with no sign of a breakthrough in the long running dispute.
Members of the Fire Brigades Union will walk out for two hours at noon and again for an hour at 11pm. Strikes will be held for the same times over the next eight days.
Fire brigades will again put contingency plans in place, including using contract staff. Fewer fire engines will be available during the action.
The union has been campaigning for the past few years against controversial Government plans to change pensions. The FBU claims firefighters will have to work longer and receive lower pensions when they retire. The union accused the Government of "walking away" from talks earlier this week.
Firefighters across the south will go on strike today in a long running row over pensions.
Members of the Fire Brigades Union will walk out from midday until 5pm.
The strike will continue over the weekend.
The Isle of Wight Fire and Rescue Service is holding information sessions for anyone interested in becoming a retained firefighter.Sessions are being held at Ryde Fire Station on Saturday 22 March at 10.30am and on Tuesday 25 March from 6.30pm.
The service is looking for committed individuals who want to work as part of a dedicated and friendly team providing an important service to the local community. You must be over 18 years of age, be physically fit and possess good communication skills.
Your current employer must sign a consent form allowing you to leave your workplace at any time for operational reasons, and you need to live close to your local fire station.Although no formal qualifications are required, a good standard of literacy and numeracy will need to be demonstrated.
Load more updates