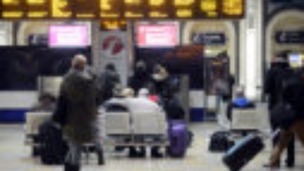 Twenty five trains travelling through Reading have been cancelled today to reduce the chaos caused by overrunning engineering works.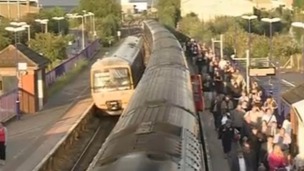 The rail operator First Great Western is being forced to pay compensation to passengers after almost 20% of its trains were late.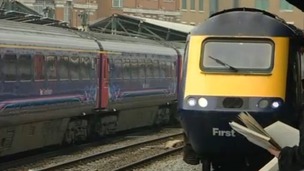 One in five of the rail operator First Great Western's trains has arrived late according to new figures.
Live updates
Cleaners at rail company to strike
Cleaners who work for one of the biggest rail companies in the South are due to stage a second strike.
Around 200 staff who clean First Great Western trains will walkout at different times over the next four days.
It's an ongoing dispute over pay and contracts.
Cleaners employed but the firm claim to be First Great Westerns lowest-paid workers.
Earlier this year, they rejected an offer of a 2% rise.
Train cleaners to strike
Cleaners working for First Great Western are to go on strike again this Friday.
It's the second strike in two weeks with workers protesting over pay and conditions.
The strike is planned to last 24 hours.
Advertisement
First class news for commuters
Video. There was some first class news for rail passengers today. First Great Western has had its franchise secured for two more years, until September 2015. Our Transport Correspondent, Mike Pearse, reports.
FGW gets 2 year extension
There will also be more carriages on routes to Maidenhead, Oxford, Reading, Newbury and Bedwyn. High speed trains will also get the latest Wi-Fi. The news comes as part of a two year extension to the franchise for First Great Western from the Government.
Transport Secretary Patrick McLoughlin said "The Great Western franchise provides a vital service for thousands of passengers every day and under this deal they will see real benefits."
"We have also secured a commitment to deliver greater WiFi coverage to improve the experience of long distance journeys for passengers and the delivery of more electric trains for the Thames Valley."
FGW gets 2 year extension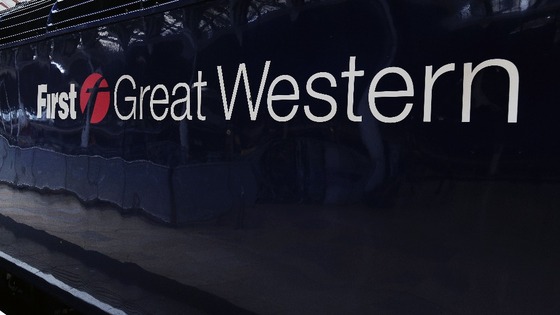 Urgent measures to help overcrowding will include doing away with some first class compartments to make more room for standard, extra carriages and services in London, Thames Valley, parts of westcountry and Swindon area.
The overnight sleeper gets more carriages to make up for the loss of airlines in the south west.Trains to get wifi. Improvements to Portsmouth, Salisbury to Wales train.
However, as this is a short deal details on badly needed new high speed trains and major schemes to create extra capacity have NOT been announced.
The new longer franchise for FGW is delayed after all contracts were halted following the West Coast fiasco. First Group is itself under fire for not taking up a voluntary three year extension amid claims it tried to get out of paying an £800 million subsidy to the Government.
A blog, full of train complaints
Video. After 14 months of train delays and overcrowding on the Oxford to London line, a writer decided to take matters into his own hands by penning a blog about his correspondence with the train company. It's proved so popular that it's now been turned into a book. Richard Slee reports.
Advertisement
More trains for Reading festival
First Great Western will run three additional trains to help people to return home after Reading Festival in Sunday night.
Festival ticket holders are being advised to allow time for their journey and a queueing system will be in place to ensure safety.
Two more early morning trains will take passengers to London Paddington and leave Reading at 01.37am (non-stop) and 03.10am where the train will call at Slough and Ealing Broadway.
A third service will run from Reading to Redhill at 05.04 calling at Wokingham, Blackwater, North Camp, Guildford, Dorking and Reigate.
ITV Meridian Travel
There's disruption on First Great Western trains between Dorchester West and Weymouth due to over running engineering works. The line is currently blocked and it's not known when a normal service will resume.
New rail depot in Reading
The Secretary of State for Transport, Patrick McLoughlin will open First Great Western's new train care depot later.
The £150 million pound facility will maintain all the company's trains across the Thames Valley.
Travel alert: Delays on trains
There is disruption on South West Trains between Haslemere and Portsmouth Harbour due to a person being spotted on the rails at Fratton.
All lines are now open, but there are delays of up to 60 minutes and cancellations can still be expected through the area. Services on First Great Western and Southern are also affected.
Load more updates
Back to top