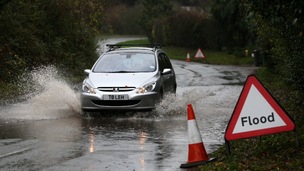 The UK is braced for another day of deluges and flooding as heavy rain sweeps across the country.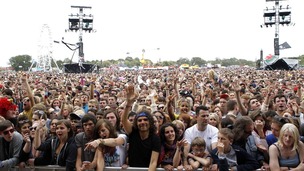 Festival goers face another day of showers but keep smiling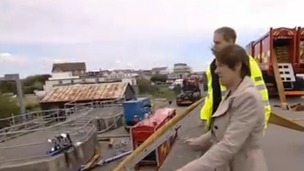 The Environment Minister Caroline Spelman has been to visit the flood hit area of Felpham near Bognor Regis in West Sussex.
Live updates
Garden clean-up after floods
by David Johns (@davidjohns_itv)
Homes were flooded, trains cancelled and ports closed. But the true cost of last week's tidal surge is only now being understood. Sandwich and Faversham bore the brunt in Kent. In Sussex, roads like the A23 were partially closed for a time and rail services disrupted.
But one property in Sandwich is counting the cost more than most. The secret gardens at Salutation house lie perilously close to the River Stour. It's estimated that £100,000 worth of damage has been done to historic ornamental gardens after they were flooded.
It's a devastating blow to the owners who've spent years restoring them as David Johns reports. He speaks to Head Gardener Steven Edney, and the Gardens' owner Dominic Parker.
Streets flooded by tidal surge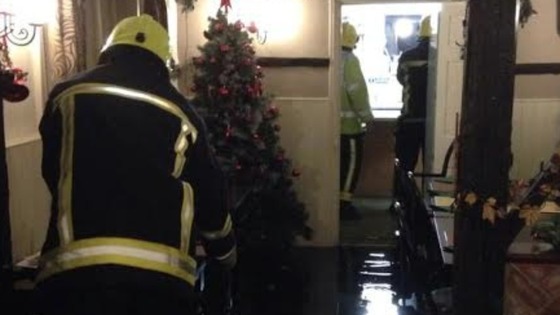 Fire crews clearing up at the Lord Raglan pub in Emsworth in Hampshire after the tidal surge. It's the first time in four years the pub has been flooded out. It backs on onto a tidal millpond in the village. The pub is run by Pete and Sally Mahoney.
Advertisement
National
A storm brewing in the Atlantic could bring up to 2 inches (50mm) of rain and 80mph winds in some areas this weekend, according to MeteoGroup.
A further 1.8 inches (46mm) of rain is needed to make 2012 the wettest year since UK records began in 1910.
Flooding in Lancing
Bill Freeman of the Lancing Manor Residents' Network speaks about local flooding.
Flooding in Lancing
There were long queues on the A27 at Lancing in Sussex today, with the dual carriageway reduced to one lane eastbound. Homes in nearby Manor Way were abandoned. Many gardens have been under several inches of water over the Christmas period.
Emergency pumping work has been going on to try to tackle what residents say is an ongoing problem.
Latest flood alerts across region
4x4 driver, Dominic Marle, says he helped pull a milk float from flooded roads in Hurn, Berkshire.
Advertisement
Latest flood alerts across region
Roads have been closed in the village of Hurn in Dorset. And it really is a team effort to keep things moving there - they're still clearing out drains to try to get rid of the standing water.
Latest flood alerts across region
A flood warning for the River Cole, from A419 and A420 roads in Swindon to above Upper Inglesham, is no longer in force, the Environment Agency says.No further flooding is expected. The weather prospects for Friday should be a mostly dry day with further rainfall forecast for Saturday and Sunday.
The river levels on the River Cole in the Westmill Bridge and Inglesham areas are currently falling.

"The risk of property flooding on Friday is therefore reduced but more rainfall is expected during the day on Saturday. This could cause the River Cole to respond again."
– Environment Agency spokesman
Latest flood alerts across region
Flooding is expected. Immediate action required:
River Cherwell from Lower Heyford down to Cherwell Bridge

River Cole from A419 and A420 roads in Swindon to above Upper Inglesham
Latest flood alerts across region
Up to 30mm of rainfall is expected in parts of the South East.
Rivers on flood alert were susceptible to the increased rainfall, leading to possible flooding of properties including in Berkshire, Oxfordshire, Hertfordshire, Sussex, Hampshire and the Isle of Wight, the Environment Agency said.
The agency is now urging those who may be at risk to "take steps to limit the damage a flood can cause - to themselves and to their property".
"Our area incident room has opened, we have mobilised teams across the country to check on flood defences, clear any river blockages and closely monitor river levels.

"These teams have been working around the clock to reduce the risk of flooding and will remain out in force over the coming days to remove blockages.

"We will do everything we can to warn and inform people about the risk of flooding from rivers but we cannot always prevent it, so people need to take action to prepare now."
– Ian Tomes, Environment Agency area flood risk manager
Load more updates
Back to top