The system that turns the M20 into a lorry park could come into force more often when a new way of checking passports begins next month.
That's the warning from the Freight Transport Association. It says Operation Stack will need to be used on the motorway because of the time needed to check documents at Folkestone and Dover.
From the 8th of April, anyone leaving the UK will have to have their passports checked by hand.
Sarah Saunders @SSaundersITV
Multi-million pound plans to redevelop Folkestone harbour are underway, with work on the first major stage due to be finished by early summer. It's hoped this part of the project, which will see the harbour arm opened as a public promenade for the first time in one hundred years, will drive forward regeneration. But when will the other major redevelopments the town has been promised begin? Sarah Saunders spoke to site manager Rick Fretwell, engineering consultant Ben Boyce; and Peter Bettley of the Folkestone Harbour Company.
Advertisement
A man suffered burns and smoke inhalation after a fire in a flat in Folkestone.
The fire started in Dover Road, Grace Hill in Folkestone at around 9.30 this morning. Crews from Kent Fire and Rescue Service found a fire in a first floor flat of a three storey property.
Firefighters used breathing apparatus and a hose reel jet to extinguish the blaze and used a ventilation fan to clear smoke from the property.
The man in his 40s was taken to hospital for treatment.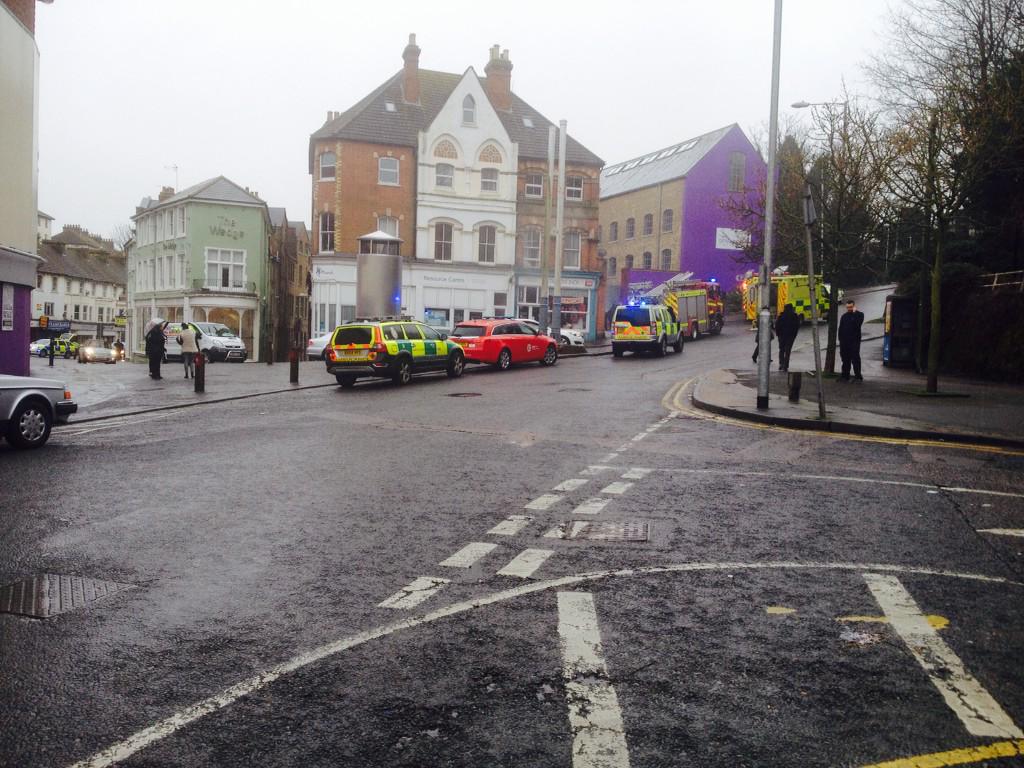 Kent Police is growing concerned for the welfare of a Folkestone man who has been missing for more than one month.
46-year-old Billy Brindle was last seen in Folkestone on 17 December.
He is described as white and is 5ft 8in tall with dark hair which is greying to the sides.
If anyone sees Billy or knows of his whereabouts they are asked to contact Kent Police on 101.
Eurotunnel services have been suspended at Folkestone in Kent due to an unplanned tunnel inspection.
Sarah Saunders @SSaundersITV
400 Father Christmas' took part in a fun run in Kent today to raise money for charity. Funds from the Santa Dash in Folkestone will go to Pilgrims Hospices and other local groups. Sarah Saunders spoke to fun-runners, one of the event organisers Martin Tyler and members of the Folkestone Gurkha Rifles.
Advertisement
A ceremony to mark the closure of the army's South East Brigade took part in Dover today, bringing more than a hundred years of military history to an end.The Brigade, which has its HQ in Folkestone, will merge with another in Hampshire. It's part of a wider campaign to restructure the army. Andrea Thomas was at the service. In her report we hear from the outgoing Commander of 2 (South East) Brigade, Brigadier Chris Claydon and Armed Forces Minister Mark Francois MP.
A man who stole firewood collected for sale by two children has met them to apologise for his actions.
The 61-year-old enlisted the help of his grandson in stealing two bags of kindling from outside a house in Bishopsbourne, near Canterbury, on Saturday 18 October.
CCTV footage of the scene showed the man driving away in a red Peugeot 407, which was later spotted by ANPR (automatic number plate recognition) cameras in Folkestone and tracked down to an address in Ash.
He voluntarily attended Canterbury police station on 18 November and admitted to stealing the wood, which was valued at £8.
Following a discussion with the children's parents, it was agreed that the man should make amends by meeting the family to apologise.
The children had collected, chopped and bagged the wood and planned to sell it for some pocket money. The man who took it clearly did not consider their feelings but has now accepted what he did was wrong. As well as apologising to the family, he also agreed to pay the children £20 each as a way of making amends for his actions.
– Sergeant Martin Williams
A former heroin addict who was forced to have a limb amputated has issued a stark warning to young people not to get hooked.
Jamie Connor, from Folkestone in Kent, had been using the drug for ten years when an overdose left him fighting for his life.
David Johns (@davidjohns_itv)
Services of commemoration and remembrance have been held across the south-east today. Cities, towns and villages came to a standstill as people young and old stopped to think about the impact of conflict around the world.
David Johns reports, speaking to Tug Wilson, chairman of Chatham RNA; Warrant Officer Tony Matthews of the Royal Navy; and Mrs Susan Bavin, daughter of Sittingbourne VC recipient Donald Dean.
Load more updates