There is a waiting time of up to one hour on the passenger Eurotunnel service at Folkestone because of maintenance work. Check before traveling.
An executive principal arrested after reportedly starting a relationship with an ex-pupil who is now said to be expecting his child has quit his teaching roles.
Sean Heslop, 47, was detained on suspicion of abuse of a position of trust and freed on police bail until July 30 pending further inquiries. He was also suspended from his duties as executive principal of the Folkestone Academy and Marlowe Academy in Ramsgate, Kent. But it has now emerged he has resigned.
A spokesman said: "Governors can confirm that Sean Heslop has resigned his position as executive principal of Folkestone and Marlowe Academies, and the schools will continue to be led by their respective head teachers."
The Sun newspaper reported last month that his arrest came after he allegedly started a relationship with a former pupil.
He is said to be "really excited" at becoming a father with the woman and "the happiest he's ever been", an unnamed relative told the paper.
A spokesman for Kent Police and the academies have declined to comment on the report. The governors have said the case "has not interfered with and will not inhibit the good work going on in the schools".
A spokeswoman for Kent Police said there was no update to the police investigation.
Advertisement
A man suspected of causing a nusaince riding an off-road bike illegally around Folkestone on Saturday night has been arrested.
An 18-year-old man was identified and has been arrested and released on bail while police make further enquiries.
Six different people reported a nuisance bike riding around the town centre. The rider was not wearing a helmet, was not insured and was riding dangerously and causing a nuisance.
Officers have launched an investigation to trace the bike and other riders suspected of riding illegally.
Anyone with information about who is responsible, or anyone with information that would help the investigation, is asked to phone 01303 289270 (answerphone) or email.
Kent Police are appealing for witnesses after a road rage incident in Folkestone.
A man in his 30s was driving his green Ford Focus along Cherry Garden Avenue in Folkestone at 2.45pm on Tuesday, 10 March, when he noticed he was being followed by another man in a silver Audi who was driving aggressively.
As he came to a stop at the traffic lights at the junction with Shorncliffe Road, the driver of the Audi got out of his car and began punching the windscreen of the green Ford.
As the traffic lights changed, the motorist in the Focus drove off but later noticed damage to his wheel arch as well as his windscreen.
A 28-year-old man from the Dover area has been arrested in connection with the incident and is on bail pending further enquiries until 3 April.
PC Andy Faiers said: 'We are treating this as an isolated incident but we would like to hear from anyone with information, in particular, anyone who may have seen either vehicle in the moments before the incident as well as the incident itself.'
Witnesses should contact PC Faiers on 01303 289140 quoting reference ZY/7191/15.
The system that turns the M20 into a lorry park could come into force more often when a new way of checking passports begins next month.
That's the warning from the Freight Transport Association. It says Operation Stack will need to be used on the motorway because of the time needed to check documents at Folkestone and Dover.
From the 8th of April, anyone leaving the UK will have to have their passports checked by hand.
Sarah Saunders @SSaundersITV
Multi-million pound plans to redevelop Folkestone harbour are underway, with work on the first major stage due to be finished by early summer. It's hoped this part of the project, which will see the harbour arm opened as a public promenade for the first time in one hundred years, will drive forward regeneration. But when will the other major redevelopments the town has been promised begin? Sarah Saunders spoke to site manager Rick Fretwell, engineering consultant Ben Boyce; and Peter Bettley of the Folkestone Harbour Company.
Advertisement
A man suffered burns and smoke inhalation after a fire in a flat in Folkestone.
The fire started in Dover Road, Grace Hill in Folkestone at around 9.30 this morning. Crews from Kent Fire and Rescue Service found a fire in a first floor flat of a three storey property.
Firefighters used breathing apparatus and a hose reel jet to extinguish the blaze and used a ventilation fan to clear smoke from the property.
The man in his 40s was taken to hospital for treatment.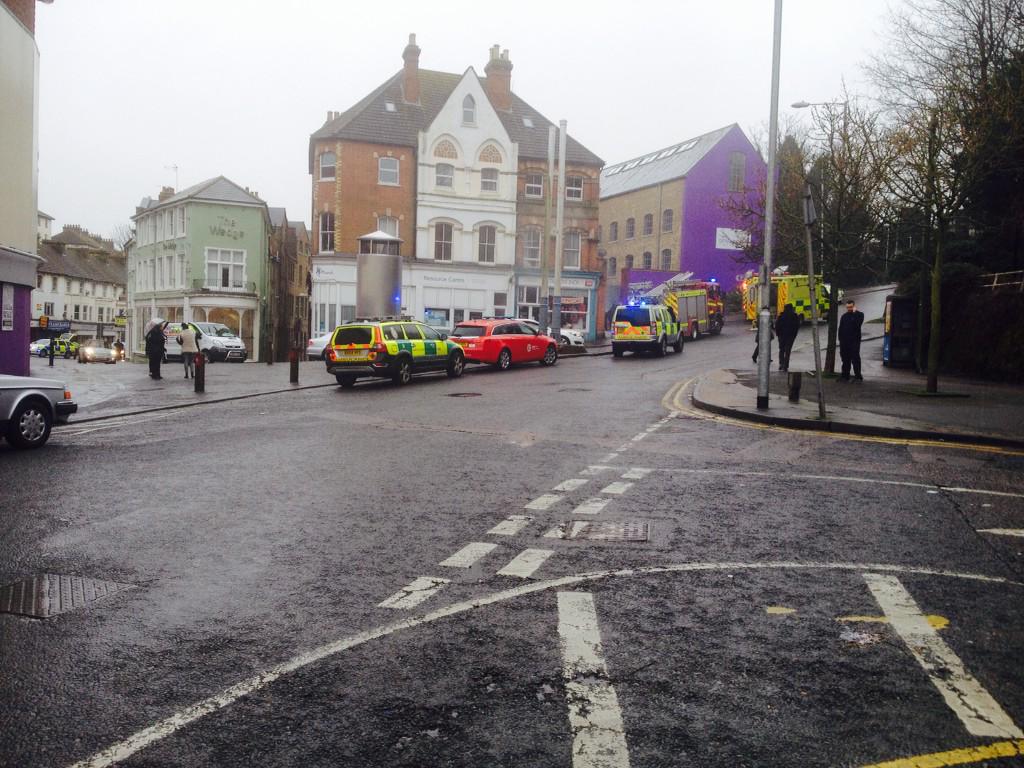 Kent Police is growing concerned for the welfare of a Folkestone man who has been missing for more than one month.
46-year-old Billy Brindle was last seen in Folkestone on 17 December.
He is described as white and is 5ft 8in tall with dark hair which is greying to the sides.
If anyone sees Billy or knows of his whereabouts they are asked to contact Kent Police on 101.
Eurotunnel services have been suspended at Folkestone in Kent due to an unplanned tunnel inspection.
Sarah Saunders @SSaundersITV
400 Father Christmas' took part in a fun run in Kent today to raise money for charity. Funds from the Santa Dash in Folkestone will go to Pilgrims Hospices and other local groups. Sarah Saunders spoke to fun-runners, one of the event organisers Martin Tyler and members of the Folkestone Gurkha Rifles.
Load more updates