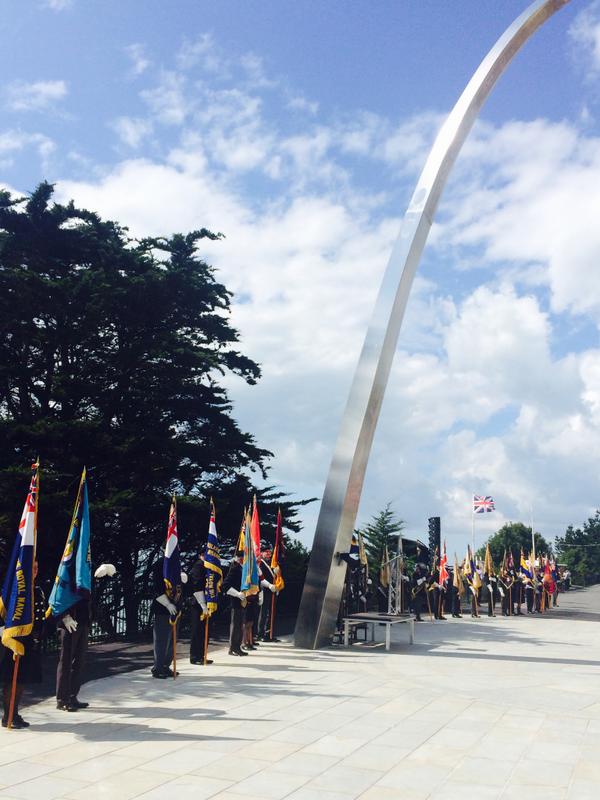 Advertisement
Prince Harry is leading Folkestone's First World War centenary commemorations. He will dedicate the Step Short Arch before meeting veterans in the harbour.
Prince Harry will unveil a memorial arch and lay a wreath when he visits an educational charity set up to remember the millions of men and women involved in the First World War.
The commemorative event, organised by Step Short, will take place in Folkestone, Kent, today, to mark the centenary of the First World War.
The prince will also take the salute of a military and civilian parade before walking down the Road of Remembrance to meet some of those who will have taken part in the parade, a Kensington Palace spokesman said.
Step Short is an educational charity which has worked to ensure that all those who passed through Folkestone during the First World War are remembered in an appropriate way during the centenary year.
The spokesman said: "Folkestone played an integral part in the Great War as the port of embarkation and return, to and from, the Western Front for millions of men and women."
The official unveiling of the memorial arch will be the centrepiece of a military and civilian parade along The Leas and down to the harbour, he said.
The military parade will be led by the Band of the Brigade of Gurkhas and include members of the three uniformed services.
This will be followed by a second group made up of 800 veterans and civilians led by Folkestone Pipes and Drums.
After pausing at the arch for the unveiling, both the parades will continue down the Road of Remembrance to Folkestone's harbour.
The spokesman said: "At the top of the Road of Remembrance, members of the parade will be given the 'Step Short' order, just as the servicemen were given during the First World War.
"The order was given to allow them to shorten their stride as they descended the steep slope of Folkestone's Road of Remembrance (then known as Slope Road) on their way to the harbour and a boat to the Western Front.
"Shortening their stride allowed those marching to negotiate the slope safely.
"For many it was their last time on British soil before heading to the battlefields of France and Belgium."
Sarah Saunders @SSaundersITV
A man from Folkestone has been sentenced to life in prison for beating a father of two to death in a jealous rage. The court heard that Brian Sharp had become obsessively jealous of his victim's friendship with his girlfriend.
The judge said Sharp had shown 'not one flicker of remorse' after his 'cold hearted and callous attack.' on Tim Clayton, who was sleeping rough at the time.
Sarah Saunders spoke to Mr Clayton's mother and father, Anna and John; his daughter Jess and Det Chief Inspector Paul Fotheringham from Kent Police.
A man from Folkestone has been sentenced to life in prison for beating a homeless man to death in a jealous rage.
Brian Sharp, who's 55, faces at least 18 years in jail before being considered for parole. The court heard Sharp was jealous of Tim Clayton's friendship with his girlfriend. And carried out a sustained assault on his victim in Folkestone last November.
We spoke to Tim's father, John Clayton.
Advertisement
A Folkestone man's been sentenced to life and will serve a minimum of 18 years in prison after being found guilty of murdering a homeless person to death in a jealous rage.
Brian Sharp, 55, of Manor Road, Folkestone, was found guilty of killing Tim Clayton by a jury at Canterbury Crown Court Thursday 26 June.
During the two week trial, the court heard how Sharp had become jealous about the 45-year-old victim's friendship with his on-off girlfriend.
Sharp attacked Mr Clayton as he slept at Europa House in Pound Way on Friday 8th November..
He dragged the victim across the floor out into the open whilst he was still in his sleeping bag and launched a sustained attack, punching and kicking him as he lay defenceless.
Mr Clayton never regained consciousness. He was found in the morning by bank staff arriving for work at 8.20am.
He was airlifted to the Royal Hospital in London, but died in the afternoon on Sunday 10 November.
John and Anna Clayton, Tim's parents, said: 'On 10 November, our precious son Tim was taken from us and we are left with a great void in our lives. His children have lost a dear and loving father and we now have to start to live the rest of our lives with an important member of the family missing.'
A Folkestone man has been found guilty of beating a homeless person to death in a jealous rage.
55 year old Brain Sharp of Manor Road, Folkestone, was found guilty of murdering Tim Clayton at Canterbury Crown Court. The victim was a friend of Sharp's girlfriend.
Sharp will be sentenced on 2 July.
The Grand Hotel in Folkestone is returning to normal after a fire that started last night.
The blaze started in the electrical room in the basement. Three fire engines attended and around fifty people were evacuated. Two were treated for smoke inhalation.
ITV Meridian spoke to General Manager of the hotel, Robert Richardson.
A milestone in the construction of a new visitor centre at the Battle of Britain memorial near Folkestone is about to be reached.
The 3.5 million pound visitor centre at Capel le Ferne will honour pilots from the famous battle fought in the skies over Kent.
Now a steel framework that will recreate the shape of R J Mitchell's iconic Spitfire wing – including its distinctive upward slope - is being put in place to create a spectacular building with a first floor balcony area offering views across The Channel.
The building should be finished towards the end of this summer, and visitors to the annual Memorial Day on Sunday 6 July will have The Wing as a dramatic new backdrop.
Load more updates