The organisers of the Folkestone Triennial gold hunt on a beach in Folkestone have revealed the names of the first people confirmed to have found the precious metal buried in the sand.
Kevin Wood, Kirsty Henderson and her sister Megan Henderson from Canterbury made their discovery at about 7pm on Friday evening. They had been digging for about an hour before low tide. Each gold bar is worth about £500.
"My legs went from under me and I started shaking," Kevin recalled. "I put it quietly in my pocket. We left the beach and half way home, we pulled over for a drink."
– Kevin Wood, Treasure hunter
David Johns (@davidjohns_itv)
A German artist has sparked an extraordinary 'gold rush' on the Kent coast. Hundreds of people with buckets, spades and metal detectors have descended on the beach at Folkestone Harbour to search for buried bullion.
Berlin-based artist Michael Sailstorfer has hidden 30 bars of pure gold under the sand as part of a public art festival. A few fortune-hunters have struck gold. But 20-plus of the ingots are still there for the taking.
David Johns explains, talking to treasure-seekers and the project organiser Claire Doherty.
Advertisement
A German artist has sparked an unlikely gold rush by burying thousands of pounds worth of the precious metal on a Kent beach as part of an arts festival.
Berlin-based Michael Sailstorfer has hidden 30 bars of 24-carat gold, worth £10,000, under the sand of the Outer Harbour beach in Folkestone as part of the town's triennial.
Hundreds of beachcombers are searching the sands of Folkestone today for thirty gold discs hidden on the beach by a German artist. The hidden treasure is part of an artistic productions by Michael Sailstorfer for the town's triennial art festival. It's an event that happens every three years and sees thought provoking work in galleries and local streets.
The beach, which becomes partly covered at high tide, is open to the public. The pieces of gold are dispersed across a wide expanse of beach, which is only revealed during low-tide.
Metal discs have also been scattered on the beach so people searching with metal detectors may not find it as easy to find the gold as they think.
Sarah Saunders @SSaundersITV
The region prepared itself for torrential rain and gale force winds today as the remains of Hurricane Bertha arrived. The storm caused part of a supermarket ceiling to collapse in Maidstone, localised flooding across the region and transport delays - but in most areas, it had cleared away by the late afternoon.
Sarah Saunders' report has viewer footage from Ian Duffus and Charlotte Thurston. She spoke to flood victim Bill Smith and weather forcaster Philippa Drew.
Advertisement
At 11 o clock last night, lights the length and breadth of the country were dimmed, or put out, to remember the dead of the Great War. It was a hundred years, exactly, to the hour, that Britain declared war on Germany. In Folkestone, where earlier in the day, Prince Harry had unveiled a fourteen metre high arch on the town's clifftop to mark the anniversary, thousands gathered to pay their respects. For so many fighting men, Folkestone was their last glimpse of home as they departed to fight for King and country. At last night's ceremony, Kevin Harrison.
David Johns (@davidjohns_itv)
For many people, the opening of the arch, which has already become a landmark on the clifftop, is the result of a very long campaign. David Johns reports, talking to Parade Commander Alan Warren and veteran Raymond Whitewood.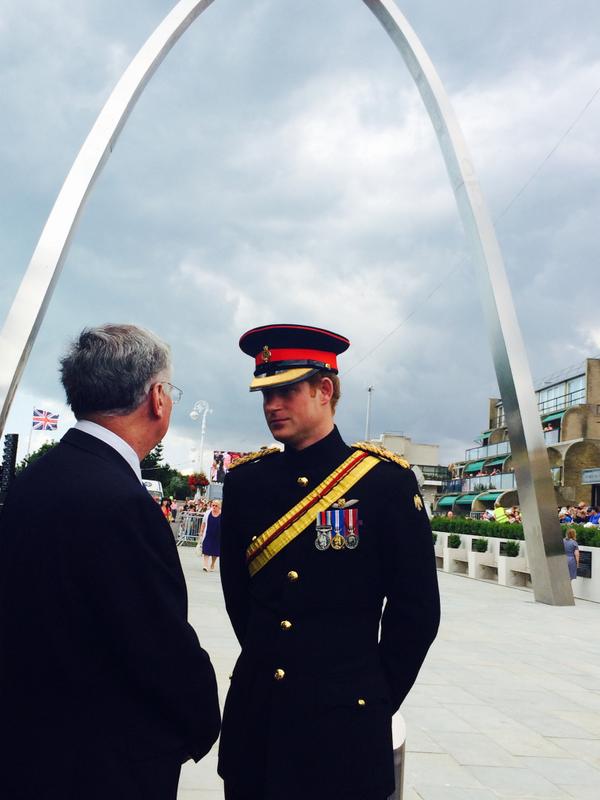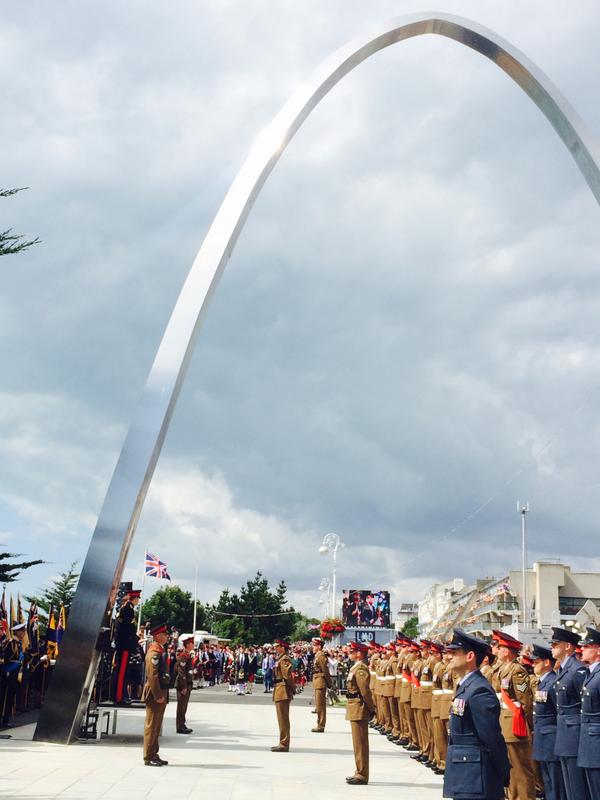 Pictures just in from Folkestone, where Prince Harry is dedicating the new memorial arch in the town.
Load more updates