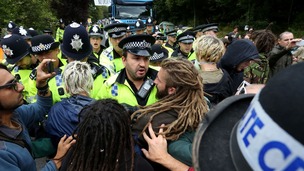 Greenpeace has launched a legal challenge to stop any further fracking in England.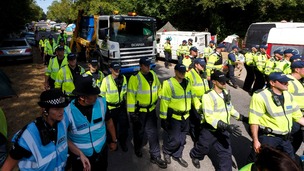 Police said they are winding up their operation overseeing anti-fracking protests in Balcombe as the cost is expected to hit £4 million.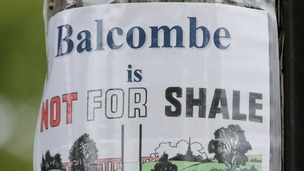 George Osborne has unveiled tax breaks for controversial fracking in a bid to create the "most generous" regime for shale gas in the world.
Live updates
HALF OF BALCOMBE CASES DROPPED
Almost half of the protesters facing court action after the anti-fracking protests in Sussex last year have had the charges against them dropped.
There were huge demonstrations at Balcombe when the energy company Cuadrilla was given a licence for test drilling for gas - or oil. Fracking was NOT carried out.
But many prosecutions have been abandoned for lack of evidence.
Today, protesters criticised the way police made arrests. Malcolm Shaw reports.
Families head to No. 10 to fight fracking
Two mums, one from Salisbury, the other from near Balcombe in Sussex, hand delivered a message to Number 10 Downing street today calling on the Prime Minister to re-think his support for fracking.
Becky Martin set-up the campaign group 'Frack Free Families' saying the controversial technique of drilling for gas will harm future generations. Phil Hornby reports.
Advertisement
Families head to No. 10 to fight fracking
Families from the south are heading to Ten Downing Street to deliver letters, poems and messages against fracking. Led by Salisbury mother, Becky Martin, they want to encourage a rethink on current proposals for exploratory drilling in the UK.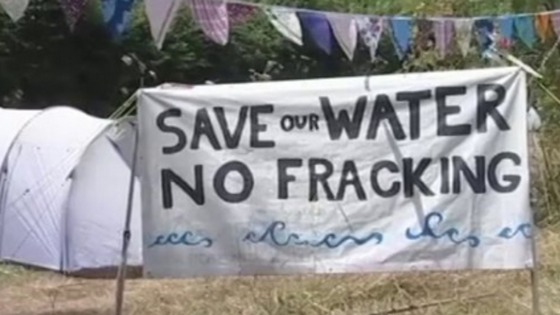 A letter calling for a ban on fracking or at least a moratorium, with many more concerned, informed words are on the way to Mr Cameron from Frack Free Families.
Fernhurst residents fight fracking
Video. It's already prompted protests and petitions and now the first legal blockade is being launched to try to prevent fracking in the heart of the region's countryside.
Although it's been ruled out at Balcombe in Sussex, there are many other potential sites including Hampshire, Dorset, Oxfordshire, the Isle of Wight and Sussex.
But residents living at Fernhurst in the South Downs National Park are directly challenging the government about plans to drill under their homes.
Andrew Pate reports.
Cost of policing fracking protests in Sussex revealed
The final cost of policing the anti-fracking demonstrations in Balcombe has been disclosed as nearly £4 million pounds.
The figure revealed by Sussex Police & Crime Commissioner, Katy Bourne, including standard police salaries stands at £3.985 million.
She has submitted an application to the Home Office to recover the cost of the policing operation.
Prime Minister pledges to give 'fracking tax' cash to councils
The Prime Minister was accused of trying to 'bribe' councils today when he urged them to back 'fracking'. David Cameron said local authorities would - be allowed to keep more money - in tax revenue and urged them to get on board.
The controversial technique has already been proposed in Sussex - prompting lengthy protests in Balcombe last year.
Today environmental campaigners said the move highlighted the depth of local opposition and the lengths Ministers are prepared to go to - to overcome it. Our political correspondent Phil Hornby reports.
Advertisement
Oxford to be considered for fracking
It's an issue which has already led to huge protests elsewhere. But now licences for fracking will be up for grabs in areas of Oxfordshire later this year.
The area set aside is a 350 square mile area between Kidlington, Banbury and Bicester north of Oxford.
Campaigners are already setting out their stall, with one MEP speaking at a public meeting tonight in Bicester, to discuss what it could mean for communities across the Thames Valley.
Cary Johnston reports on what has already been a contentious issue.
Anti-fracking protesters cleared
Eleven anti-fracking protesters charged with obstructing the highway, have been cleared at Brighton Magistrates Court.
The demonstratons took place in Balcombe last summer when the energy company Cuadrilla drilled for shale gas reserves in Sussex.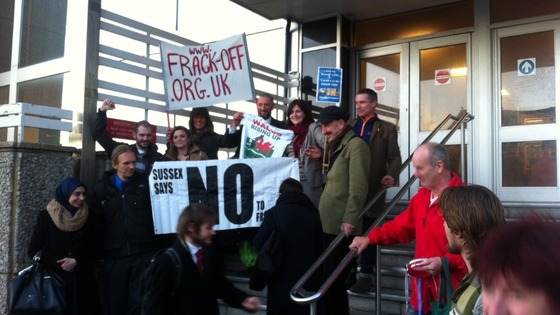 All eleven have been acquitted - they were accused of sitting on a log. Another protestor charged with assaulting a police officer by throwing a cup of tea, has also been cleared.
The Last Word
Phil Hornby and guests debate
Lively political debate for the south and south east with a look back at the extraordinary events of 2013, which saw a former cabinet minister jailed, huge demonstrations against fracking, and the end of shipbuilding in Portsmouth
Opposition to test drilling in Oxfordshire
The controversial method of gas extraction - known as fracking - is on Oxfordshire County Council's agenda this evening. Green Party members in Oxfordshire say they want it to be made clear that there is opposition to it - on environmental grounds.
Sites have been identified as being possible locations for test drilling - including between Bicester and Witney - David Cameron's constituency. Penny Silvester has our report.
Load more updates
Back to top