Members of Parliament from the south given their reaction to a report recommending Heathrow is given the go-ahead to expand.
The findings were published by the Airport Commission which took three years to reach its conclusion which looked at the best way to increase the country's airport capacity.
Reaction below from: Phillip Lee (Bracknell), Adam Afriyie (Windsor), Boris Johnson (Mayor of London), Harriet Harman (acting Labour leader), Caroline Lucas (Brighton Pavilion), Nick Herbert (Arundel and South Downs), Henry Smith (Crawley), Carwyn Cox (Windsor and Maidenhead Council), Ranil Jayawardena (North East Hampshire) and Patrick Mcloughlin (Transport Secretary).
Members of Parliament from the south east have expressed their reaction to a report saying a third runway at Heathrow is the best option to increase the country's airport capacity.
The findings were published by the Airport Commission which took three years to reach its conclusion.
Reaction from: Henry Smith (Crawley), Jeremy Quinn (Horsham), Tom Tugendhat (Tonbridge and Malling), Caroline Ansell (Eastbourne), Nus Ghani (Wealden), Adam Afriyie (Windsor) and Kelly Tolhurst (Rochester and Strood)
Advertisement
Members of the Gatwick Area Conservation Campaign have been celebrating after today's announcement. Heathrow is the preferred option for a new runway. The interviewee is Sally Pavey.
Former Concorde pilot Jock Lowe was behind the second Heathrow scheme to extend one of the runways. He has mixed feelings about today's recommendation.
Any hopes that the Davies Report would resolve the airports issue once and for all were dashed within minutes of it being published.
Boris Johnson led the attack - saying an extra runway at Heathrow is undeliverable, will never happen, and is the sort of scheme you'd have got in 1950s Communist China.
Would-be Mayor of London Zac Goldsmith says Davies had made up his mind on Heathrow before the process began. Davies has accused him of "lying".
How much easier, politically, it would have been for the Government if Davies had agreed with those adverts saying it obviously had to be Gatwick. Some MPs in Sussex, Surrey and Kent would have been outraged, but Mr Cameron could have lived with that.
The political opposition to Heathrow will be on a dramatically different scale. It could lead to a Tory revolt at Westminster, at least one parliamentary by-election and it could dominate next year's Mayoral election in London: some people want to turn that into a referendum on Heathrow.
The history of big infrastructure projects in the country is one of almost endless delays and indecision. It looks like this one will be no different.
The Royal Borough of WIndsor and Maidenhead is disappointed with the decision by the Airports Commission to recommend Heathrow as its preferred choice for proposed expansion.
The council backs the expansion plans for Gatwick on economic grounds -also, it says, representing the least environmentally damaging option.
Councillor Carwyn Cox, cabinet member for Environmental Services, said: "I am extremely disappointed that the Airports Commission has backed proposals to expand Heathrow despite all the evidence that this is not the best option.
"Gatwick has presented a stronger case and we are extremely concerned about the negative impact expansion at Heathrow would have on our residents.
"We will now be calling upon the Government to go against the recommendations of the Airports Commission's report and choose plans for expansion at Gatwick Airport.
"A final decision has not yet been made and we will continue to make the strongest case possible against the Heathrow expansion plans."
Advertisement
ABTA welcomes today's announcement by the Airports Commission that Heathrow Airport should be allowed to build a third runway. Increasing airport capacity is essential to the UK's growth and global competitiveness; we are pleased that this recommendation has been arrived at through fair, transparent, and thorough processes and consultations.

Today's announcement is the first step towards the delivery of urgently needed capacity at the UK's hub airport and we now look forward to the Government's response.

We call on Government to work across party boundaries and create a robust political consensus which will deliver this recommendation for UK businesses and passengers. ABTA will be working with the Government, as well as the opposition front benches to help build consensus.
– Mark Tanzer, ABTA Chief Executive
My department has received the final report from the Airports Commission and will now consider that advice in detail.

As a nation we must be ambitious and forward looking. This is a once in a generation opportunity to answer a vital question.

I will make a statement to Parliament later today in which I will set out the process for that decision to be made.
– Patrick McLoughlin, Transport Secretary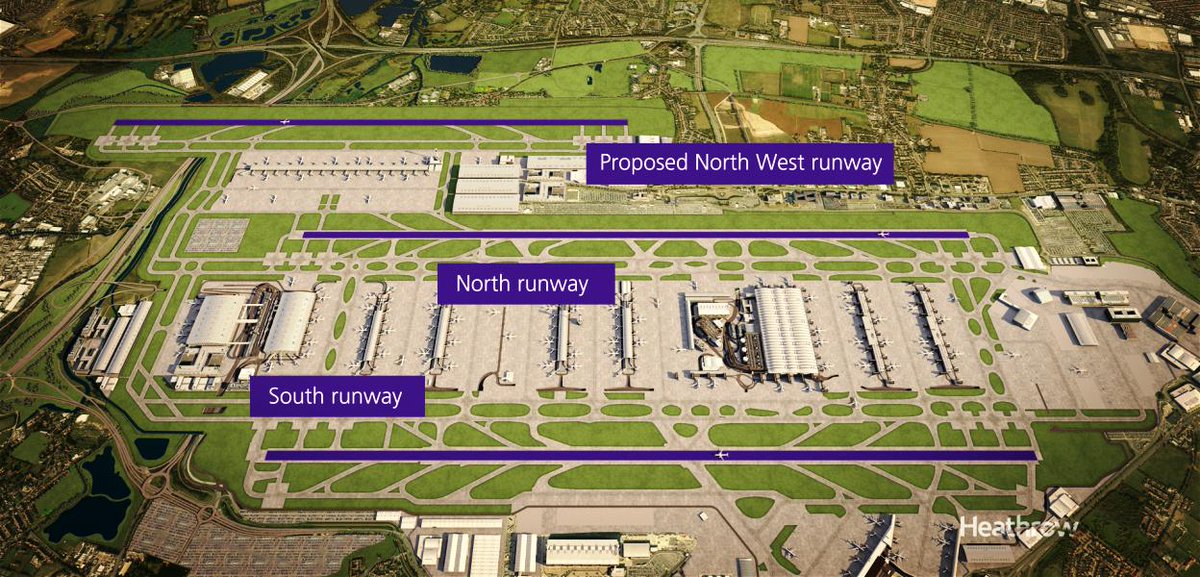 The Airports Commission has that recommended a new runway for the region should be built at Heathrow and not Gatwick. It says the Government should take also take "firm action" to rule out further expansion at the airport.
It also wants a ban on night flights, a highly controversial issue in the Thames Valley.
Sir Howard Davies who has spent two years looking at plans to expand Heathrow, Gatwick and for a new airport in the Thames Estuary says Heathrow is best.
In a 242 page report he says Gatwick put up a "credible option" but Heathrow is best placed. It will create 70,000 jobs by 2050.
Of Gatwick the report says:
"The scheme is feasible but the additional capacity would be more focused on short-haul intra-European routes and the economic benefits would be considerably smaller."
The report says at Heathrow there would be a boost to the economy of £147 billion over 60 years and add 40 new destinations. Around 800 homes would be demolished.
The plan is for a new runway north of the airport near to the M4 which would run over the M25 in a tunnel. A scheme known as Heathrow Hub, to extend an existing runway is ruled out because it would bring less benefit.
Load more updates