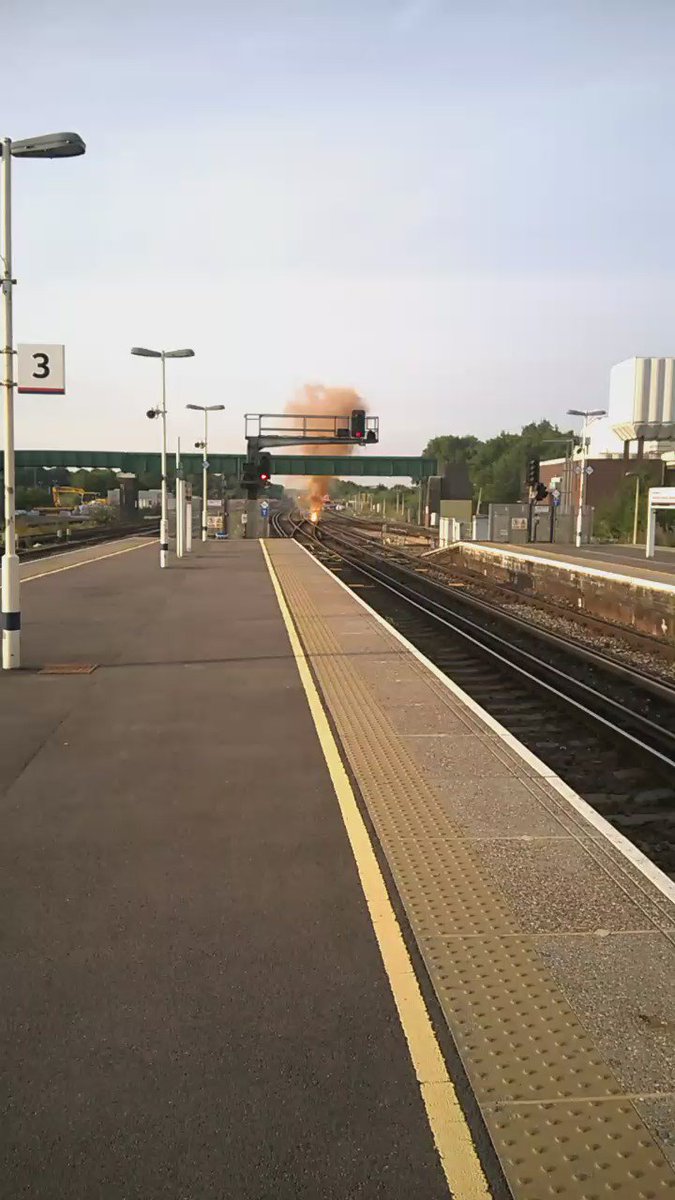 An airline crew member has been arrested on suspicion of being under the influence of alcohol.
The 45-year-old man, from London, arrived at Gatwick, late for a flight. He was not permitted to board the aircraft. His absence meant that Monday's 0910 flight to Corfu was unable to take off.
The man was bailed until 8 September.
Advertisement
Dozens of people have now made complaints to Trading Standards about damage to cars parked near Gatwick Airport. Last month thousands of vehicles were found dumped in a muddy field by rogue parking firms. Five companies are now being investigated by police.
Luke Elsworth is only19, but he's already earned his wings as an airline pilot - making him one of the youngest ever in this country.
Luke was offered a job with easyJet after completing a fast-track training programme. Our transport correspondent Mike Pearse caught up with him at Gatwick and discovered that, despite his achievement, his feet are still firmly on the ground.
There's a warning the Brexit vote could delay a decision on expansion at Gatwick Airport. Campaigners say the Prime Minister's resignation may well stall plans to make an announcement early next month.
It was previously suggested that ministers could announce a decision on whether to expand Heathrow or Gatwick before the summer Parliamentary break at the end of July.
But David Cameron's announcement that he will step down by October following the Brexit vote could mean a further delay in the process.
Gatwick has opened its biggest ever improvement scheme. Around £186 million has been spent on its Pier 1 development that provides new bigger departure gates and a complete new baggage system for the South terminal.
The airport say it should cut delays and comes as new figures reveal a 5.8 per cent rise in passengers last month, and an all time record for an airport for a single runway. Gatwck saw over 41 million people come through the airport on the last year.
Our Transport Correspondent Mike Pearse reports.
Advertisement
Gatwick Airport has promised to limit how many residents are affected by aircraft noise - if it's granted permission for a second runway.
It says no more than 15,000 people would be subject to 57 decibels - the level the Government believes "significant annoyance begins".
Ministers are yet to decide if a new runway will be built at Gatwick or Heathrow.
A group of campaigners and MPs from Sussex, went to Downing Street - today to tell the Prime Minister: "You mustn't build a new runway at Gatwick."
Ministers are still deciding where the new runway should go. A decision is expected this July. Our political correspondent Phil Hornby reports.
Gatwick Airport has responded to the Transport Committee Third Report 2015-16: Airport expansion in the South East.
The Transport Committee's astonishing statement that the arguments 'for and against airport expansion have changed little in a quarter of a century' ignores the significant change within the aviation industry following the break-up of the BAA monopoly in 2009 - and the worsening of air quality in the UK which has repeatedly halted Heathrow's plans in the past.

In one key respect, however, the committee is right to say that nothing has changed - Heathrow is still undeliverable. Fortunately, there is now a credible alternative at Gatwick that can mean Britain finally gets on with it.

The opportunity to end decades of delay and false starts can only be achieved by giving the green light for Gatwick expansion. Gatwick is the only scheme which can actually deliver the economic benefits airport expansion would bring without the dramatic and unacceptable impacts on noise and air quality.
– Gatwick Airport
There are delays on Southern trains at Gatwick Airport due to speed restrictions and defective track.
Load more updates