Industrial action by thousands of transport workers is set to cause misery over the next week with strikes at airports and the ongoing chaos caused by the Southern rail dispute.
Heathrow, Gatwick, Southampton and Bournemouth could be hit.
The action includes:
2,500 British Airways Cabin Crew involved in a row over pay. They will walk out on Christmas Day and Boxing Day.
1,500 ground staff working for Swissport who check in and handle baggage at our key airports. The action is planed for next Friday and Saturday.
Hundreds of Southern guards and 1,000 drivers will continue industrial action causing major disruption into the New Year.
The announcement about the cabin crew strike came this evening. Both British Airways and the Unite Union have issued statements:
We have been informed tonight by Unite that it has called strike action by Mixed Fleet cabin crew on Christmas Day and Boxing Day.

We are appalled that Unite proposes to disrupt customers' travel plans on such special days when so many families are trying to gather together or set off on well-deserved holidays.

This calculated and heartless action is completely unnecessary and we are determined that it will fail.

We will plan to ensure all our customers travel to their destinations so that their Christmas arrangements are not ruined. We will publish more details within the next 72 hours.

Meanwhile, we have also approached the conciliation service ACAS to seek their assistance in reaching an outcome that would avoid any possibility of disruption.
– British Airways
Our members have overwhelmingly voted for strike action because British Airways' pay rates are indefensible and the crew are at breaking point. The airline's boss Willie Walsh has pocketed €8.8 million and the parent company IAG reported profits of €1.4 billion.

Mixed fleet crew earn just over the minimum wage and below the national average. Significant numbers of crew are taking on second jobs, many go to work unfit to fly because they can't afford to be sick. British Airways bosses need to wake up to the anger and the injustice here.

Not only are the pay rates indefensible but in aviation, low pay is a safety issue. 30 per cent of the Mixed Fleet crew have been with the company for just under a year. Crew simply can't afford to stay. Inexperience, fatigue, and the fact that BA recently cut the length of crew training courses means Unite is genuinely concerned about the potential repercussions.

We urge British Airways to avoid this dispute and do the right thing by both the frontline staff and the travelling public, by engaging with Unite to negotiate a genuinely meaningful way forward."
– Matt Smith, Unite regional officer
Advertisement
Travellers at airports across the UK will be hit by two days of strikes as workers at Swissport, the world's largest ground and cargo handler, go on strike for two days on 23 and 24 December.
Over 1,500 check-in staff, baggage handlers and cargo crew, members of Unite, the country's largest union, will walk out for 48 hours at 00.01 Friday 23 December in a long-running pay dispute, and plans that they say will seriously erode terms and conditions.
Unite today called on the management to take part in constructive negotiations in a bid to avoid Christmas travel disruption at the UK's airports.
The airports affected will be Aberdeen, Belfast, Birmingham, Bristol, Bournemouth, Cardiff, Doncaster, East Midlands, Edinburgh, Gatwick Glasgow, Heathrow, Leeds/Bradford, Luton, Manchester, Newcastle, and Southampton and Stansted.
Campaigners living near airports in the south say their lives could be made a living hell, if plans to modernise flightpaths are pushed through without consultation.
The aviation industry says there needs to be a major overhaul of the way our airspace is controlled.
The number of flights from UK airports is expected to grow by fifty percent by twenty-thirty - and Hampshire-based air traffic controllers say the current system can't cope.
Rachel Hepworth reports:
Rachel spoke to Jamie Hutchison, Director of NATS Swanwick, Murray barter from Residents Against Airport Noise in Ascot and Sally Pavey from CAGNE in Warnham near Gatwick
A woman from Surrey is believed to have become the world's youngest ever commercial airline captain at just 26 years old.
Read the full story ›
Campaigners against new runways at Heathrow and Gatwick have been staging a new protest ahead of a government decision, expected in October. They held an Olympic style event with Heathrow awarded a pair of Gold ear defenders for making the most noise
It's claimed noise at both airports will massively increase if the plans are approved. A new opinion poll for Windsor and Maidenhead Council reveals 38 percent of local people oppose a third Heathrow runway with 34 percent supporting it. The rest said they had no preference.
Our Transport Correspondent Mike Pearse reports.
Advertisement
easyJet says it is 'appalled' after video emerged of baggage handlers throwing luggage onto trolleys from one of its planes.
A passenger who was waiting in the terminal at Gatwick Airport recorded the footage when he saw the bags being unloaded:
easyJet says it is now investigating.
easyJet is appalled to see this footage. We would like to assure our passengers that this is absolutely not the standard of baggage handling we expect from our suppliers and we will investigate this incident thoroughly.
– easyJet statement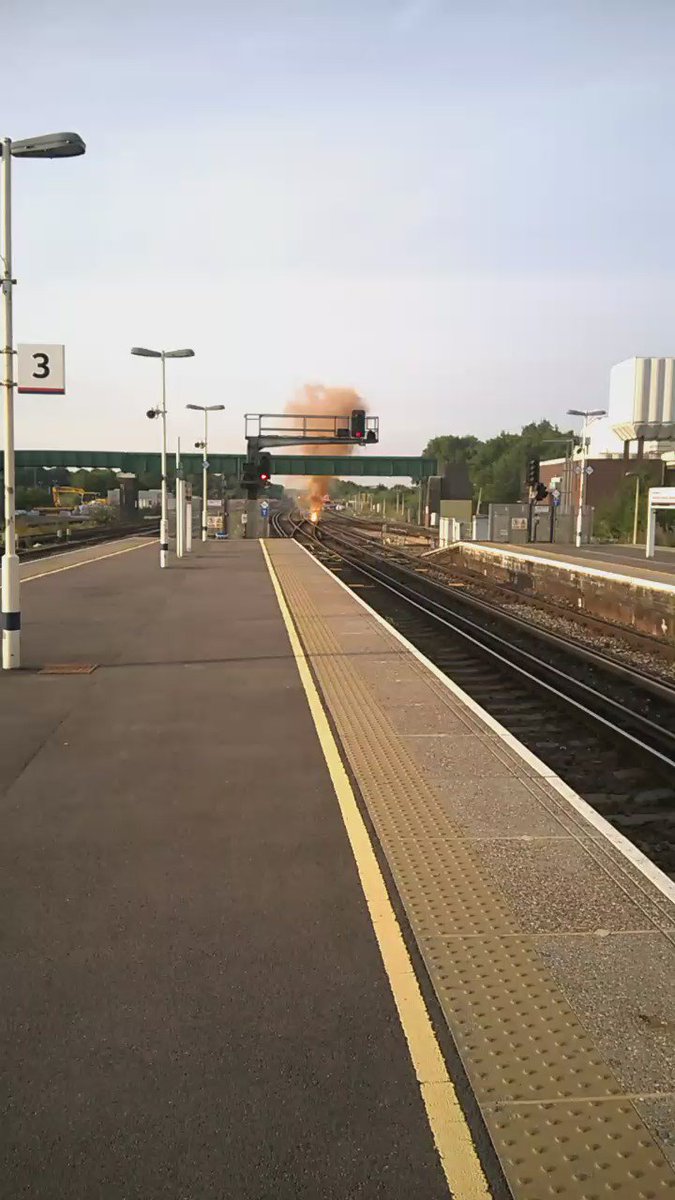 An airline crew member has been arrested on suspicion of being under the influence of alcohol.
The 45-year-old man, from London, arrived at Gatwick, late for a flight. He was not permitted to board the aircraft. His absence meant that Monday's 0910 flight to Corfu was unable to take off.
The man was bailed until 8 September.
Dozens of people have now made complaints to Trading Standards about damage to cars parked near Gatwick Airport. Last month thousands of vehicles were found dumped in a muddy field by rogue parking firms. Five companies are now being investigated by police.
Load more updates