Historic mill saved by sprinklers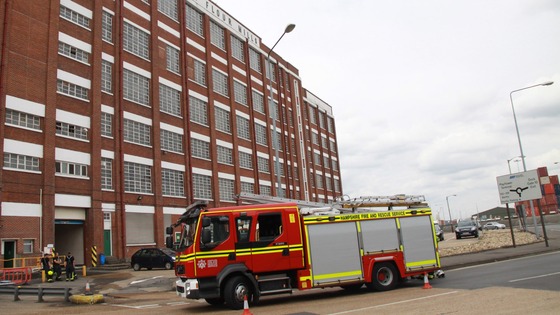 One of Southampton's most historic buildings was saved from serious damage yesterday thanks to its in-built sprinkler system. Fire crews were called to the Solent Flour Mills building, now operated by Rank Hovis, at Western Docks just before 10am to a fire on the second floor.
Firefighters in breathing apparatus entered the building and found the floor heavily smoke-logged. They were able to locate and extinguish the fire, which had been contained to the milling machine it started in by the sprinkler system. All staff were safely evacuated from the building and the damage limited to the affected machine.
Group Manager Ryan Thurman, officer in charge of the incident, said: 'The presence of sprinklers in the building prevented this fire from becoming a life-threatening incident and also saved the building and the business from serious damage.
'The activation of the sprinklers meant the fire was kept under control and was stopped from spreading, which helped protect not only the staff in the building but also our firefighters who went into tackle the flames.
'The effect of fire on a company can be catastrophic and systems such as the one installed at the mill can save not only lives but also businesses and jobs.'