Hampshire Police have arrested six men - three of them serving police officers - on suspicion of conspiracy to commit serious sexual offences on the Isle of Wight.
The arrests follows information from a victim. Alleged incidents are said to have taken place this year. The officers are serving members of Hampshire Constabulary.
The investigation is ongoing. More shortly.
Police have released an e-fit of a man believed to be responsible for two sexual assaults in Portsmouth. The first one happened in Melbourne Place off Middle Street some time between 11 and 11.30pm on Saturday, October 18th. A 19-year-old woman was having a cigarette when a man came up to her and sexually assaulted. The second happened nearby in Lord Montgomery Way at around 11.35pm. A 20-year-old woman was approached by a man who pulled at her clothing and sexually assaulted her. The woman got away and raised the alarm.
The man is described as white, bald and slim. He was aged somewhere between 30 and 50. One victim said the man was wearing a v-neck woollen jumper with a bird logo on it the other said the man wore a black hoody. Both victims were left shocked by what happened.
Anyone with information is asked to call DC Larder at Fratton CID on 101 or Crimestoppers anonymously on 0800 555 111.
Advertisement
Hampshire Police are today hosting an event as part of Black History Month to celebrate cultural diversity and challenge prejudice and hate crime.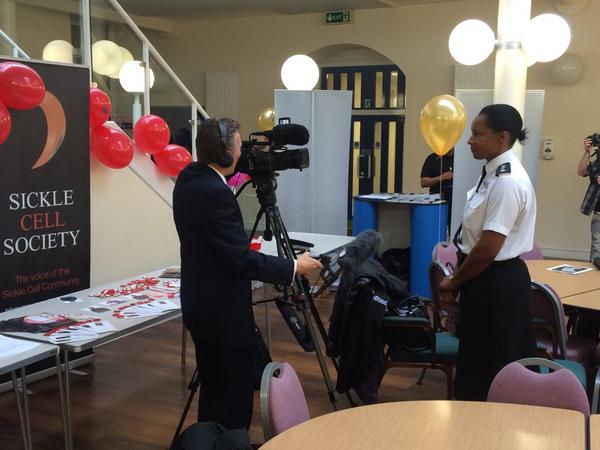 Hampshire Police ask "Do you recognise any of the men in these CCTV images?" Officers want to speak to them as they may be able to assist with an investigation into thefts which occurred during August and September at supermarkets in Petersfield, Fleet and Bishops Waltham. Various low value items were selected and taken to the tills where the suspects confused staff members into issuing too much change.
PC Phillipa Churcher-Brown from Petersfield police station said: "I would ask anyone who recognises any of these men to contact us as they may be able to assist us with our investigation into these four offences which have seen over £1000 stolen from supermarkets."
Contact PC Churcher-Brown at Petersfield police station on 101 or call the Crimestoppers charity anonymously on 0800 555 111
An 84-year-old woman who was rescued from a house fire at Romsey in Hampshire is to meet the two police officers who saved her life. The officers have been nominated for bravery awards. And the search continues for the arsonist.
The house at Stroud School in Highwood Lane was destroyed in the blaze in February last year. The pensioner was taken to hospital for treatment.
More than fifty firefighters tackled the blaze .
Police are investigating a robbery on a woman in Southampton by two men who threatened her with a 2ft metal pole. The 19-year-old was walking alone on Portsmouth Road, Southampton at around 8.45pm on Wednesday September 17, when she passed two men with their faces covered at the junction of Wrights Hill.
The two men then threatened her and demanded money. She was able to run off, but they caught up with her and asked for her money again. She handed £30 in cash.
The first man is described as: White male, large build, 5ft 9" tall. The second man is described as: White, Smaller build, 5ft 7" tall. Both wore dark clothing and had their faces covered.
DC Daniel Farrell said; "This was a frightening robbery on a lone woman. I'd like to reassure that this is a rare type of incident and thankfully no-one was hurt. I'm appealing to anyone who was in the area at this time, or who may have been driving past, to remember if they saw anyone in the area holding a metal pole? Did you see two men with their faces covered? Or hear or see anything suspicious? Please contact police on 101, quoting 44140337383."
Advertisement
Hampshire Police have launched a murder inquiry after the discovery of a woman's body in a field in the New Forest.
Hampshire Police have issued a statement following a press conference today about their search for Ashya King, 5, and his family.
The five-year-old, who has a brain tumour, was found at 8pm on Saturday night at a hotel in Spain with his family. He had been taken out of Southampton General Hospital by his family against the advice of doctors on Friday. A member of the Spanish hotel's staff recognised them following the media campaign to locate them.
Ashya King is now in a high dependency unit at Materno Infantile Hospital in Malaga. Hampshire Police have confirmed that contact has been established between the lead consultant at the hospital in Malaga and the lead consultant at Southampton General Hospital.
"I would like to take this opportunity to thank everyone involved in the search – our own teams, the National Crime Agency, all police agencies in Europe and, specifically, both police agencies in Spain - the Spanish National Police and the Guardia Civil.

"All of our efforts resulted from explicit medical advice that Ashya's life was in danger. I am very aware that there are comments about the rights and wrongs of our approach but when we are told by experts that any child's life is at risk we will make no apologies for being as proactive as possible."

"We now need to properly understand the parents' motivation and engage with colleagues in the Crown Prosecution Service, who would lead on managing the extradition proceedings. It is only when we have done this that we will make a decision on what happens next.

"For that reason this is the last statement that we will be making until further notice."
– Assistant Chief Constable Chris Shead, Hampshire Police
A 20 year old man was attacked as he pushed a young child in a pushchair through Havant. It happened between 10.30pm and 11pm on Sunday, August 10 when he was walking along Wakefords Way.
As he walked past Monxton Green, three youths who were sat on the wall at the corner, approached the man and asked him to buy them some alcohol from the nearby Londis Store. The victim refused and they then punched him several times, hitting him in the back of the head with a blunt implement. They then stood on his head, causing serious head injuries. The offenders then made off towards Four Marks Green.
Officers have descriptions of the three youths they'd like to speak to:
Man one:- White - 5ft 10ins- Medium build- Aged 16 to 17- He had two tattoos of tear drops on the right side of his face in green ink, just below his right eye. - He was wearing a dark coloured hooded top with the hood up.
Man two:- Mixed race- 6ft 2ins- Large build- He looked about 19 years of age, but the victim believes he was younger, as he had asked him to get alochol from the store prior to the assault.- He had a purple scar running from his left ear to his chin- He spoke with a Liverpudlian accent- Wearing a grey Nike hooded top with the hood up. - He heard the other youths refer to him as 'Marcus'
Man three:- White- 5ft 5ins- Skinny build- Aged 15 to 16- Wearing a bright yellow hooded top with the hood up and blue canvas type shoes with white soles
"This was a vicious unprovoked attack on a man who had the young child of a friend with him. The victim is currently receiving treatment at hospital where he has been diagnosed with swelling to the brain. He has been suffering from fits, headaches and blurred vision since the attack. We are keen to speak to anyone who may have seen these youths or anyone who may have been approached by them to buy alcohol on that evening. I would also like to speak to anyone who has any information that could assist our inquiry."
– Detective Constable Stuart Moore
Load more updates