A grieving family have told Meridian of their shock as they arrived at a cemetery for a great-grandmother's funeral only to find her grave had not been dug. They've now been forced to postpone her burial, it's hoped, for later this week.
The family of Margaret Higginbottom expected to lay her to rest next to her late husband at the South Stoneham Cemetery in Southampton. The 71-year-old's coffin remains in a chapel of rest.
The undertakers and the city council have both launched investigations to find out what went so terribly wrong. But Margaret's family say they feel like they have failed her. Richard Slee reports.
An investigation is underway after a grandmother's funeral was abandoned because her grave had not yet been dug.
Friends and family of Margaret Higginbottom arrived at South Stoneham Cemetery in Southampton to find her plot was unprepared for the funeral.
Today her family spoke of their anger.
Advertisement
Grieving relatives had to abandon a great-grandmother's funeral because her grave had not been dug.
Heartbroken family and friends were left in tears when they arrived at the cemetery in Southampton after a church service to find a plot had not been prepared for Margaret Higginbottom, aged 71 years, who died from cancer.
Funeral directors and council chiefs both launched investigations to find out what had gone wrong.
For the full story see the Daily Echo
More than 100 animals have been saved by firefighters at a fire in Redbridge. Crews were called to Seafield Road yesterday morning after reports of a fire in the kitchen. They were faced with over 100 different animals of various breeds. Firefighters managed to put some in a safe place so they could continue their search of the property.
One person was led to safety and was treated by the South Central Ambulance Service for breathing in smoke.
Many of the animals were saved including two dogs who were resuscitated by firefighters. Other dogs were led out by the owner. Unfortunately four animals sadly died in the fire.
"Crews worked extremely hard to control the fire whilst being faced with an unusual situation involving so many animals. As crews gained entry they were exposed to six dogs who would naturally protect their property and were scared. Firefighters dealt with the situation extremely well to knock down the fire and save so many animals".
– Watch Manager Jason Brattle, Hampshire Fire & Rescue Service
A neighbour alerted Hampshire's control room to the fire. The owners had no smoke detectors.
Crews from Redbridge and St Mary's were sent to the scene along with an animal rescue specialist and partners from the RSPCA. Firefighters used four sets of breathing apparatus, two jets and two hose reels to tackle the blaze.
The cause of the fire is unknown at this stage.
Crews save over 100 animal after a fire in Redbridge this morning and resuscitated two dogs. http://t.co/CrC8ZpnXp4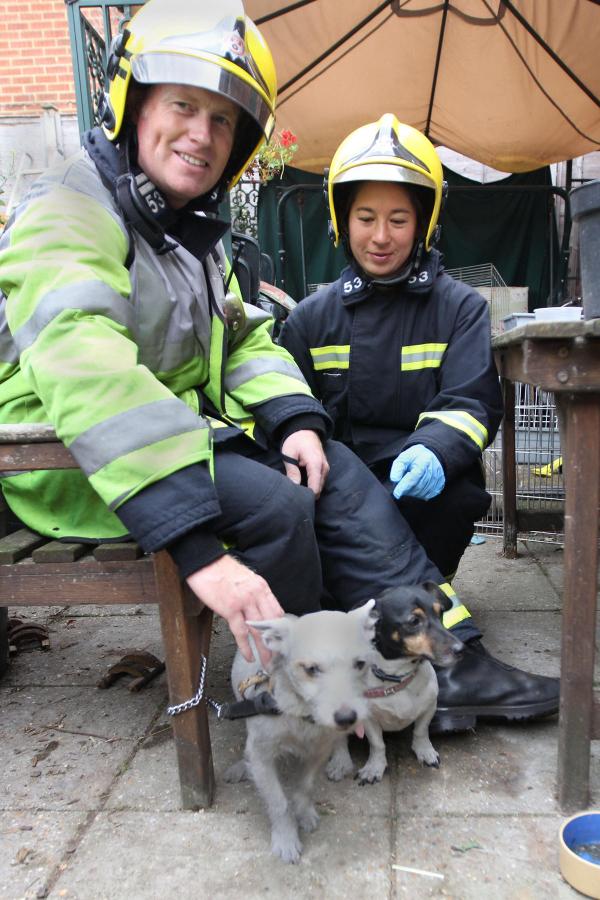 Detectives in Aldershot are appealing for witnesses and information after a high-value burglary at an antiques shop in Eversley.
At about 2.30am on Thursday, September 25, unknown offenders used a vehicle to break into the barn in Church Road, which is used as an antiques shop.
Once inside they stole silverware, jewellery and other antique item valued at more than £15,000.
Acting Detective Sergeant Gavin Whyte said: 'It is believed a number of people were involved in this incident and they may have been wearing masks to cover their faces.'"
Advertisement
An elderly man has died following a collision with a bus close to the Rushington Roundabout at Totton on Thursday morning. He is George Ackrill, 83, from Dibden Purlieu. Mr Ackrill sustained head injuries in the collision and died last night at Southampton General Hospital. The bus driver, a 41-year-old woman from Totton, was arrested in connection with this incident yesterday afternoon. She has been bailed until January 16, 2015, pending further enquiries.
Detectives investigating an armed robbery at a jewellery store in Andover on Wednesday are appealing to the public to help find those responsible.
At 10am yesterday morning, police were called by staff at David Mellors & Sons after the store was raided.
Witnesses have described seeing two people on a motorbike pull into Waterloo Court from Wellington Road. The motorbike did a u-turn, during which the pillion passenger jumped from the bike and ran into the jewellers, where he or she proceeded to smash the glass cabinets with a hammer.
The shop manager tackled the robber, who immediately fled the shop. The suspect got back onto the motorbike and the pair fled the scene towards Wellington Road, turned right and out of sight.
Officers believe that the incident may be linked to two suspicious men who were seen paying particular attention to the same store on Monday morning.
Police investigating the murder of Pennie Davis are searching the river by the field where she was found for the murder weapon.
The 47-year-old's body was found in a paddock near Leygreen Farm north of Beaulieu on Tuesday afternoon.
Pennie had been attacked in the field by an as yet unknown assailant or assailants. She suffered multiple stab wounds.
Officers are today searching the shallow river that runs alongside the paddock as part of a wider search for the weapon.
Detective Superintendent Paul Barton said: "We believe the weapon used was a bladed item, possibly a knife, and that it would have most likely been discarded close to the scene.
"Our officers have been working round the clock following up on a number of enquiries and I'd like to thank everyone who has contacted us with information as a result of our appeal.
"We've had a fantastic response, receiving more than 150 calls since yesterday. "It's vital we continue to hear from people who were in the area of Leygreen Farm between 2pm and 5pm on Tuesday.
"Did you see Pennie or her dark green coloured Toyota Land Cruiser which she drove from work in Blackfield to the field?
"Did you see or hear anyone acting suspiciously, possibly running away from the scene?"
"Pennie's death has come as a shock to many people in the local community and I want to reassure them that we are doing everything we can to investigate her murder.
"As part of our enquiries, we are talking to people in the area to find out more about Pennie and the circumstances leading to her death.
"Understandably, people will have concerns and suspicions, but I would ask you to contact us with any information and please be aware that speculation, particularly on social media, is not always helpful.
"Pennie's death has also been felt across the wider community of horse riders and owners.
"While we can rule nothing out at this stage, there is no evidence of any harm to Sprattley, the horse Pennie was tending to at the time, or any other horses nearby."
Anyone with information is asked to contact the Operation Biscotti investigation team in confidence on 101 or the anonymous Crimestoppers charity on 0800 555 111.
Load more updates