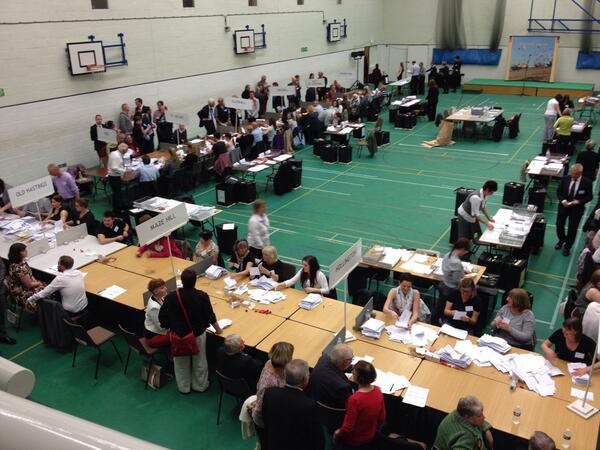 East Sussex Fire and Rescue Service was called out today (21st May) to reports of two people stuck in water in a culvert at Cinque Ports Way in Hastings.
An emergency call was received at 14.10, leading to a multi-agency response.
Crews from Bohemia Road and The Ridge fire stations attended the scene, with the aerial ladder platform being requested to assist.
Firefighters worked alongside Sussex Police, the Coastguard and Southern Water to search the area. As of 18.30 nothing had been found.It is expected that a further search will be made at low tide around midnight.
Advertisement
A lifeboat has been launched from Hastings to search the coastline following reports that two people may be missing. Dover coastguards say they are working with East Sussex Fire & Rescue service.
Tens of thousands of bikers are descending on Hastings for a festival that now rivals the famous Isle of Man TT races.
The number of bikers taking part in bike1066 has rocketed from 6,000 in 2010 to 32,000 in 2013 - that's only 2,000 less than the TT. And it's doing wonders for tourism.
A gang of men have been jailed for tying up a student and torturing him in Hastings to make him hand over money.
Sam Simon lured the 21-year-old victim, who was his friend, to a house in Hastings before they tied him up and gagged, kicked and beat him with a hammer.
They then stuffed him into a body bag and threw him into a car where they discussed burying him before they assaulted him.
The victim suffered broken teeth, cuts and severe bruises and had to be treated at Conquest Hospital.
Jowad Ghemati then approached the victim and offered him thousands of pounds to drop the case.
Detective Sergeant Michael Burnage said: "Sam Simon lured his friend to his home with the sole intention of torturing and robbing him.
"The victim was both assaulted and left terrified that he was going to be murdered - a level of cruelty that seems inexplicable at the hands of someone he believed was his friend. A later attempt by one of the group to intimidate the victim into dropping the case thankfully was unsuccessful."
The Hastings railway line has reopened after a series of landslips but there are still delays. Tom Savvides has reaction from passengers, Southeastern, MP Amber Rudd and Network Rail.
Advertisement
After almost two months of round-the-clock work, Network Rail engineers will reopen the Hastings to Tonbridge railway line to passengers tomorrow morning.
Three serious landslips in late March and early February caused considerable disruption to passengers' journeys.
Network Rail had hoped to fully re-open the route in early March, but the Whatlington slip moved again, despite considerable work having taken place to fix it.
Buses have replaced trains between Battle and Robertsbridge since January 30.
Test trains were run over the repaired section of line for the first time on Sunday (March 30), before the start of passenger service this morning.
Network Rail has thanked passengers for their patience.
After weeks of disruption to passengers, Network Rail engineers are on track to re-open the full length of the Hastings to Tonbridge railway line to passengers next week.
Three landslips seriously damaged the rail line in early February and earlier this month.
Network Rail had hoped to fully re-open the route in early March, but the Whatlington slip moved again.
Network Rail's route managing director for Kent, Fiona Taylor, said: "We are confident the line will re-open next week and I would encourage passengers to check before they travel. As soon as it has been proved safe to run trains, we will get things going and we and Southeastern will let you know."
Police are concerned for a missing teenager from Hastings.
William Lelliott, 14, failed to turn up to school last Friday and hasn't returned to his Ravine Close home since.
PC Rob Megit said: "William has made contact with his family and has been seen around Hastings but obviously his family want him to return home. He is described as being 5' 3", white with curly brown hair and hazel coloured eyes.
"It is believed he was last wearing his William Parker Academy uniform and is often seen with a skateboard. Anyone who sees him is asked to call police on 101 or email 101@sussex.pnn.police.uk quoting 1190 of 14/3."
A gang of men have been convicted of tying up a student and torturing him to try to make him hand over money.
Read the full story ›
Load more updates