Live updates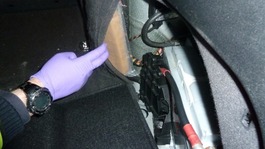 A Surrey man has been jailed for five years after admitting heroin smuggling into Dover.
Read the full story
Multi-million pound drugs haul
Border Force officers are investigating after an estimated 107 kilos of cocaine and five kilos of heroin were seized at Dover's Eastern Docks. The drugs, which have a street value running into millions of pounds, were discovered when officers stopped a Slovenian-registered lorry.
After questioning the driver officers, aided by a detector dog, searched the lorry and its load of metal and machinery. The drugs were found hidden in one of the trailer's outside lockers.
Advertisement
Mums fight the drug dealers
VIDEO: They've both endured the agony of needlessly losing their sons to drug addiction. Today they joined forces to try to prevent other mums suffering the way they have. Martin Dowse reports. You can contact a drugs helpline here.
Anthrax poisoning in Oxford
There are fears that heroin contaminated with anthrax is being distributed around Oxfordshire.
The Health Protection Agency says one person has already been diagnosed with the infection. That person is now recovering, but others are being urged to be aware of the symptoms. Kate Bunkall reports.
Anthrax poisoning in Oxford
The Health Protection Agency (HPA) is aware that a person who injected heroin has been diagnosed with anthrax infection in Oxford. The patient is recovering.
This case has occurred after two drug users died from confirmed anthrax infection in Blackpool within a month of each other earlier this year.
There is an ongoing outbreak of anthrax among people who inject drugs in a number of countries in Europe with 12 cases now identified since early June.
The latest case in Oxford brings the total number affected in the UK to five. The source is presumed to be contaminated heroin.
It is unclear whether these cases are linked to others in Europe (four in Germany, two in Denmark, one in France) but the HPA is continuing to monitor the situation.
The European Centre for Disease Prevention and Control (ECDC) have concluded that heroin users in Europe are still at risk of exposure.
Anthrax can be cured with antibiotics if treatment is started early. It is therefore important for medical professionals to be alert to the possibly of anthrax infection in heroin users to prevent any delays in providing treatment.

"It is possible that further cases may be seen in people who inject heroin. People who use drugs may become infected with anthrax when the heroin they use is contaminated with anthrax spores. This could be a source of infection if injected, smoked or snorted - There is no safe route for consuming heroin or other drugs that may be contaminated with anthrax."
– Dr Fortune Ncube, an expert in infections among people who inject drugs at the HPA
Anthrax poisoning in Oxford
A person has been diagnosed with anthrax poisoning in Oxford after injecting a drug which was believed to have been heroin. The Health Protection Agency has confirmed an investigation has been launched into incident.
Advertisement
Back to top