A woman has been killed in a road crash on the A281 Guildford Road at Bucks Green, near Horsham. The incident happened between Hillhouse Lane and Cooks Hill when a white Vauxhall Vivaro van collided with a white Mini Cooper car. The 67-year-old woman driving the Mini was died at the scene. Her front seat passenger, a 75-year-old man, suffered serious injuries and was flown to St George's Hospital, London, by the Kent, Surrey and Sussex air ambulance. The van driver suffer minor injuries. A 17-year-old youth has been arrested on suspicion of causing death by dangerous driving.
Police are appealing for witnesses to come forward
A man is to appear in court charged with knocking down and killing a cyclist in Horsham.
Michael Dixon, 65, was cycling south in Kerves Lane, Horsham, when he was struck by a silver Citroen shortly before 11am on Monday 8th December. He died at the scene.
Police have now charged Luigi Dannile, 26, with causing death by dangerous driving, driving without a licence and driving without insurance.
He was remanded in custody to appear at Crawley Magistrates' Court tomorrow.
Advertisement
Three men have each been jailed for 30 years having been found guilty of conspiring to kill a woman in Horsham in February.
Bruce Killick, 63, Graham Martin, 39, and Karl Cruise, 55, were all found guilty after a five week trial at Hove Crown Court for planning to kill Bruce's wife, Susan, on February 18 at their home in Brooks Green.
The three men, Killick, who runs a horse and alpaca transport company, Martin, an alpaca farmer, and Cruise, a casual labourer, were arrested in the days and weeks after Susan was attacked. The latter two are British but were both living in France.
Detectives found evidence that Killick, who was having an affair with his groom, Angie Teear, had hired Cruise, through his work associate, Martin, to kill his wife.
On the afternoon of February 18, Susan had been home alone in Emms Lane when she had answered the door to Cruise, who claimed his car had broken down. He asked to use her phone to contact a garage but followed her into her kitchen where he then began his attack. He first hit her with a hammer and then punched her, knocking her to the ground and smashed her head repeatedly on the floor.
He then attacked her with a plant pot, screwdriver and tried to use a stun gun on her. The then 61-year-old victim still managed to fight him off and stopped him from hitting her over the head with a heavy step stall.
Cruise then dragged her across the kitchen before trying to stab her, first with a blunt bread knife and then with a paring knife. It was only when Cruise became very short of breath, having suffered a medical episode that she was able to get away from him, alerting her next door neighbours.
Her quick thinking neighbour was able to take down part of Cruise's French number plate and he was arrested in Portsmouth that evening. Cruise pleaded guilty to GBH with intent.
Killick had made arrangements to ensure he was not at the address when the attacked occurred and to provide him with a legitimate alibi. The jury heard how he had sent texts to Martin asking how much to get rid of someone but always maintained the £10,000 transferred to Martin just days before the attack was for an alpaca for his and Susan's 30th wedding anniversary.
The jury took just two days to find all three men guilty.
They were sentenced the same day, Killick and Martin for 30 years with a minimum of 20 and Cruise for 30 with a minimum of 15. Cruise was also sentenced for 11 years for GBH with intent to run concurrently.
Police have been made aware of two reports of a man either following boys or asking them to enter a vehicle in the last few weeks in the south of the Horsham district.
Sussex Police are investigating the incidents, which occurred in Link Lane, Pulborough, and in Church Street, West Chiltington, to establish whether they are linked and whether or not criminal offences have been committed.
Of particular interest is the description of a vehicle that has been given - an older, Land Rover-style green 4x4.
Chief Inspector Howard Hodges, Sussex Police's Horsham district commander, said:
At this stage I would like to provide reassurance to the wider public of Horsham that we are taking these matters seriously and working with partners - including local schools - to understand them fully. There have been no further reports for more than two weeks but we will not be complacent.

There is no cause for alarm at this stage and I would like to ask the public to be vigilant and to report any concerns that they may have - or previously unreported incidents.
– Howard Hodges
People can contact Sussex Police either via 101, 999 in an emergency, online, or confidentially via Crimestoppers on 0800 555111 quoting Operation Block.
A Horsham financial adviser, who has already gone to prison for systematically stealing from a vulnerable elderly client, now has to repay more than a quarter of a million pounds to the man.
On 8 October last year, Jonathan Pollard, 54, of Holbrook Park , Horsham, was convicted at Lewes Crown Court following a trial, of two offences of theft, totalling £205,000.00 in 2006, from the client. Pollard was sentenced to three years imprisonment.
Pollard had initially met and given financial advice to the man from whom he eventually stole, in Horsham several years ago. The victim, who is now 71, them moved to a flat in Eastbourne and had become vulnerable through illness.
He was deemed not to have sufficient capacity so Pollard arranged for a Power of Attorney to be taken out relating to his financial affairs. the flat was re mortgaged. Funds in his pension to the value of £215,000 were withdrawn without his knowledge or agreement and were taken by Pollard.
However after the sentencing police were determined to help the victim get some recompense. A police financial investigator carried out a thorough examination of Pollard's financial affairs and assets and on 26 September this year, at the same Court a Confiscation Order under the Proceeds of Crime Act (POCA) was made for £254,306.79, the entire amount to be paid to the victim. This figure includes an extra £49,306.79 to take account of the increase in the value of money since the time of the offence.
Pollard was given 21 days to pay £57,000.00 and six months to pay the remainder. Should there be any delays he will be liable to three years further imprisonment and the debt will increase with interest charges.
"Pollard was first brought to justice thanks to the hard work of detectives in the force's East Sussex Adult Protection Team. Once he was sentenced we carried out an in-depth investigation of his assets, and this enabled us to submit an application which the court fully accepted. We hope this is of further assistance and comfort to the victim and his family, and it also demonstrates that we can and will pursue offenders beyond conviction, for their ill-gotten gains."
– Detective Inspector Mick Richards of the Sussex Police Economic Crime Unit
A post mortem examination following the death of a 53-year-old cyclist at Tower Hill in Horsham has revealed that he died from a medical episode.
Sussex Police say it means the incident is now being treated as a sudden death rather than a road traffic fatality.
The cyclist, Christopher John Smith, was found collapsed in the road on Saturday.
Advertisement
Police are appealing for information after a cyclist was found collapsed on a road in Horsham, shortly after 10am on Saturday.
The Kent, Surrey and Sussex air ambulance attended Tower Hill and an off-duty doctor, paramedics and members of the public tried to resuscitate the cyclist, a 53-year-old man from Horsham, but he was pronounced dead at the scene.
A post mortem examination is to be carried out to try to establish how he died.
A Waitrose store has been evacuated after a refrigeration leak filled the Horsham store with toxic gas.
The fire service waitied for specialist engineers to arive, and blew the gas from the premises using a PPV fan.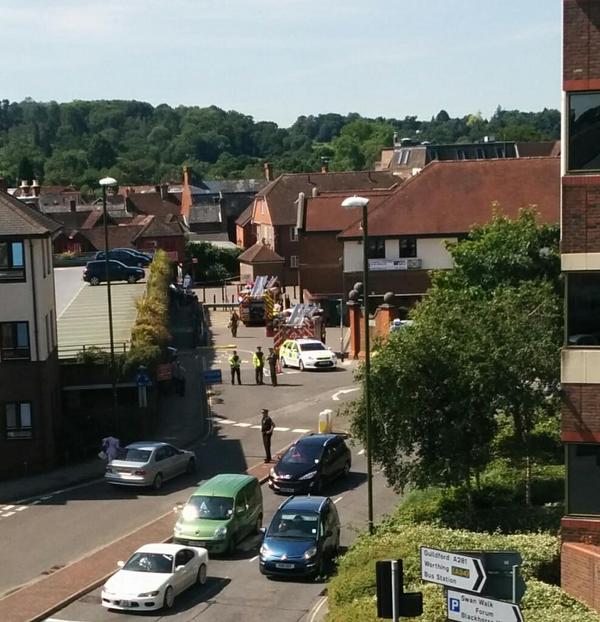 Police have released this CCTV image of three men who threatened staff in a Horsham shop before stealing £10,000 worth of cameras.
The robbery took place at Jessops in Swan Walk just after 4pm on Wednesday 25 June.
Police are hoping someone may recognise the suspects and come forward with information.
All the items have unique serial numbers and police are keen to hear from anyone who may have been offered cameras or lenses in suspicious circumstances.
Detective Constable John Hord, of West Sussex CID, said:
This was a terrifying incident for staff. While no one was hurt, the men threatened to cause them serious harm. They ripped cameras and lenses from displays before making off.

We believe the three men had visited the shop earlier the same day and so we'd also like to hear from anyone who may have seen them or knows who they are.
– Detective Constable John Hord
Load more updates