Parents have taken to the streets to protest against plans to turn a school into an Academy. They want to stop Hove Park School in Brighton being independently run, outside the control of the local authority.
Sussex Police are hoping this e-fit of a man, suspected of a rape in Hove, will jog people's memories and help find him.
At around 10:30pm on Tuesday 29th April, the 51-year-old victim was walking home from a pub on Brunswick Street West when he met a man at the junction of Western Road and Lansdowne Street.
They got chatting and went back to the man's flat where he was raped.
Detective Sergeant Alex Evans said, "The victim was subject to an extremely nasty attack where a weapon was used. He is extremely distressed by what happened and he is being supported by specially trained officers."
Anyone with information is asked to contact police on 101 quoting serial 1417 of 30/4.
Advertisement
Police are seeking a woman whose dog bit a small boy in Hove. At about 3.15pm on Saturday 28 June the four-year old boy and his parents, who live locally, were walking down George Street, Hove.
As they passed Marina's Cafe a woman was sitting at a table outside with two terrier style dogs on leads under the table.
One of the dogs shot out, apparently without any provocation, and bit the boy in the upper right thigh causing two slight puncture wounds. Paremedics treated the boy at the scene, and referred the family to out-patents for further assessment.
A swimmer has died after he got into difficulty whilst swimming in the sea near Hove.
The man in his mid 60s, was swimming out at sea near the Hove bowling lawns.
Brighton RNLI launched boats to rescue him at 2:20pm yesterday afternoon after reports came in of a man struggling in the water.
Lifeguards pulled him ashore and started CPR.
Ambulance crews arrived a short time after but sadly, the man was pronounced dead.
David Johns (@davidjohns_itv)
He went on the run from his care home in Sussex and sparked a police alert. But Normandy veteran Bernard Jordan has now arrived back home in Hove - to a hero's welcome. He'd made his own way to the D-Day commemorations after missing an official trip across the Channel.
This report by David Johns, which starts with flash photography, features Bernard Jordan describing his trip.
A 90-year-old veteran found in Normandy after being reported missing from his Sussex care home said he intends to return next year. Bernard Jordan was reported missing on Thursday by staff at The Pines care home in Hove after embarking on his cross-channel trip for the 70th anniversary of D-Day.
Arriving at Portsmouth on the Brittany Ferries ship Normandie on his return home, he said when asked if he had enjoyed his trip: 'I had a great time. I'm really pleased I did it. It was good, it gets even better as it goes on.'
The former Royal Navy officer said that his wife knew about his trip and when asked if he would go back next year, he said: 'Yes, I expect so, if I am still here definitely.'
Advertisement
The D-Day veteran who disappeared from his Sussex nursing home to attend the 70th anniversary commemorations in Normandy has returned home. Bernard Jordan, 90, was reported missing to Sussex Police after he left The Pines care home in Hove unannounced on Thursday morning.
He was later found in France where he had joined other veterans in France. The former Royal Navy officer was welcomed back by flag waiving staff at The Pines this morning after returning on the ferry via Portsmouth.
Bernard Jordan, who went missing from his Sussex care home, was mayor of Hove in the mid-90s. This is a very shot clip of our footage.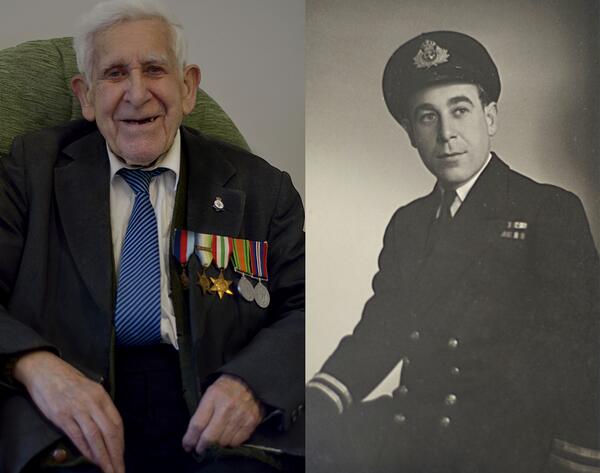 War veteran Bernard Jordan ,who went missing from a nursing home in Hove, has been found in Normandy. Sussex Police were called yesterday (Thursday 5 June) by staff at a nursing home in Hove who said an 89-year-old who lived there had gone out at 10.30am that morning and had not been seen since.
Bernard had gone missing wearing his war medals. He has lived in Hove for his entire life. He served in the Royal navy during the Second World War. He was mayor of Hove in the mid-1990s.
Load more updates