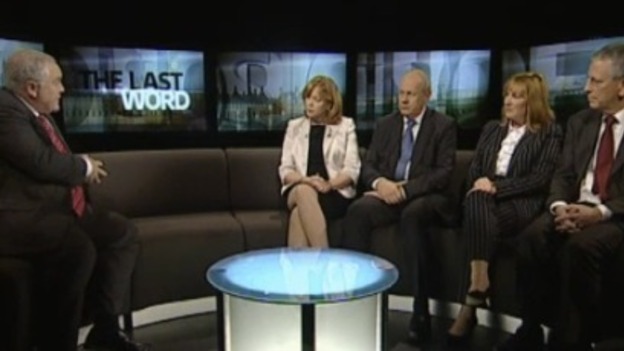 In this month's Last Word, Baroness Angela Smith, Mike Thornton MP, Janice Atkinson MEP, and Damian Green MP debate the upcoming Rochester & Strood by-election.
After UKIP's success in Essex, are they on target for a second political upset within a few weeks?
And the Leaders' TV Debates - do they distort our political campaigns? And why should we include UKIP, but not the Green Party? Caroline Lucas MP tells us what she thinks of that!
Advertisement
Immigration officers visited a property in Shapwick Road at 6.50am to question three people to check if they had the right to be in the UK. A 30 year-old Chinese man and a 48 year-old Malaysian man were both found to have overstayed their visas.
A 38 year-old Chinese man had entered the country illegally. All three have been detained pending removal from the country.
A man has been arrested and faces removal from the UK after a suspected "sham wedding" was raided by Home Office Immigration Enforcement officers in Oxford.
Acting on information that "the relationship may not be genuine", officers attended the Register Office on Tidmarsh Lane at around 11am yesterday.
They arrested a 24-year-old Pakistani man who was in the country illegally having over-stayed his visa.
His would-be-bride, a 20-year-old Polish woman, was questioned by officers and later released.
This was the second operation targeting suspected sham weddings in Oxford in the last two months.
Paul Wylie, regional director for Home Office Immigration Enforcement, said: "This is the latest example of the excellent work we are doing in the Thames Valley to clamp down on sham weddings.
"We are working closely with registrars across the region to prevent people from abusing the marriage system in a bid to get round our immigration laws.
"Where we receive information that a wedding may be suspicious we will investigate and, if necessary, intervene and arrest those involved."
Two illegal immigrants from Albania found hiding in a Lancashire-bound lorry at Portsmouth ferry port have been deported.
The pair, aged 29 and 30, were detained by Border Force officers after they were discovered in a load of stone arriving on a ferry from Caen yesterday lunchtime.
They had cut through the lorry trailer's canvas roof and neatly sewn the gap up in an attempt to evade detection.
Andy Lumb, of Border Force at Portsmouth, said: "This incident shows the lengths some would-be illegal entrants will go to in a bid to reach the UK.
"Clearly these two men thought they had covered their tracks but were found thanks to the assistance of the ferry operator and determination of Border Force officers."
She's about to give birth to her first child but her husband won't be there because he's been denied access to the UK. Harrietta Alvarado, from Margate, met her husband Humberto in the United States. But the Home Office will not let him visit. Tom Savvides takes up the story.
Advertisement
The immigration minister has been at the Port of Dover today - to see some of the extraordinary lengths that drug smugglers and people traffickers are going to. John Ryall reports.
The Immigration Minister is due to visit Border Force operations in Dover today. Mark Harper will be given a tour of the port. He will see officers conducting searches and looking for drugs concealed in a freight vehicle.
Three men have been deported after immigration raids in Kent.
UK Border Agency officers arrested two men from Nepal whose visas had expired. They were working at the Loch Fyne Restaurant in the Bluewater shopping centre.
A 25 year old man from Bangladesh was also working illegally at The Spice Lounge in Faversham.
Officers say Bluewater co-operated fully with the UK Border Agency's investigations and will not face any penalty.
Load more updates